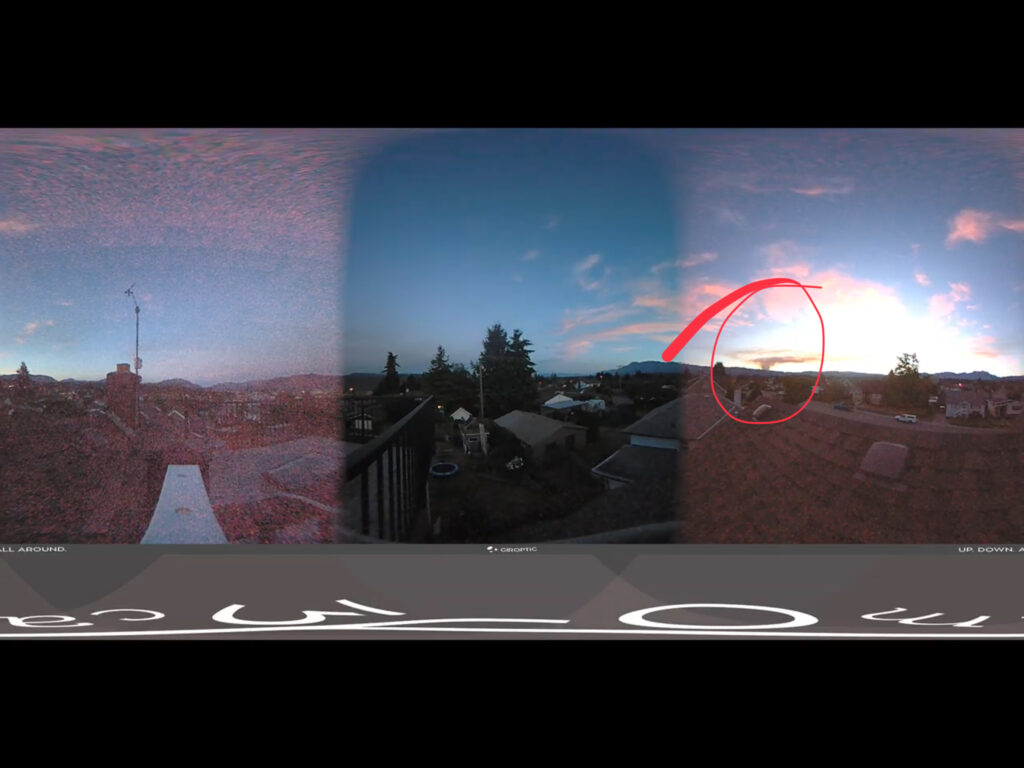 7:00PM Final Update – no change in size. Appears to be under control. But new fire. See new post coming up.
There is no update from BCWS on the Beaufort/Cherry Creek fire.  It is still listed as 5Ha and New. However. Visually it seems to have been knocked down.
Unfortunately. There is another fire. I will create a new post for it shortly. Stay tuned.
12:00PM Update – Island Timberlands announces Saturday Road Access Closures – More Fire Updates
I've just received an email from Island Timberlands with the following announcement and update on the fires which have been on their lands:
Subject: ISLAND TIMBERLANDS FOREST LANDS CLOSED DUE TO WILDFIRE RISK
 
Please be advised:
 
Effective Saturday August 11, 2018 and until further notice, all areas of Island Timberlands private forest lands on Vancouver Island are closed to public access.
 
A high level of wildfire activity throughout the province, in combination with a forecast for ongoing hot and dry weather conditions, have resulted in wildfire danger ratings that are high-to-extreme on Vancouver Island. To ensure public safety and the protection of the forest, all unauthorized access to Island Timberlands forest land is prohibited. Please respect signs and gates.
 
The Coastal Fire Center, with support from Island Timberlands, is currently responding to two wildfires in the Alberni Valley area. A fire south of Turtle Lake that was first reported Monday August 6, 2018 is now contained and crews are mopping up. A second wildfire discovered Wednesday August 8, 2018 and located west of Lacy Lake is being aggressively actioned by ground and air crews.
 
For the latest information on access, please visit the Island Timberlands blog: http://blog.islandtimberlands.com.
 
We appreciate the public's cooperation to help reduce the risk of new wildfires during this period of high wildfire danger. To report a wildfire, please call *5555 on a cell phone or 1 800 663-5555 toll free.



Sue Handel, Island Timberlands email
10:30AM Update – Fire may be dying down – Is it time to close off the backcountry?
The fire seems to be subsiding as more crews tend to it.  We now have Cherry Creek Volunteer FD, BCWS, and Island Timberlands crews all confirmed working on this fire.  Thank you to all of them!
Air Quality remains good. The latest update shows it holding steady at a fairly normal 8ug/m3
While we should be very glad at the incredible work of fire crews, we should also be asking the question.  This is the 2nd fire in two days.  This is the 3rd fire in a month.  Thankfully, they have been all in relatively easy to access areas for ground crews and volunteer FDs to get at.  But why are they happening at all? There is no lightning in the area. These can only be caused by people.  
We are now set to have what might be our hottest day of the year today. By the weekend we might get a bit of a break, but next week is supposed to be sunny and warm once again.  
Is it time to close off the backcountry? People are not being responsible and they are putting firefighters, our forests, and our communities at risk. What do you think?
10:00AM Update – Update from ACRD and a morning video.
9:30AM Update – Helicopter Bucketing, Air Quality OK
It is now confirmed that at least one helicopter is bucketing the fire.  Image below from a friend on facebook.
The Air Quality reading for 9AM is now out, and it has improved, going down to 8ug/m3. 
9:00AM Update – New Fire location and size.
BC Wildfire has updated the size of the fire to 5 hectares. Notice that because of the strange boundaries in that area, the fire is actually in the Regional District of Nanaimo.
8:30AM Update – More data sources we can see the hot spots!
A bit more information coming in.
Using some data from the MODIS satellite we can get updated location and power information on the fire.  Pretty cool technology. The first image is from 3AM our time.
I will keep an eye on that data source as we go through the day to see if the intensity goes up or down. It might give us a good idea of how the fire is doing.
The wind has shifted in the past hour so the ash that was falling on town should now be moving away from town.
There is no update from BCWS on size. It still indicated 2 hectares.  Cherry Creek Fire Department and BCWS are on the scene. No tankers or helicopters are dropping water or retardant right now that I have heard.  If you hear otherwise please let me know.
Air Quality may be a concern again if the wind swings back around to the north.  We can see on the graph the spike from yesterday's fire and we are climbing a little this morning now as well.  Currently 12ug/m3 as of 8AM.
That's all for now. I will update again when I hear more.
6AM Update Cherry Creek Fire on top of Beauforts.
The fire near Great Central is no longer listed at BCWS but another fire popped up last night much closer to town along the Beauforts near Cherry Creek and Lacy lake.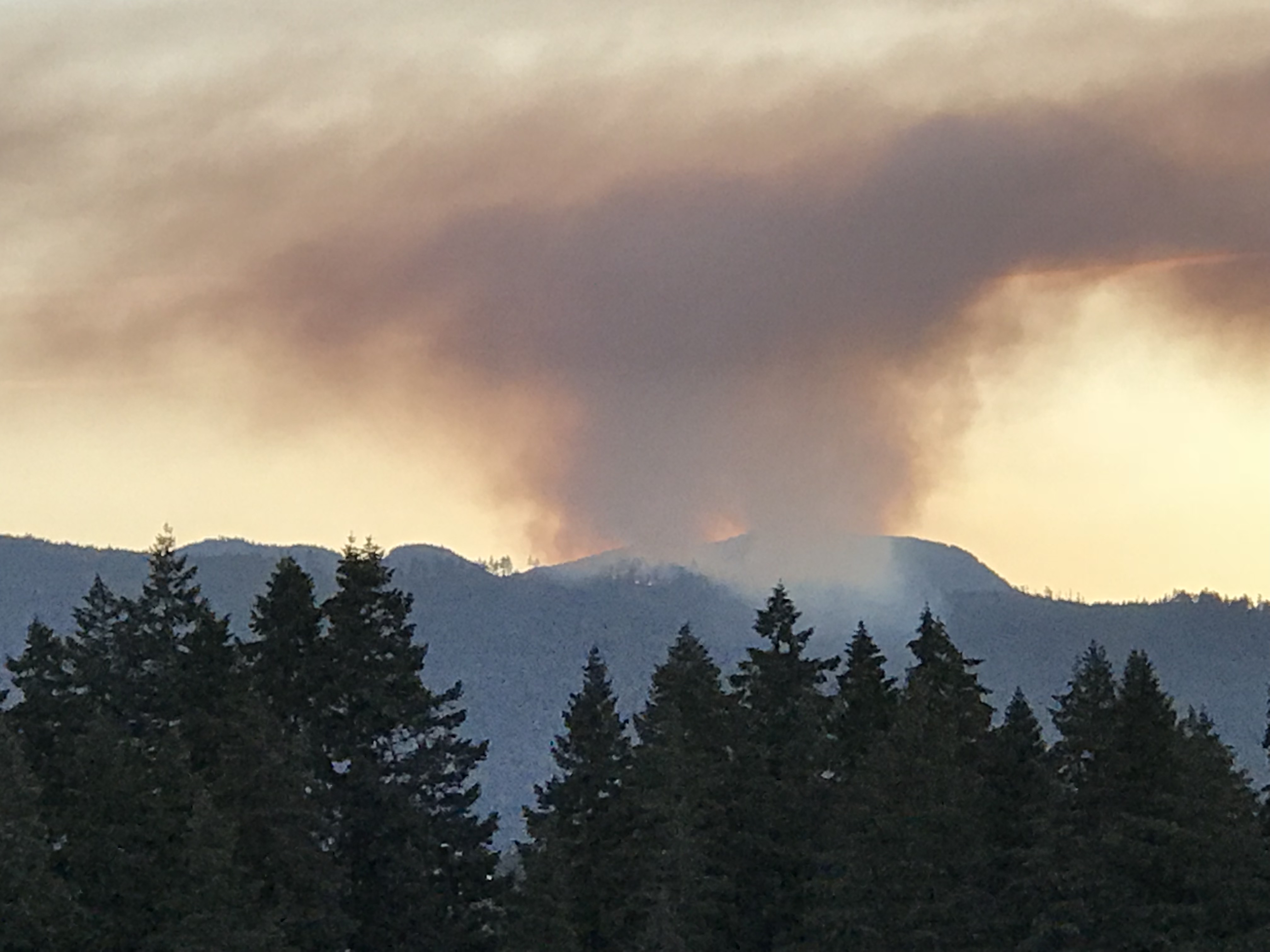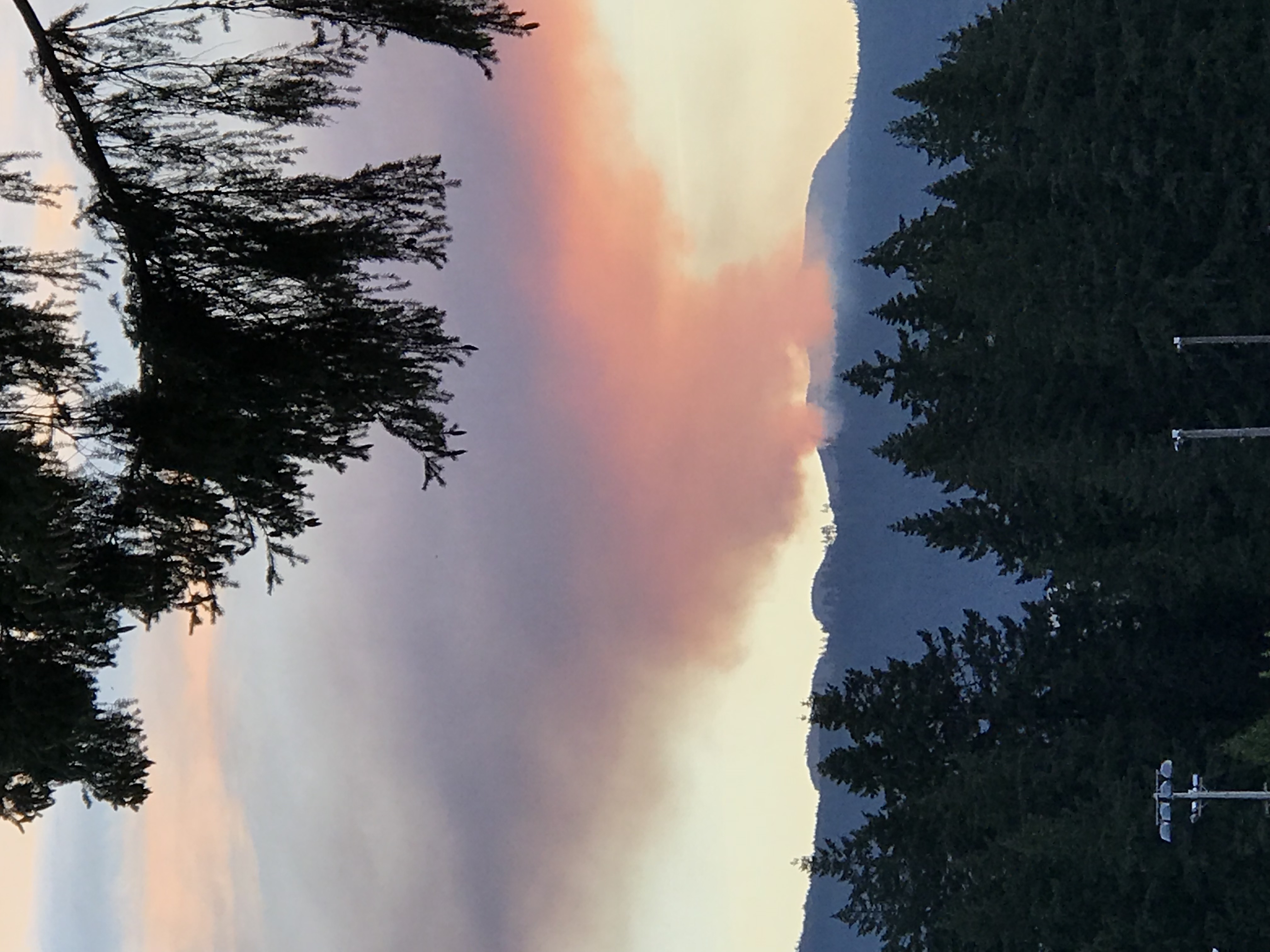 You can see the fire on the Alberniweather live webcam right now as well.
I will update again throughput the day as I hear more information.
It is going to be very hot today. Possibly as hugh as 36°C with a humidex of 40. Please stay cool and hydrated as much as you can.  These are dangerous temperatures for the very young and the elderly.
Take care all, I will have more later.