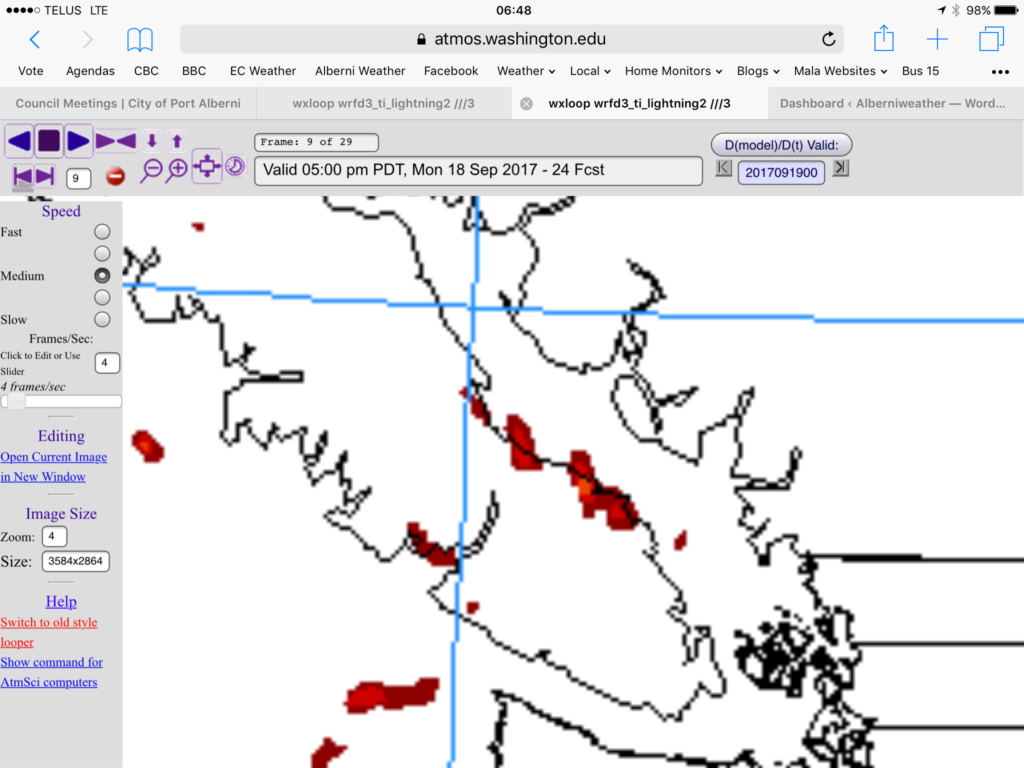 We had a very pleasant rain shower yesterday over the whole Island. Unfortunately, my rain gauge is not operational. So I had to resort to desperate and likely totally inaccurate measurements.
Does this + this count? 😉 https://t.co/EYMwxnNvAD pic.twitter.com/rxvQpkXDnG

— Alberni Weather (@alberniweather) September 17, 2017
The sun is out! That means it is official rain measurement time using the bucketmometer. 1.5mm #bcstorm #PortAlberni #hightech #stationbroke pic.twitter.com/QVcvMQz8C0

— Alberni Weather (@alberniweather) September 17, 2017
However, given that more than 10mm was registered at Alberni Elementary, I think my bucketmometer is not going to make the grade.
Today looks like quite a variable day. It is starting nicely, with only patchy clouds but expect by 2PM or so that the clouds will become more ominous and showers will begin across the Island and there may be thundershowers in the 2-5PM period, particularly on the East Coast.
Below shows the showers Island wide, strongest on the West Coast of course.
But here is the potential for thunder and lightning, focused on the East island, particularly between Nanoose and Courtenay and in Barkley Sound.
Showers will continue overnight and into Tuesday morning.
After Tuesday, things dry up again and there is no more significant rainfall between Wednesday and next Monday. So enjoy the little drink from the heavens while you can!
Have a great Monday.