Two more days of heat then comes Rain – The Joy and Work of the Martin Mars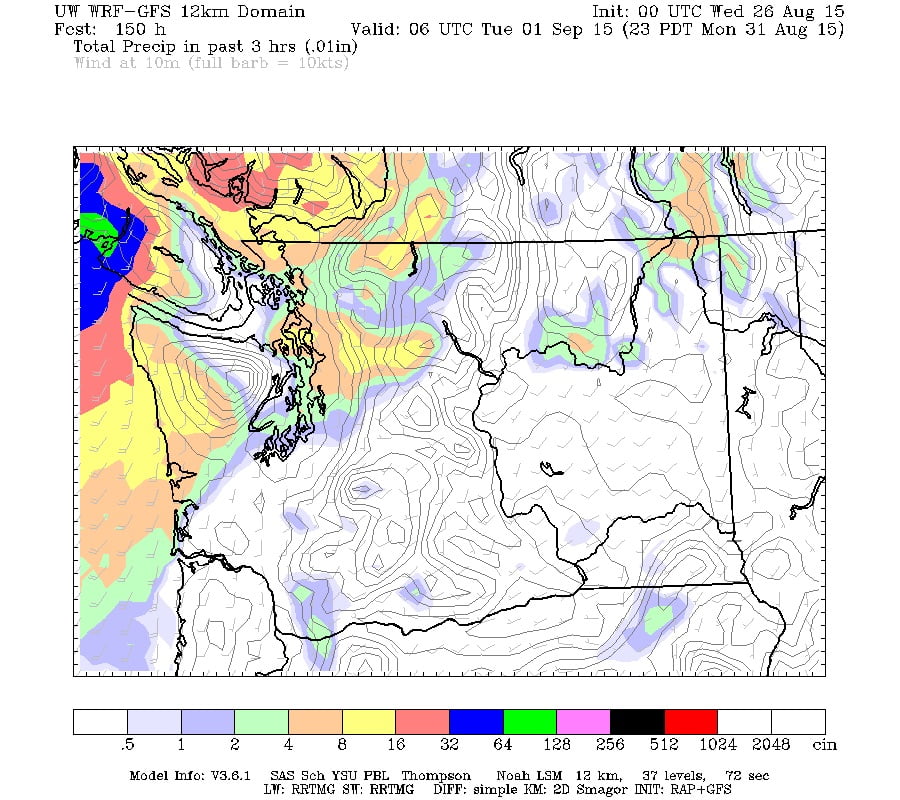 While the specific details have changed slightly, the models have still held firm on the potential for real, drenching rain starting Friday and lasting into next week.
Until we see you again Hawaii.
It fought 4 fires & dropped 1 million litres of water at a cost of $736k. What's next for the #MartinMars? on @CKNW pic.twitter.com/TexNoxlG0T

— Shelby Thom (@Shelby_Thom) August 26, 2015
First, I want to say something about the Martin Mars which is, as of today, no longer on contract with the Province of BC.
The crew did an incredible job on the fires that they were called to and not only that, the very fact this plane was the in the air gave great happiness to thousands, maybe even a million, in this province. There is a deep, unconditional love for both Martin Mars aircraft in the Port Alberni area and beyond and it is due to their valiant history, their overwhelming power, and their mission to serve and protect the public from the most terrible of dangers. 
There are not many things in the world that evoke such pure joy and feeling of security from such a broad cross-section of society. I would say we really don't know how lucky we are… but… I think we do, or we wouldn't all run outside at the first hint of rumble from those 2500 Horsepower Engines.  There are things that governments purchase or do that are for the emotional and social well being of society.  In those respects, and in these very unsettling times, setting aside the facts of their devastating effect on fires, the social value of the Mars program, I believe, has proven once again to be truly immeasurable.
As the climate changes and the weather becomes more uncertain, we will need that proven strength and feeling of comfort more often. I hope that when the numbers — 60-75c per litre dropped and 3 of 4 fires (Nelson, Cowichan and Great Central) stopped in their tracks — are tallied at the end of this season that the efforts and value of the Martin Mars program and her crew shine through enough for the Province to do the right thing.
OK, back to the weather:
Wednesday and Thursday last hot days
If you have been spending a lot of time at the lake, you will likely want to get out there today and/or tomorrow.  The rains this weekend will definitely cool the lake. 🙂 We should get up to 28°C today and a little less Thursday under Sunny skies.
Rain bands shift, focus on South, West and North Island and Vancouver
Between Friday and Tuesday the forecast is for slightly more than 60mm. There may also be windy periods but I will not address those until we are closer and have more precise model output on Friday.
The current picture looks like this:
The first pulse of rain has shifted south a bit and is now focused primarily on the South Island and Vancouver.  I worry a little about this because we have seen this pattern a couple times this summer and the anticipated rain has dried up completely.  It does seem that this one is for real though, so lets hope.
It will start raining in Victoria and Vancouver first around sunrise Friday morning.
The rain will spread North and West to Port Alberni by afternoon on Friday while it continues unabated in Victoria and Vancouver. Note we are jusy on the north edge so there is a possibility this misses us. Lets hope not.
The rainfall intensifies towards the north through the afternoon on Friday and we should definitely be wet by this time while southern areas might see their first break.  This, however, is the strongest period of rainfall for Friday.  Total accumulation is predicted around 4mm. Not much, but it is a start.  We need every drop.

It starts to get more interesting on Saturday when the rain showers are much more disorganized, but widespread. Serious showers occur in the 8-11AM timeframe in our area and in all sectors.
Things get more purposeful in the evening on Satursday as we see a bigger push from the West delivering a healthy 8mm between 5-8PM. Total accumulation for Saturday (5AM Sat-5AM Sun) is around 20mm. That's more like it.

On Sunday we have more widespread showers again particularly in the afternoon delivering another 15mm or so before clearing for a bit.
We get another signficant push from the west late Monday night. Perhaps 20mm will fall Monday up to 5AM Tuesday focusing mainly just before midnight.
And finally, above we have Tuesday again bringjng showers in the afternoon,  Totals for the day are small and uncertain at this point though. Maybe 8mm at the most which brings us to just under 70mm for the whole affair.
Our normal rainfall amount for August and September is 40 and 60mm respectively.  We could go from "drought" to above normal rainfall for the month in a matter of days. I will not pretend to know whether that truly gets us out of "drought" conditions, or if this is just going to flush straight rough he system and we return to the dry, clear pattern of the past many months. After this storm passes there is 25mm expected to fall between Sept 1-10.
That's it for now folks, have a great Wednesday!