Updated 7:30AM Wednesday – Local Thunderstorm triggers Wildfires – Thunderstorms less likely but possible Wednesday.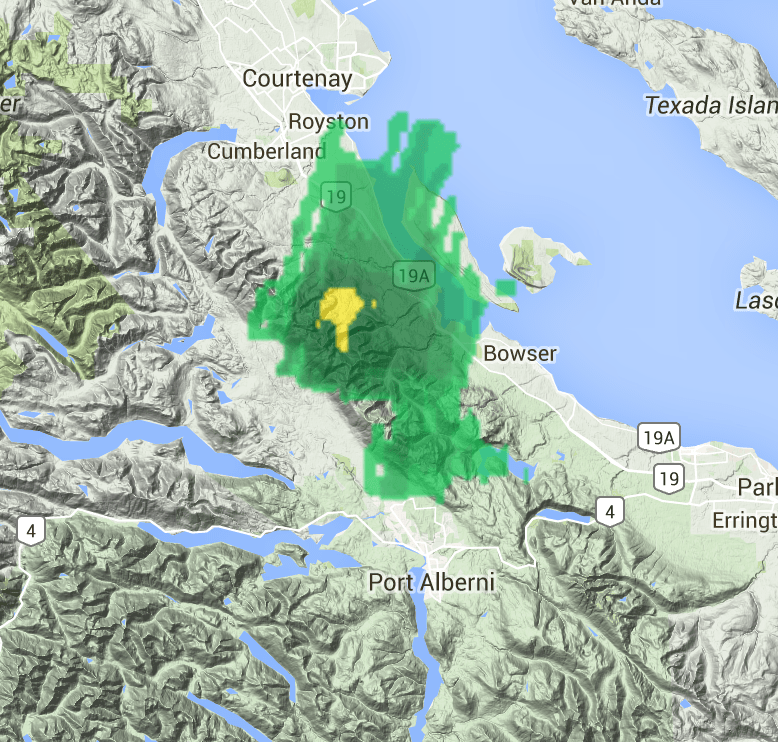 Update 7:30AM Wednesday
The models are in total disagreement about Thunderstorm activity today.  In fact, only the UWash model seems serious about potential thunder and lightning and also seems to have the most rain showers in the forecast.  However, Given how accurate it was yesterday, I am going to show its results.  All other models say no or very little thunder activity or rain.
It predicts up to 16mm of rain on parts of the Island especially the East Coast.  This is much more than was forecasted yesterday.  It is possible in the Valley too.
It also has a higher chance of thunderstorm activity than yesterday.  This was the thunder zone forecast for Tuesday.
This is the forecast for today at 2PM and 5PM Wednesday.

It is more focused on the East Coast and wider Island than it was yesterday.  Given the lack of heating today, I am inclined to believe the models that have much less activity, but given how bang on the UWash model was yesterday, it is hard to discount it.
Keep your eyes peeled, and lets be thankfull for the rain and the Martin Mars!
Original Tuesday night post.
Mea Culpa, I should have seen the Tuesday afternoon storm in the morning models.  The possiblity was there and obviously the precipitation forecast was bang on centred on us in the Valley.
I won't make that mistake for Wednesday.  There is a less of a chance, but still a chance of a Thunderstorm Wednesday as well.  I'll show the graph and note separately.
Notice 3PM Wednesday  is only "slightly unstable" and "stable" vs. Tuesday 4PM was "Unstable – Thunderstorms Likely".
This is from the High Resolution Canadian model, one of the most accurate for our immediate area.
The UWash model is only just updating for the evening run now, so I will wait for it to finish before I add its latest information.
Frequent Lightning starts Multiple Fires
Multiple lightning strikes sparked multiple fires including one that seemed to spread quickly and lead to the Martin Mars being deployed within minutes.
Here is the latest on the fire from the Martin Mars – Coulson Airtankers Facebook Page.
Lightning struck in the early evening tonight at Great Central Lake and the Mars was called right away.

The Mars along with other tankers were on site within the first hour. Once the retardant was dropped, boxing in the fire, it was hammer time as the Mars dropped 96,000 litres of direct attack in 1.9 hrs until it was knocked down to a smouldering memory. Great teamwork and ready for our ground crews to finish it off.

The Mars was heavy on fuel as we were expecting to go back to Harrison Hot Springs today so our loads were a little lighter than usual, but we are so glad we were at home and able to help out at Great Central.

We topped up with fuel tonight with no snags and are serviceable for another 8:00 am start tomorrow.
I provided the pictures below to CTVNews for their newscast tonight.  Credits included.
@CTVNewsCheryl photo credits: Rob Frolic pic.twitter.com/CeP9iIW8Dv

— Alberni Weather (@alberniweather) August 5, 2015
@CTVNewsCheryl Photo Credit Coulson Air Tankers pic.twitter.com/rlmLyQyGyh

— Alberni Weather (@alberniweather) August 5, 2015
There was also a fire reported on Faber Road that was quickly extinguished by the Sproat Lake Fire Department.  There are likely to be other fires as well given the number of thunderclaps and lightning strikes that were heard and seen.
The fire was centred on the north portion of the Alberni Valley as you can see from this Radar image from WUnderground.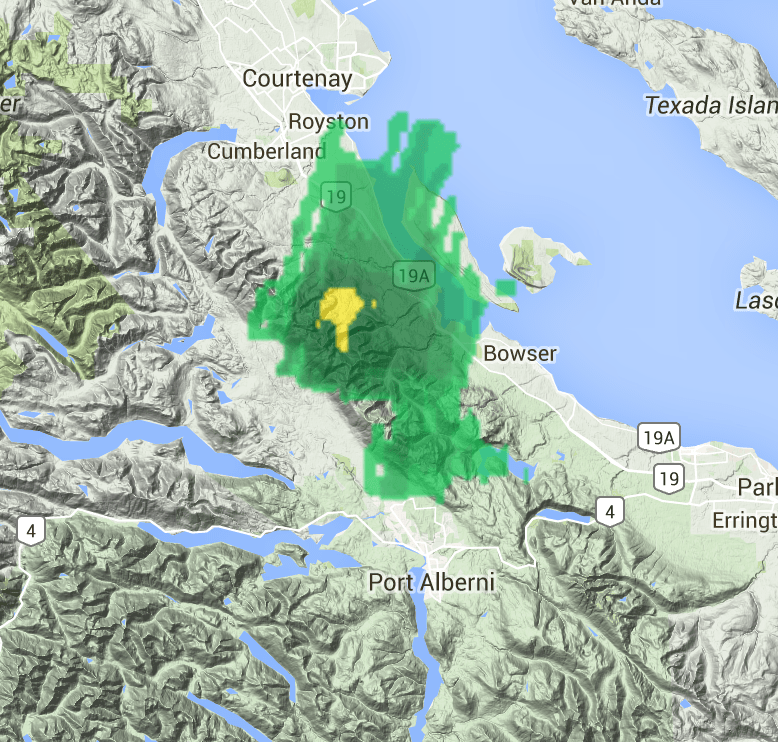 Here are some pictures of the storm as it built itself up and worked itself out.  Many western and norhthern areas of the Vallet reported rain, but it only drip dropped at Alberniweather and points south.
If you see smoke or lightning, call in the location to the BC Wildfire Service at 1-800-663-5555 or *5555.
As I said above, I will update again later once the UWash model has updated with the latest forecast.