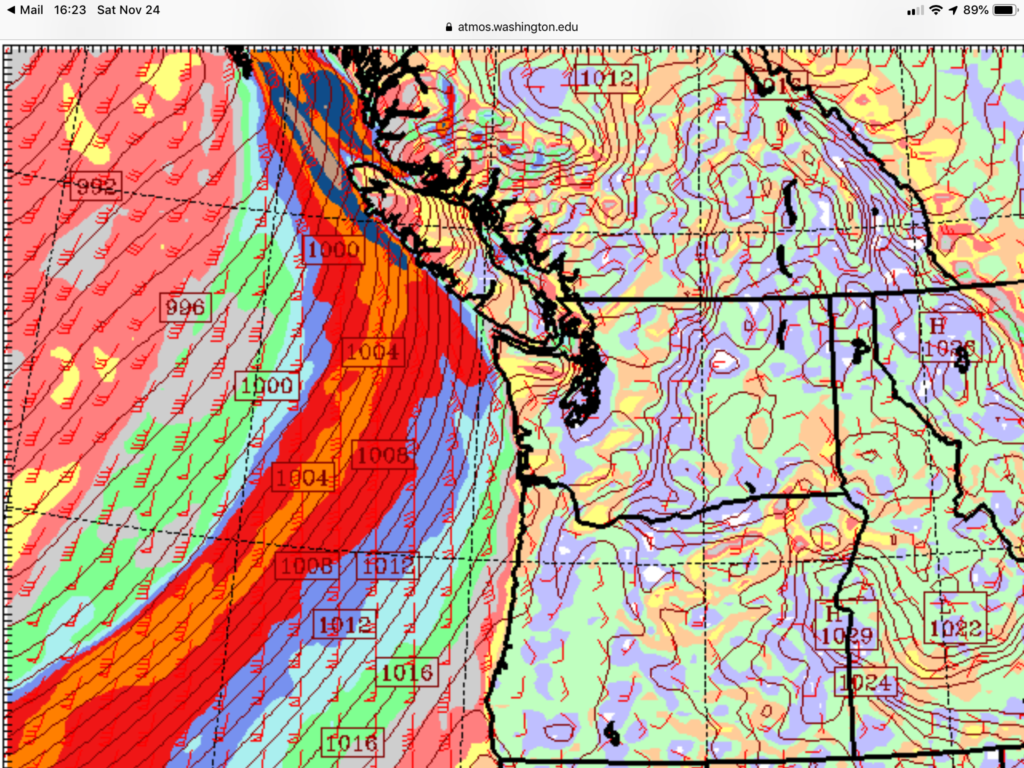 Environment Canada has issued a Special Weather statement in preparation for a possible rain and wind storm Sunday night and into Monday. Here is their bulletin:
Issued at 2018-11-24 23:54 UTC by Environment Canada:
Special weather statement issued for:
East Vancouver Island, B.C. (081300)
West Vancouver Island, B.C. (081400)
Inland Vancouver Island, B.C. (081500)

Current details:
Strong winds and rain expected Sunday night into Tuesday.

A strong November storm is forecast to arrive on the South Coast Sunday night. High winds will be the main threat with this storm especially for areas adjacent to the Strait of Georgia, and West Coast Vancouver Island.

Rain is expected to begin over Vancouver Island Sunday night and over the Lower Mainland early Monday morning. There remains some uncertainty to the rainfall totals of this approaching system due to the strong upper level flow. It is possible that some areas could receive warning level amounts on Monday.

Please continue to monitor alerts and forecasts issued by Environment Canada. To report severe weather, send an email to BCstorm@canada.ca or tweet reports using #BCStorm.


https://ecalertme.weather.gc.ca/warning-latest_en.php?ualert_id=115&alert_code=SPS
Current UWash models predict 24hr amounts between 4PM Sunday/Monday of 30-65mm for Port Alberni and the East Coast and up to 100mm or more on the West Coast and mountains.
Strong Winds will be associated with the storm as well. Looks like gusts to hurricane force on the North Island are possible and 90kph in Tofino, Ucluelet and Bamfield and possibly Georgia Strait.
I will post again tomorrow if things change. For now, batten down the hatches! Looks like we might be getting our first big storm of the season.