Updated 9:45PM – The Siberian Express is here!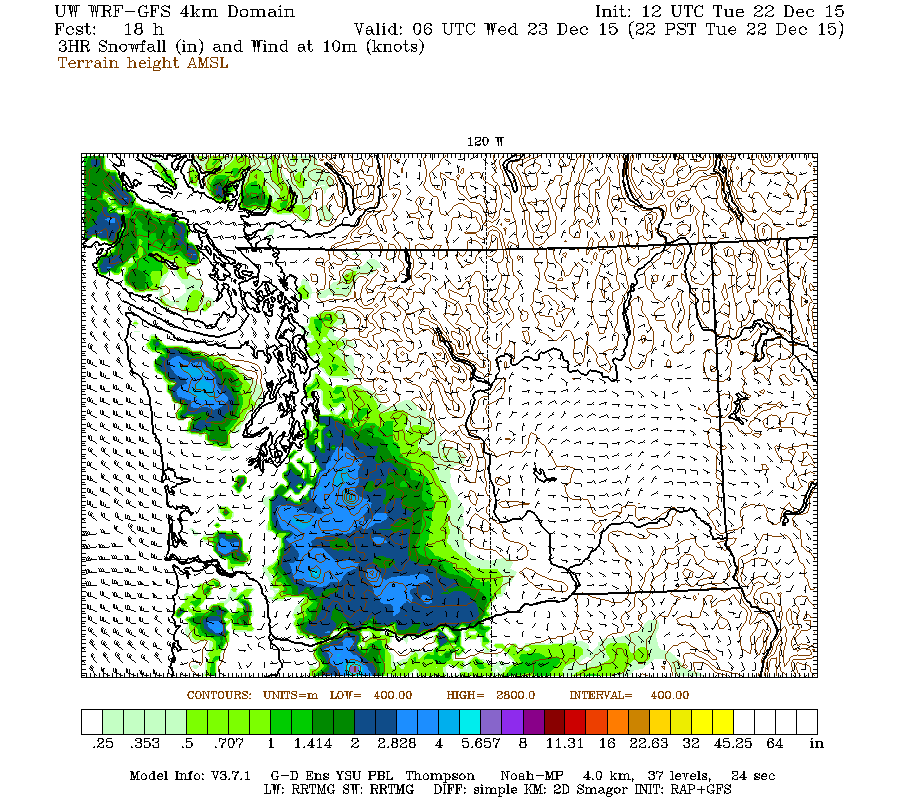 SATURDAY BOXING DAY POST CURRENTLY UNDER CONSTRUCTION COME BACK SOON! 🙂
Update 9:45PM – Snow stops for now. May return overnight then again in morning. Possibly final post before Christmas!
Make sure you check DriveBC.ca for current driving conditions, or better yet, don't drive right now.  The last update was heavy snow from Ucluelet Junction all the way through Port Alberni to Highway 19.
The snow appears to have stopped as of this moment.  Accumulation occured in all areas of Port Alberni including at sea level at the harbour where it was more slushy.  Top accumulation look to be around 3cm.  Enough for a snowman and a toboggan!
Here is the deal for tonight and tomorrow:
Here is a great shot of what just blew through courtesy of the National Weather Service in Seattle and their rHopefully the video works for you.  It should a low pressure area spinning into Washington state and dragging cold air down behind it.
Radar did a great job earlier this evening of showing the spin of the cold upper low moving onshore over WA. #wawx pic.twitter.com/5ZtQeEEspK

— NWS Seattle (@NWSSeattle) December 23, 2015
There could be some snowfall later tonight. However, there should be a break by around 4AM lasting through sunrise.  Hopefully it does *not* clear.  If it does, it could be very icy in the morning so beware on the roads.
Below is the forecast shot of the gap.  Notice the precipitation still in Vancouver… Nasty commute.  And notice the precipitation on the way on the west coast.
Rain or snow should begin again around 9-10AM judging by the chart below.
The threat will continue through noon until around 1PM Wednesday.  However, notice that the model has most of the action concentrated on the south island.  Hopefully this falls as rain and not snow or the Malahat could be very treacherous.  Drive safely.
That's all you need to know for now.  After Wednesday evening there appears to be very little chance of any more precipitation until after Christmas, so if the snow tonight lasts through tomorrow we might just get that rarest or things, a white Christmas!!
Take care and have fun out there.  I may not have another post until after Christmas, so if I don't please have a very Merry Christmas and Happy Holiday.  I hope you are able enjoy the season.  What a treat for us to live where we do.
From my crazy family to yours 🙂
(I will have an update later to ight when the new models are done… Enjoy the snow! :))
It's currently snowing around town and the Valley. Whether it is sticking or not will depend on your locality. It is currently sticking near Maquinna Elementary where it is 0.5°C but only just started sticking here at HQ at 1.0°C.
Here is something special though: it is currently snowing in Tofino! That doesn't happen very often and speaks to the cold NW wind that is blowing in. Forecasters are referring to it as a "Siberian Express".
Snow in Tofino with a NW wind: #SiberianExpress HT @nanaimoweather pic.twitter.com/WfPdid8p5X

— Chris Doyle (@ensembleator) December 23, 2015
It is going to be hard to say how much snow we get tonight.  Could be anywhere from 1-2cm or 10 depending on the model you use.  We will just have to wait and see.  Drive safely, and enjoy the snow!  Heres hoping it sticks around so we can say we have a white Christmas!