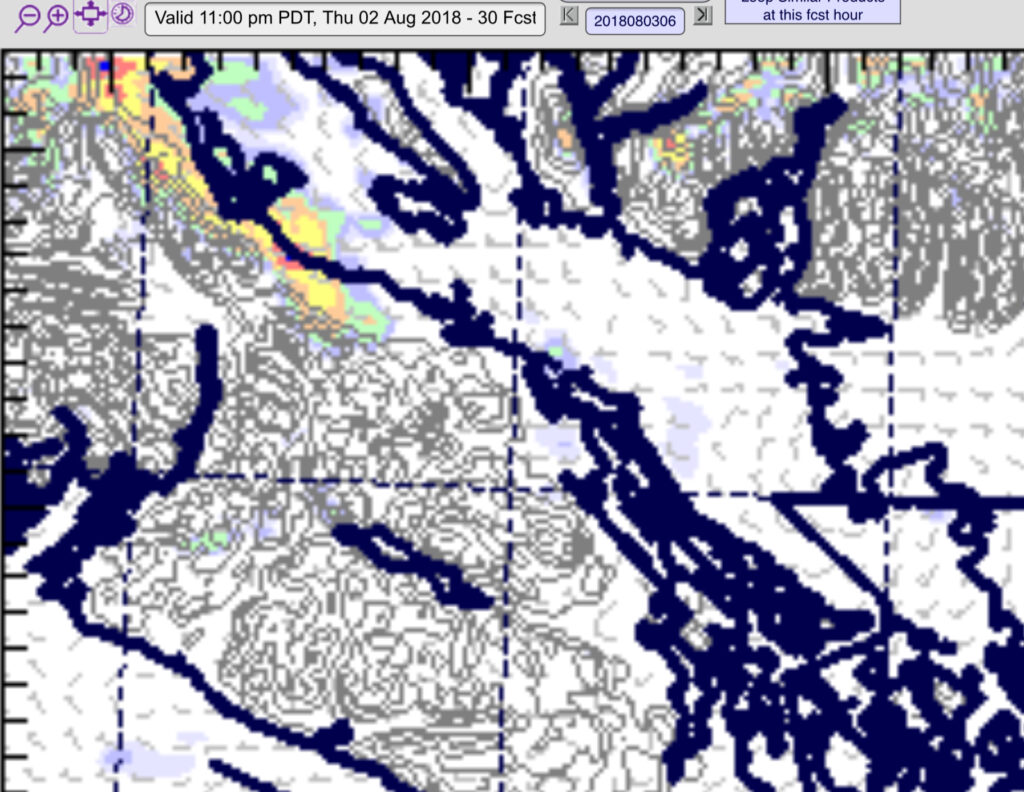 Well our heatwave and string of sunny weather is finally over.  Here is a rundown on what you can expect through the August Long Weekend.  The forests and gardens might be calling out for some extra moisture, but it's not a sure thing. Here are the details.
Thursday the only rain day
The best chance for showers for the whole weekend looks to be today, Thursday.
The images below are for the 8AM-11AM period and 8PM-11PM period.  They are the points of strongest precipitation in the central Island area today.
Notice the activity is Very much confined to the East side of the Island.  This looks like spotty rain including maybe some local heavy spots, but it is not widespread.
For Port Alberni, there is only a slight chance of a shower passing through late Thursday night. That's it.
Friday, Saturday, Sunday and Monday are completely dry on thr UWash model and temperatures are back into the mid to high twenties.  The cloud may make it feel a bit muggier than we generally like.
So there ya go, not a bad August Long/BC Day forecast at all!
Fire Danger remains High to Extreme.
The Island is under significant areas of high and extreme fire danger. That rating may drop temporarily in areas that get the spotty rain, but I would remain very vigilant. This rain will not be long and will not do much to soak the forests.
The danger forecast for Beaver Creek/Alberni Vallet expects to go down to High tomorrow and then back to Extreme by Sunday.
Expect the same pattern for other parts of the Island. And if the rain doesn't materialize as much as forecast, expext perhaps little to no change at all.  It is dry out there. Please be careful, and no campfires.
That's all for today!
Happy Thursday and BC Day Long Weekend!