Thanksgiving weekend (and early voting!) forecast.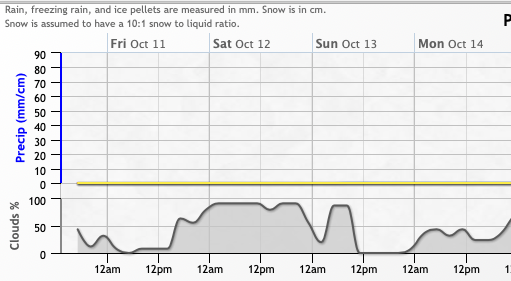 Friday Perfect and Sunny! Go Vote if you already know who you want to vote for.
It's not only the start of the Thanksgiving weekend, it's the first day of early/advance voting for the October 21 federal election! I've posted info for voting on my blog.
It will be sunny all day today. A beautiful fall day! It will cloud over overnight.
Saturday cloudy but should stay dry.
There was a chance of rain in earlier forecasts for Saturday but it looks like that chance has dried up. Instead we're just going to have a little breeze in the afternoon and mostly cloudy skies, but the rain should stay away.
Sunday foggy morning, sunny afternoon.
Sunday we should have a beautiful afternoon. The models show the clouds clearing just before 12PM. The clear skies should get us up into the mid-teens in temperature.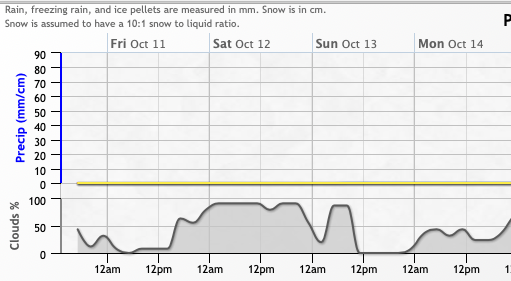 Monday pleasant.
Monday will be a transition day. There might be clouds moving in in the later day as we prepare for a stormy and rainy week next week!
Help a local researcher! Emergency planning Survey!
I was contacted by a local resident and researcher, Heather Zenner to see if I could share the work she is doing. Here's her message below, and here's the survey she is hoping people in the Alberni Valley will do. Thanks for helping! 🙂
Hello Alberni Valley residents.

I am a student in the Master of Arts in Leadership degree at Royal Roads University, I work for the Alberni-Clayoquot Regional District (ACRD), and I live in Beaver Creek. As part of my education requirements I have partnered with the ACRD to conduct a research project based around "How can the ACRD better engage the community in the process of emergency planning & preparedness in the Alberni Valley". 

Part of my research is conducting a survey with as many Alberni Valley residents as possible to determine communication & engagement preferences, level of knowledge regarding the emergency program, perceptions of emergencies, and barriers that prevent residents from preparing for emergencies. I am inviting you to participate in this survey: https://s.surveyplanet.com/0MSNGwu1
The survey should take < 10 minutes and is completely optional & anonymous. This data will be used to guide the rest of my research project. Once my project is complete, I will be making recommendations to the ACRD for their consideration. 

Paper copies of the survey available at the Echo Centre & the ACRD office. 

Thank you,
Heather Zenner