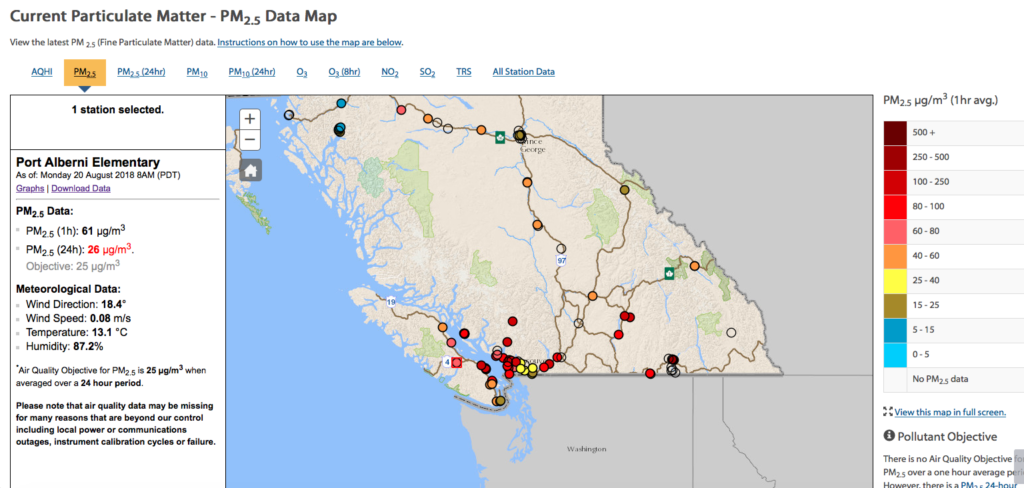 The story today is the smoke.  I have a headache and a cough.  It was better in Port Alberni this morning than most areas but it seems to be settling in now.  Here are some readings around the province. My suggestion. Stay inside with the doors/windows closed. If you can still smell it.. a trip to Walmart or the Mall or some other place with internal air conditioning would be good to filter out the smoke.  This air is particularly bad for the elderly and the young but it's going to affect everyone.
Here are the readings from around the province at this hour. (www.bcairquality.ca)
Below is the 24 hour map which is what Advisories are based on. Anything over 25 is red. There are many WAY over 25. (Kelowna is 200+!).
The map above the Current 1 hour readings.. so you can get an idea of whether the air quality is getting worse on average or not.  Notice the scale is a lot more detailed. There are many communities over 80-100 or more. Obviously their 24hr levels are not going to go below 25 anytime soon!
Here are some current readings as of the 8AM update.  Thankfully, in the Interior at least, the 1hr readings are coming down so that is bringing the 24 hour readings down as well. There were many places over 100 earlier this morning.
NAME: 8AM Reading / 24hr Average (ug/m3)
Port Alberni: 61 / 26
Campbell River: 52 / 54
Powell River: 82 / 64
Courtney: 76 / 41
Nanaimo: 109 / 76
Duncan: 57 / 38
Victoria: 15 / 15
Vancouver (Airport): 88 / 44
Vancouver (Second Narrows Bridge): 128 / 60
Abbotsford: 23 / 39
Agassiz: 122 / 106
Hope: 99 / 170
Kelowna: 80 / 200
Kamloops: 47 / 96
Vernon: 130 / 188
Grand Forks: 98 / 309

Castlegar: 241 / 365
Golden: 42 / 111
Williams Lake: 42 / 88
Quesnel: 44 / 71
Prince George: 19 / 75
We should see the smoke clear by Wednesday.  The weather is pretty irrelevant as the smoke is really controlling the weather at this point. We should be sunny and blue skies and hot, but we will stay in the mid to maybe high twenties depending how the smoke acts.
Take care out there and try to limit your exposure to the smoke. 
Happy Monday!