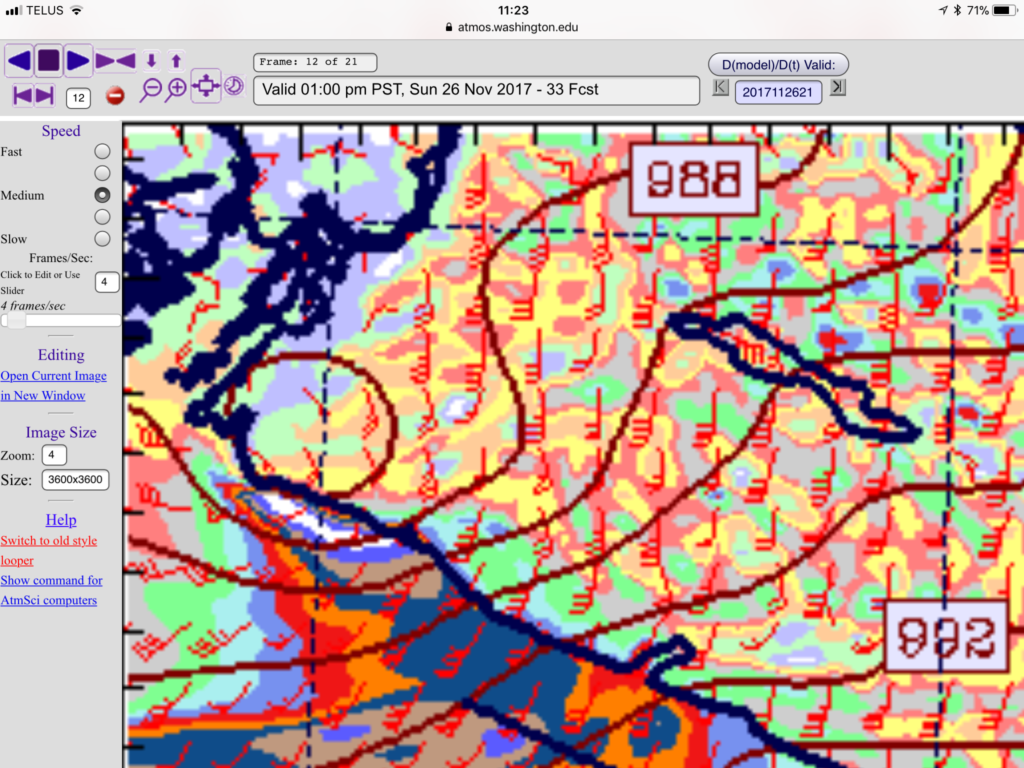 Updated 11:30AM.
Wind warnings ended and unlikely for rest of the day and the rain should be mostly done too. Good stuff! But flood watch still in effect.
Updated 9PM:
Good News
New (0Z) UWash model quite different. 2nd low much weaker and later. Very little wind. Most wind early morning. Mostly rain event… 30-60mm. Lots of disagreeing models. #portalberni pic.twitter.com/6ETilc6vs7

— Alberni Weather (@alberniweather) November 26, 2017
Bad News:

Flood Watch – Somass River (UPGRADED)
ISSUED: November 25, 2017 17:00 PM

The River Forecast Centre is upgrading a Flood Watch for:

The Somass River including the Sproat River, Ash River and tributaries

A storm cycle over Vancouver Island last week has saturated the soil in this area and caused lake levels to increase considerably. The river levels are currently rising slightly. Heavy rainfall about 60 mm is forecast for the Somass River area Saturday night through Sunday. Current hydrologic modelling indicates that the streamflow of the Somass River is expected to rise to approximately 800 m3/s, or similar to 2015 flood levels. The streamflow for the Sproat River is expected to rise to 300 m3/s, which is a 5 to 10-year return period flow.
Update 6:30PM FLOOD WATCH ISSUED COULD BE SIMILAR FLOWS TO 2015
….. original post ….
We are in for another windstorm on Sunday around the south coast. As usual, actual location of highest winds depends on where the low comes ashore on the Island… but here's the interesting part: There are two lows about 12 hours apart.
The first low, a 98.3kPa low, is slated to come ashore on the north island Sunday morning delivering strong winds all the way down the coast.
These should last through the morning.
The second low, 98.8kPa will come up from the south and come ashore near Bamfield.
Zoomed in:
This is just one model, so it is unlikely to be exact, however, it is worth the folks in Bamfield, being a little extra prepared. White indicates more than 70knot/129kph winds in exposed areas…
Depending on the track of the low, if it goes a little norh, it could translate to very strong winds in Port Alberni as well.
The intensity of the storm is also going to give a possibility of lightning being generated, as we saw a couple weeks ago.
High tide in Port Alberni is around 6:14AM on Sunday morning and then 5:30PM in the evening. Hopefully it does not combine too much with the wind and rain and river runoff to cause any more flooding than we already have.
Batten down the hatches and get some candles.