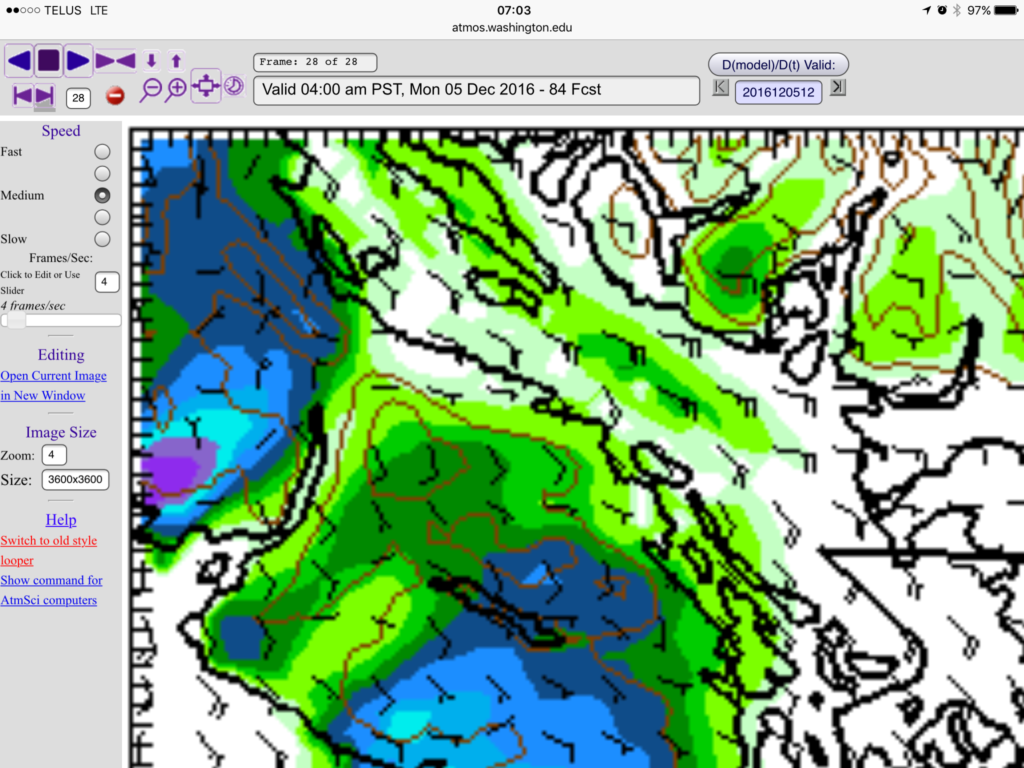 Update 1PM Saturday
The morning high resolution models are finished and the forecast has refined a bit.  Port Alberni will probably only get snow late Sunday night around midnight.  After that, most of the chance focuses on the east side and will depend on the outflow winds picking up snow along the Strait and dumping it on the east side.  That means it will be difficult to know exactly where the most snow falls.
Here is the 3hour snowfall imagery starting at between 10PM to 1AM.
Notice the heavier snow near Courtenay due to winds up to Strait and likely cooler air leading to more moisture and snow.
The winds then shift to the East outflow and the East side of the Island gets hit betweem 1AM-4AM.
Accumulations will be variable.  There may be places where it only rains, and there be others where they get 3inches (10cm) of snow.
The threat of snow ends by sunrise.
Winds then pick up again in the evening bringing more pockets of snow to the East Island particularly Courtenay and maybe Nanaimo and Whiskey Creek.
UPDATE 1PM FRIDAY — Sunday Rain/Snow Mix Details
The Friday morning model run faded the Sunday morning snow so expecting mostly rain, however the high res now extends to the afternoon on Sunday, here is a rain/snow mix map.
Greys/blacks are rain, colours are snow:
Will it be Sunday? Monday? Wednesday? Thursday?  This post will update so check back.
We might have a winner for the snow contest soon…
The forecast has an aweful lot of mentions of either flurries or snow right now.  I think we can officially get excited (or not :)) that we could see our first lowland snowfall of the year within the next 7 days!
Todays rain should end by the afternoon and we might even get some sunny breaks late in the afternoon or on Saturday.  Then it gets interesting:
Here are the predictions:
Sunday Morning
The first chance of low land snow occurs early Sunday morning (1-4AM). Some heavier precipitation will track north from Nanaimo to Parksville and the high resolution model predicts snowfall in the Nanoose Bay and Lantzville area. The green areas are 1-2inches or under 5cm. So not much, but enough to cause traffic headaches.
This is as far into the future as the high resolution model goes right now. I will update this post later today when the next model run is complete and we get most of Sunday in high res.
The forecast says it will warm enough on Sunday that there will not be any more chance of snow during the day.  We will see if that prediction holds.
Sunday Night/Monday morning – Heavy high elevation or Valley snow, sleet at sea level.
Things get real late Sunday, snow or sleet is expected to begin at sea level on the West Coast around midnight… it should begin to snow out Sproat Lake toward 1AM
Here is the 11PM-1AM picture:
It then spreads inland in the 1-4AM hours of Monday morning with Sproat Lake, Lake Cowichan and Bowser getting most hit.
You can see the edges near sea level stay in the green which likely means most of this will fall as sleet or wet snow and may not stick on the ground.  It will depend just how cold it is and how heavy the rainfall is, the heavier it is, the more likely it will change over to snow.
Monday East Coast Outflow Mess
The chance of snow in Port Alberni is supposed to quickly fade early Monday but not so much on the East and South Island.
Strong outflow winds from the Fraser Valley might cause a big snow event. Look at the horizontal, East pointing, barbs in the white area on the right of the first image below.
4-7AM
7-11AM the easterly winds on Georgia Strait intensify and deliver snow to Nanaimo.
11AM-1PM the winds start to calm.
These are low resolution 12km forecasts so I will update this section later this morning when we should get the 4km version of these maps and I will update again on Sunday when the high res 1.3km maps are in.
Long Range Wednesday Cold and Snow then Warming Thursday.
It is going to get cold on Tuesday possibly down to -5°C.
That will set up a similar but perhaps stronger pattern of West Coast, and then strong outflow East Coast snow is currently in the picture for Wednesday.  This is likely to change, but it is worth planning for. Areas south of Ladysmith and north of QUalicum seem particularly strongly hit with accumulations up to 8 inches or 20cm possible.
PHEW! That's a big forecast and there is going to be lots more to come as the new model runs come out.  I will try to update the post until at least Sunday morning so we get a good idea of what to expect on Sunday night and Monday.
I am also working on the November Summary!  Never a dull moment!
Happy Friday!