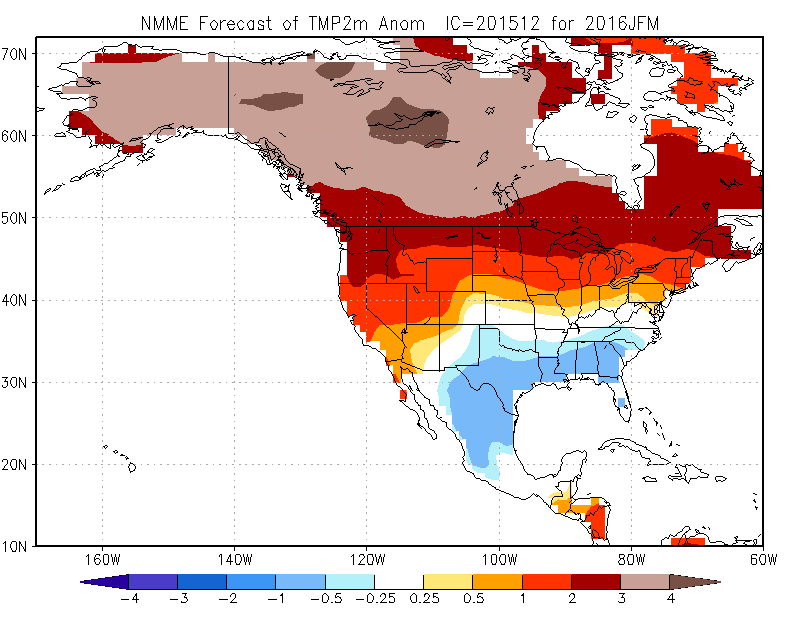 Unusually Normal November (right before a stormy start to December).
Much like last year where the November summary was delayed because of a wild start to December that led to massive flooding along the Somass, this past first week of December has been notable for both its rain and wind.  However, this summary is for November so I'll focus on that. 🙂
The most interesting thing about this past November historically is perhaps that it was not that remarkable in any sense.  Only one short term record was set, a low since 1995 at the Airport of -6.5ºC on the 25th.
In general, temperatures were pretty close to normal though a little skewed to the cooler side for our nighttime lows.  Based on the forecasts you will see below for the upcoming months and spring, I don't think that that coolness will persist.  El Niño and other effects are expected to produce very warm temperatures, especially in the Canadian North.  Precipitation wasn't very notable here at home either.  We received 3/4 of our expected normal total of rainfall and this is also in line with El Niño, though we should be getting less than normal.
However, that brings me to a serious issue. Once again, our official Airport station is not reliably recording precipitation.
In the Month of November, the Environment Canada station at the Alberni Valley Regional Airport only recorded 3 of 30 days of data.  This is includes days where there may not have been any precipitation, the data is listed as "missing" rather than "0".
This is completely unacceptable performance for an official government-run environmental station and this is the second year in a row that it has gotten very bad.  As such, I'm going to be sending a letter to our Member of Parliament Gord Johns.  I would recommend that you do the same.  I am going to include mention of the Robertson Creek station as well as it has been having problems over the past many years and is probably not going to be able to be used in 2020 for the 30 year "1990-2020 Normals" period. Here is the mailing and email address.
Gord Johns, MP
House of Commons
Ottawa, ON
K1A 0A6
Gord.Johns@parl.gc.ca
It is incredibly important for all levels of government, public, and business to have access to accurate, reliable and long term weather records.  We have two long term stations in Port Alberni, one at the Airport and one at  Robertson Creek.  Both have had problems with reliability in the past few years and I fear it is due simply to neglect and lack of funding.  My hope is that with a new Federal Government and MP (Gord Johns) we will be able to ensure these stations continue to provide their invaluable information for decades to come.
If you are wondering what to write, below is what I am going to send.  Please feel free to copy/paste/modify as you choose.
Gord Johns, MP
House of Commons
Ottawa, ON
K1A 0A6

Dear Mr. Johns,

I write to you to inform you that the Environment Canada weather reporting stations at Robertson Creek and the Alberni Valley Regional Airport ("Port Alberni Airport") have become unreliable in their ability to record precipitation and (to a lesser extent) temperature. This issue has been ongoing for a number of years and appears to be getting worse. In November 2015, the Port Alberni Airport station, which is the station-of-record for the community of Port Alberni, had proper precipitation records for only 3 of 30 days. The Robertson Creek station has similarly only recorded partial data over the past many months.

In both cases, these stations represent invaluable data gathering tools for weather and climate in our region. The Robertson Creek station in particular is the only 'long period' (>30 year) station in the area that can be used to create "Normals" over 30 year periods as it has been in operation since the 1960s. This status is in jeopardy due to the unreliable data it is generating and as a result we may not have a "1990-2020" Normals climate data set for our area when they are generated after the turn of the next decade. The Airport station has only been in operation since 1995 (when the previous "station of record" on the Somass River was removed) so it will not be able to be included in a 30yr "normals" set until the 2000-2030 period. As it stands, I do believe it may not be able to achieve the data requirements because it has missed so many days and weeks of data.

I have made inquiries into these issues with contacts in the Ministry of Environment but have not had success in having the issues resolved. I have also contacted our previous MP about this issue with no effect.

I request that you please contact and work with the Minister of Environment and Climate Change to review the operation of these important weather stations to ensure they are operating properly and will continue to do so well into the future and to also investigate the possibility of reinstalling an official Environment Canada station in or near the Port Alberni/Somass River estuary as the climatic differences between the River and Airport locations are significant.

Sincerely and with great respect,

Chris Alemany

3854 6th Avenue
Port Alberni, BC
V9Y4M2
Weather Enthusiast/Hobbist – www.alberniweather.ca
Councillor City of Port Alberni
---
El Niño update
The latest El Niño forecast was released December 10th. The confidence for the El Niño conditions to last through fall and winter has increased from 90% last month to 95% now.
El Niño is expected to remain strong through the Northern Hemisphere winter 2015-16, with a transition to ENSO-neutral anticipated during late spring or early summer 2016.
In November the forecast said:
There is an approximately 95% chance that El Niño will continue through Northern Hemisphere winter 2015-16, gradually weakening through spring 2016..
The October and November synopsis were the same, so this new one is similar but notice they say late spring/early summer for the weakening, so this is a bit of a step back.
Collectively, these atmospheric and oceanic anomalies reflect a strong El Niño….. All models surveyed predict El Niño to continue into the Northern Hemisphere spring 2016, and all multi-model averages predict a peak in late fall/early winter
Here is the rest of this months advisory.  This year's El Niño is expected to rank as one of the three strongest since 1950.
Collectively, these atmospheric and oceanic anomalies reflect a strong El Niño episode that has matured.  Most models indicate that a strong El Niño will continue through the Northern Hemisphere winter 2015-16, followed by weakening and a transition to ENSO-neutral during the late spring or early summer (Fig. 6). The forecaster consensus remains nearly unchanged from last month, with the expectation that this El Niño will rank among the three strongest episodes as measured by the 3-month SST departures in the Niño 3.4 region dating back to 1950.

El Niño has already produced significant global impacts and is expected to affect temperature and precipitation patterns across the United States during the upcoming months. Seasonal outlooks indicate an increased likelihood of above-median precipitation across the southern tier of the United States, and below-median precipitation over the northern tier of the United States. Above-average temperatures are favored in the West and northern half of the country with below-average favored in the southern Plains and along the Gulf Coast.
Check out the long range models from IMME below to see a little more detail.
---
Outlooks — Stable with periodic precipitation. Little chance of 'white'. 
Here are the 16-day GEPS consensus graphs from SpotX for November.  Does not look like there is much chance for 'white' right now.


Three-Month Forecasts 
North American Multi-Model Ensemble (NMME) 3-month Temperature, Precipitation and Sea Surface Temperature.
Here is January, February, March period.  The heat in Canada, especially northern Canada is even more stunning than the previous 3mo forecast.  More than 5ºC above normal in some parts of the North! Remember that this is an ensemble, so it is a collection of models.  If you go to the link above you'll see some models have anomalies more than 4C above normal in the north… this is not a one-off.  These models are consistent, persistent, and are proving true.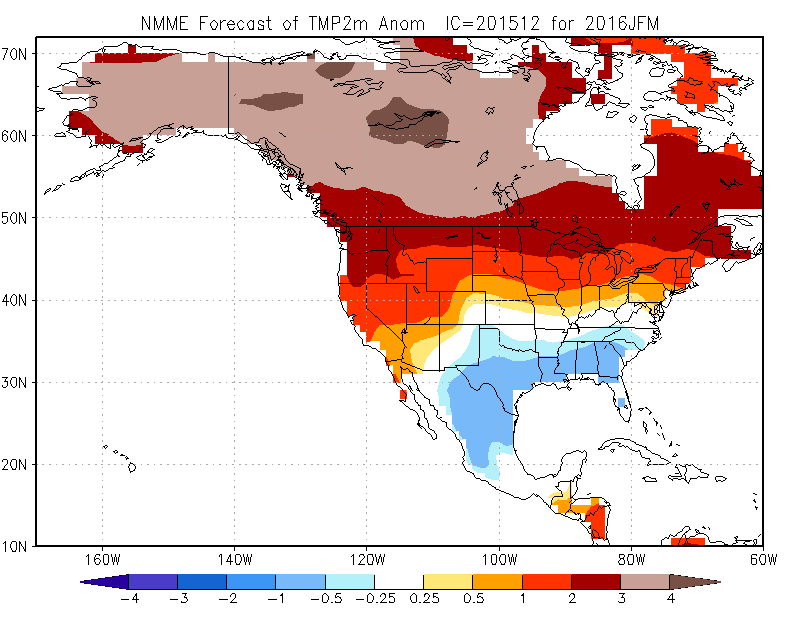 Here is last month's picture for the previous three month period.
Here is the Precipitation Forecast.  The models seem to have coalesced more around a much drier forecast.  Overall, this remains a bad case scenario for ski season on the West Coast even with the good start we have seen.
Last month's forecast for the previous 3 month period.
Here are the current global temperature and precipitation forecasts for Spring, Summer and Fall and/or Winter, (generally only 1 of 2 seasons are within the forecasts).
And finally the Sea Surface Temperature anomaly. The Pacific heat near North America is slated to weaken a little as is El Niño but it is still significant.
Last month's picture for the previous 3 month period
Notice 1 thing:
#1:  In a warming world… what gives with the cold water right below Greenland?  Hmmmm… others are wondering too.
That's it!  Check the data for the month is below!
---
Monthly Timelapse Video
 Pssst: Switch it to HD. 🙂
---
Daily records set this month at the Airport (and compared to other stations* for "All Time")
One new Airport low temp, no high temp or rain,  no all time records.
November 25 low -6.5º C : #1 is -10.0º C in 1985 at Robertson Creek.
*Short Term (since 1995) Airport Records are compared to the 30+ year weather stations of record since 1900 at Beaver Creek, Port Alberni City and Robertson Creek.
---
November 2015  Minimum, Overall and High Daily Average Temps See last month's and last November's summary.
Alberniweather: 1.1º C, 3.8° C, 7.5º C
Alberni Elementary School : 0.7º C, 3.8º C, 7.7° C
Maquinna Elementary School: 1.2º C, 3.6º C, 7.1° C
Neptune Canada Station: 1.9º C, 4.3º C, 7.8° C
Overall City Average: 1.2º C, 3.9 C, 7.5º C
Environment Canada Airport: -0.6º C, 3.2° C, 7.6º C
1981-2010 EC Normal (Robertson Creek): 1.8º C, 4.3º C, 7.6° C
---
Precipitation for November 2015:
Alberniweather: 168.9 mm
AES: 169.0 mm
MAQ: 192.8 mm
NEP: NA (not measured)
Overall City Average: 176.9 mm
EC: (Not Relevant 27 Days Missing Data!)
1981-2010 Env Canada Normal (Robertson Creek): 219.8 mm
---
City Stations Temperature Difference from normal:
-0.6° C, -0.4º C, -0.1º C
Official (Airport) Temperature Difference from normal:
 -2.4º C, -1.1º C, 0.0º C
City Stations Precipitation difference normal:
 -42.9 mm (76.8% of normal)
Official (Airport) Precipitation difference from  normal:
 NA

---
Days of Precipitation for November 2015*
>= 0.2 mm:  Normal: 21.3 : This Month: 17
>= 5 mm:  Normal: 13.4 : This Month: 9
>= 10 mm: Normal:  10.7 : This Month: 6
>= 25 mm: Normal: 5.0 : This Month: 2
*Denotes incomplete official Airport station data so using data from Alberniweather.
---
Comparison to recent Novembers at Alberniweather (unless specified)