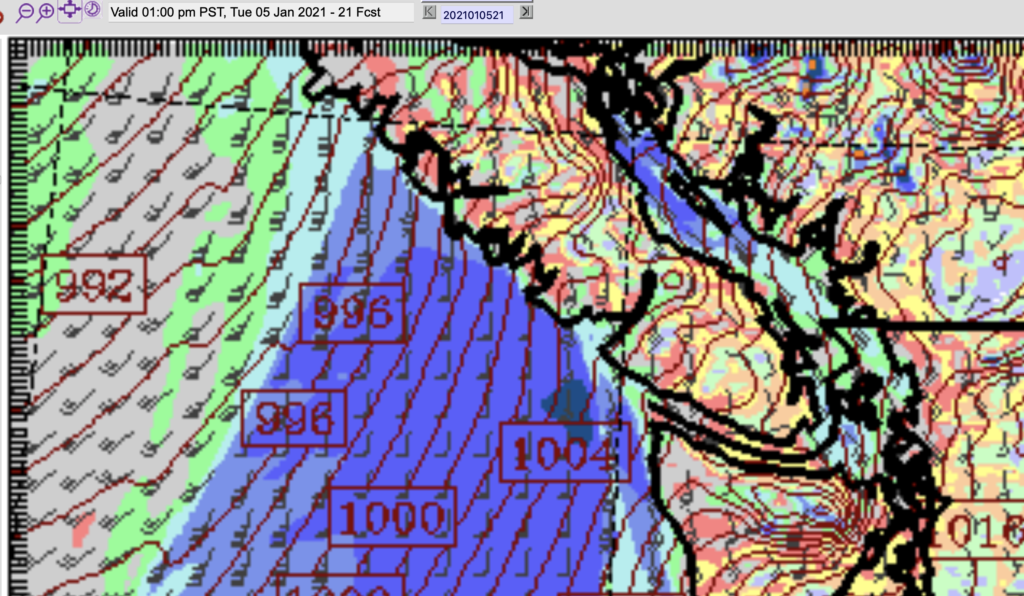 Updated 6:50AM Tuesday.
Major Rain and Wind storm coming Tuesday morning.
I will update this post throughout Tuesday if there are major events, power outages or other important updates. Note that BC Ferries has already cancelled some sailings.
There are wind and rain warnings already issued for the West Coast of Vancouver Island and wind warnings for the entire length of the East Coast of Vancouver Island. Expect 100 km/hr winds on the West Coast and 90 km/hr on the East Coast
No warnings have been posted for Inland areas but the forecast does call for winds up to 60 km/hr. However, even without warning-level rain or wind, the ground is so saturated that root systems will be unstable. The added rain and strong winds will make trees and slopes vulnerable to tree and rock fall.
UWash models have the meat of the system coming Tuesday. Rainfall totals between 4AM Tuesday and Wednesday are in the 60-120mm range on the West Coast and parts of inland Vancouver Island. More in the mountains.
Expect up to 60 mm in the Alberni Valley though you can see a little pocket of green and blue.
Strong Winds starting Tuesday Morning.
Winds will gust to 45-50 knots/80-90kph off the West Coast and near Quadra Island in the 7-10AM period Tuesday morning. Expect gusts on the North end of the West side of the Island (Solander Island, Cape Scott) to reach up to 120kph or more.
They will build through 1PM as the front slides down. The 10-1PM picture has the strongest winds reaching down to Barkley Sound topping at 55 knots / 100 kph just offshore and the East side topping at 50 knots / 90kph in the northern Georgia Strait. This should be the point of strongest winds for the West Coast and northern sections of the East side.
The Inland and rest of the East side of the Island will see their peaks later in the afternoon and evening.
The picture below shows the front and strongest winds are past most of the West Coast and Inland Island by 7PM but still linger on the extreme south end.
Stay safe out there and don't travel if you don't need to.
The days of heavy rains combined with this heaviest system will make the ground weaker for trees.
Expect branches and possibly fallen trees on roads and highways.
T