Strong Earthquake rattles Alaska – No Tsunami message for Vancouver Island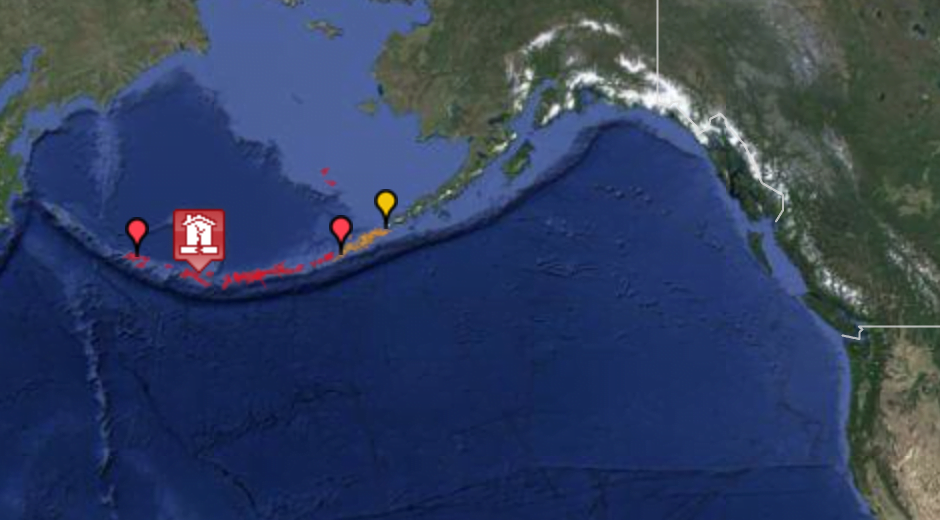 Final Update 4:50PM PDT: No Advisory or Warnings for the BC Coast.  Warnings in Alaska downgraded to Advisories. (#5).  You can see the latest info here: http://wcatwc.qarh.noaa.gov Looks like the quake was very deep (more than 100km) we should be ok. 
MT @nwsanchorage: Amchitka, #Alaska reports a #Tsunami of 0.6 feet. Depth of quake will limit the extent of the danger (>100km) Successful evacuations have occurred in St. Paul, St. George, Adak and Atka. No #tsunami reported in Shemya yet.
| | |
| --- | --- |
| | EmergencyInfoBC Officials still evaluating risks for #BC. NTWC estimates update within 40min RT @nws_ntwc: TSUNAMI WARNING3: http://t.co/3pkx2cVZlb for… 2014-06-23, 3:12 PM |
 A 0.6 foot high Tsunami was recorded in Amchitka, Alaska.
| | |
| --- | --- |
| | AKearthquake Still nailing down the magnitude, currently at M8. Here it is rolling through our stations west to east: http://t.co/wwSjlrbsy8 2014-06-23, 2:34 PM |
The Earthquake location with current warnings and advisories issued in Alaska: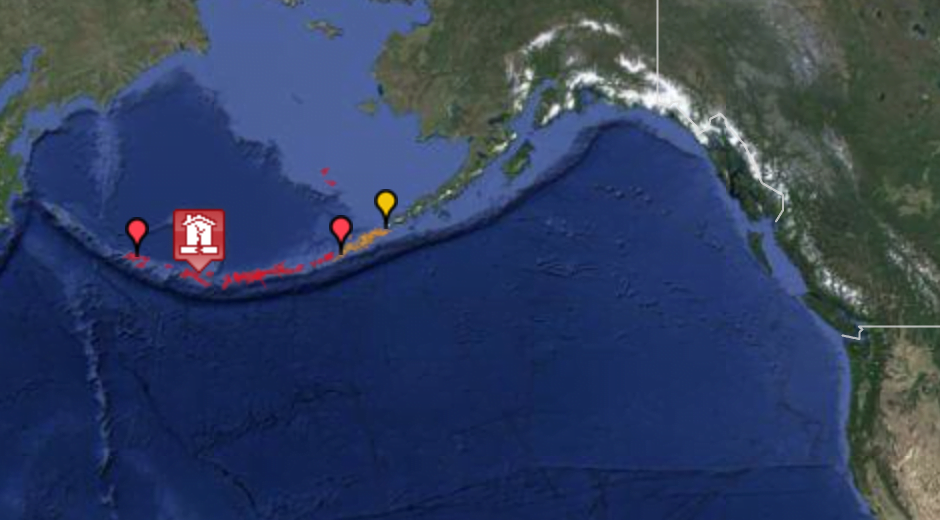 PRELIMINARY EARTHQUAKE PARAMETERS – UPDATED ——————————————- * MAGNITUDE 8.0 * ORIGIN TIME 1253 AKDT JUN 23 2014 1353 PDT JUN 23 2014 2053 UTC JUN 23 2014 * COORDINATES 51.8 NORTH 178.7 EAST * DEPTH 68 MILES * LOCATION 25 MILES NW OF AMCHITKA ALASKA 195 MILES W OF ADAK ALASKA
More information: Time map… a Tsunami would reach Port Alberni at around 6PM
The Energy Map gives a good idea of what to expect. It should not be significant, but may deliver enough energy to cause unusual currents.