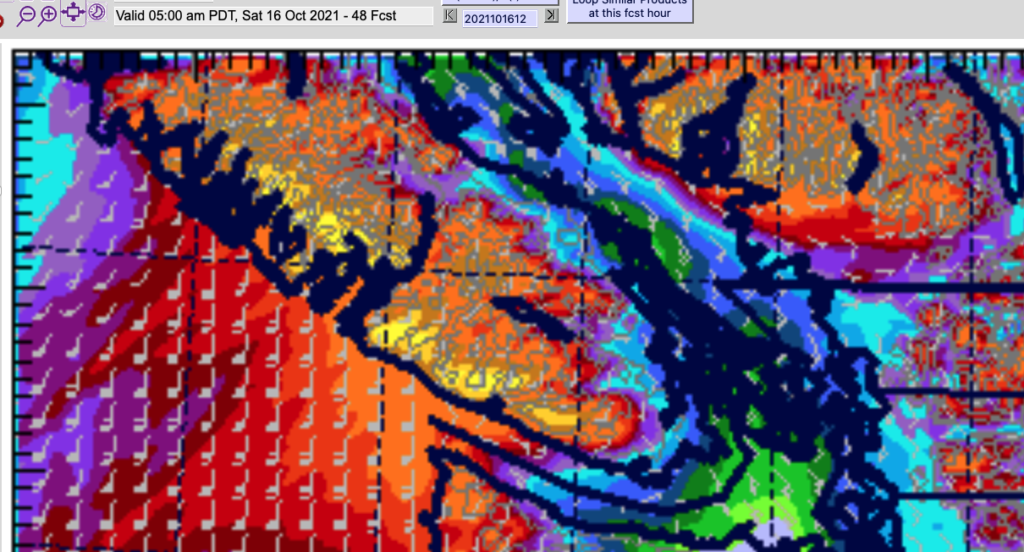 There has been lots of news about the weather today as Environment Canada has issued a Special Weather Statement for most of Vancouver Island.
This might change to a warning, either for wind or rain or both, in the next few hours. We'll see.
System 1 – The River
There it is:
Or at least that's what it is supposed to look like around 5AM Friday as Pacific moisture streams onto the South Island. Yes, expect it to be a wet start to Friday no matter where you are on Vancouver Island and the Lower Mainland.
The UWash model expects the Island to continue getting soaked *all day* on Friday with no breaks. However, thankfully, the strongest rain appears to be quite focused.
For the 24 hours between 5AM Friday and 5AM Saturday the map above shows to expect the following:
Tofino/Ucluelet/WestCoast/VI Mountains: 190+mm
Bowser/Qualicum/Courtenay/Cumberland: 50mm
Port Alberni/Lake Cowichan: 30-40mm
East Island and Victoria: 10-20mm
Vancouver: 10-20mm
North Van and Fraser Valley: 30-40mm+
Watching tides – For Flooding
The high tides in Port Alberni on Friday are at 10:02 and 21:38. The tides are building right now so each one is higher than the next. I would expect the later tide to be the one to watch for possible flooding to develop if the rains start to filter down from the mountains. Saturday's highs are at 10:51 and 22:42 with the latest one peaking at 2.9m.
Firehose shifts Saturday
The rain will continue into Saturday morning and won't stop until around noon or early afternoon for Port Alberni, maybe. The stream of moisture shifts just slightly south on the forecast.
Most of southern Vancouver Island is still in its cross hairs.
So this part of the forecast is still uncertain. But for sure, the South Island and Lower Mainland will continue in heavy rain through all of Saturday and it might reach as far as Port Alberni and Courtenay as well.
Finally by Sunday morning the firehose starts to really shift.
And most of the Island starts to dry out. There will still be patchy showers all day Sunday.
Monday and Tuesday gives us a bit of a break. We'll need it. It's going to be a wet weekend!
There will be some gusty winds along with this but the main focus should be the rain. We'll see how it goes!