Updated 4:30PM: Snowfall Warning Ended – But still messy areas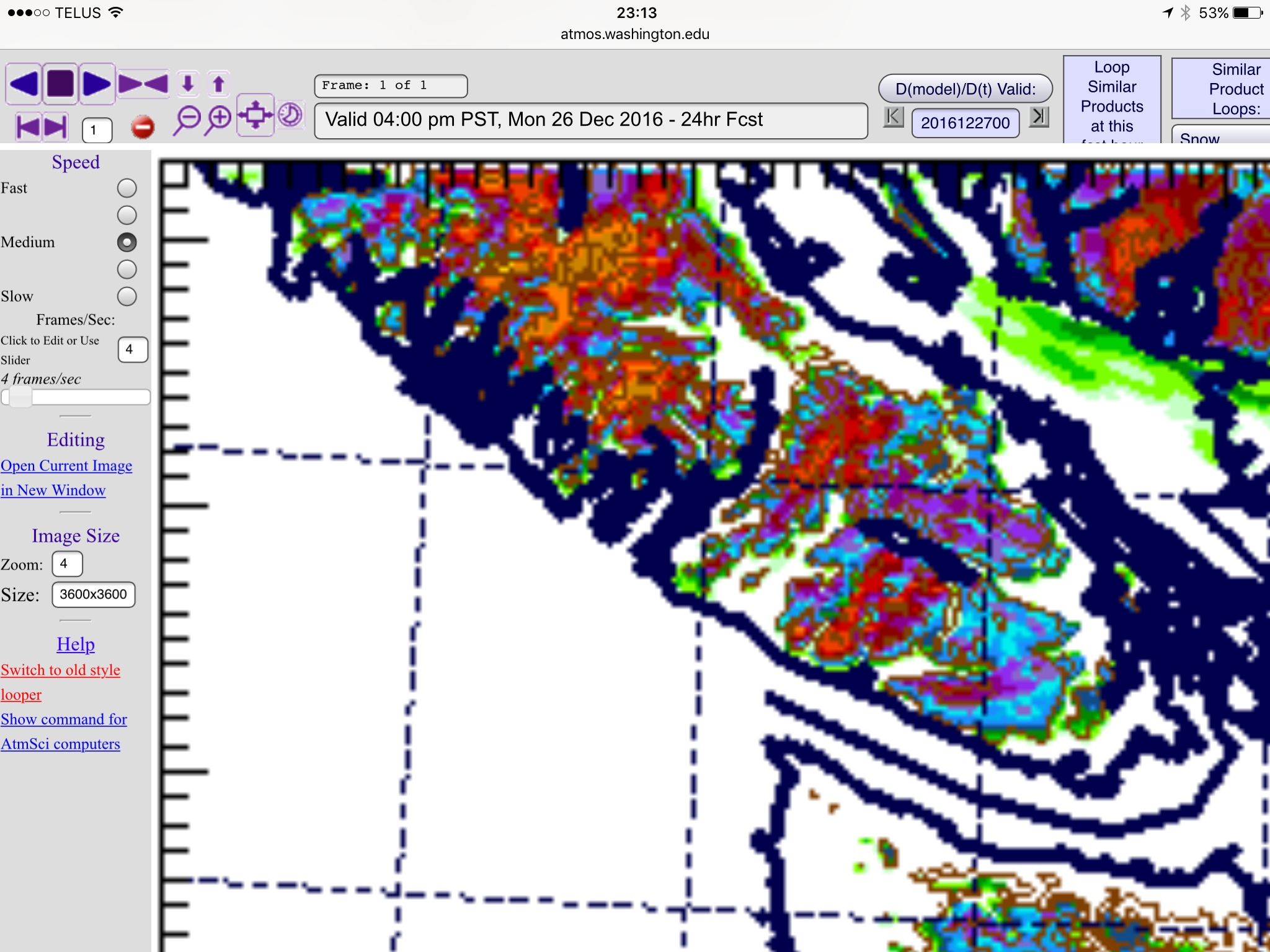 Update 4:30PM
The snowfall warning has officially ended for Port Alberni but there are still some seriously ugly patches out there. Cathedral Grove and Cameron Lake, Sutton Pass and elsewhere.  Stay safe out there folks, this bout of precipitation is still slated to be mostly over by around 7PM.
Update 11AM:
Snowing hard! Heaviest precipitaiton is still coming… expected between 1-3PM.  Should end by 7PM.
Elevation matters but snowing hard at all levels (5m light, 30m lot, 70m driveway) T:-0.2C D:-0.4C #BCstorm @ECCCWeatherBC @CTVNewsAstrid pic.twitter.com/tudkvnFKb7

— Alberni Weather (@alberniweather) December 26, 2016
Update 5:30AM
Here is the Warning for Inland VI.
Warnings
4:13 AM PST Monday 26 December 2016
Snowfall warning in effect for:

Inland Vancouver Island
Snowfall, with total amounts of 10 to 20 cm is expected.

Snow is beginning to fall over Inland Vancouver Island and will spread to the mainland coast by this morning. The snow will then progress into the Fraser Valley by noon as the next Pacific storm moves South along the B.C. coast.

Across the Lower Mainland, snowfall amounts will be limited to
2 to 4 cm near the water before a quick change to rain this morning but higher elevations could receive up to 20 cm as the snow persists well into tonight. Further inland, snow will begin later this morning or near noon giving 10 to 15 cm to the Fraser Valley before changing to rain tonight.

15 cm of snow is expected over Inland Vancouver Island before the snow changes to rain this evening.

The Sunshine Coast will receive 5 to 10 cm this morning before the snow changes to rain in the early afternoon.

Over Howe Sound precipitation will persist as snow through tonight. 10 cm of snow is forecast for today and another 10 to 15 cm is forecast tonight for a storm total of 20 to 25 cm.

Please continue to monitor alerts and forecasts issued by Environment Canada. To report severe weather, send an email to ec.tempetepacifique-pacificstorm.ec@canada.ca or tweet reports to #BCStorm.

Follow:ATOM feedATOM
The UWash model has us staying wet only as you can see below by the blank area in the Valley, but, it is best to err on the side of caution.
There is also a possibility of some gusty winds which could make for very treacherous conditons if combined with snow.
Most of the precipitation seems focus around noonish and into the afternoon.
The other models are much more bullish on snow so we shall see.