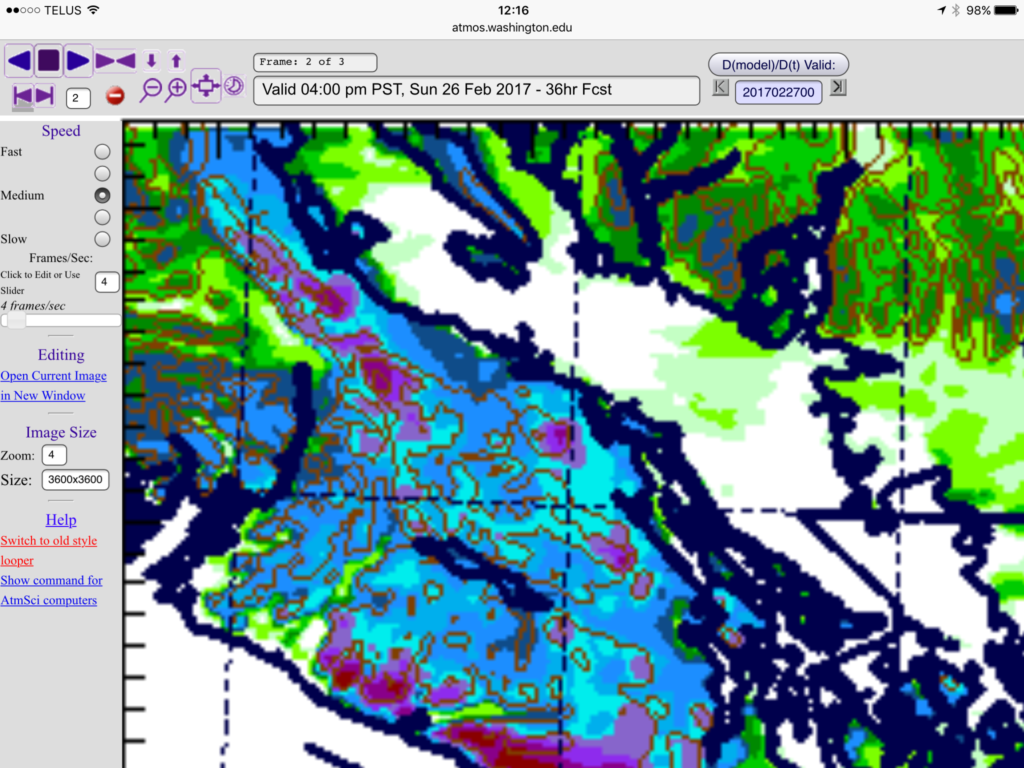 Expect snow to start late tonight (after midnight).  I have posted the imagery below for the period between 4PM/4PM Saturday/Sunday.
You can see Port Alberni is expected to miss most of the snow and fall as rain instead but this is dependent completely on temperature so if we are at or below 2°C then expect snow.
Snow should end in the late morning Sunday.
Here is EC's warning. I will update if anything major changes.
Warnings
10:38 AM PST Saturday 25 February 2017
Snowfall warning in effect for:

East Vancouver Island
Heavy Snowfall over East Vancouver Island tonight and Sunday morning.

A low pressure system will track southward, just off the Coast tonight. As it approaches, mixed precipitation will spread across the South Coast this evening. Most areas will likely see precipitation start off as rain but then change to snow later this evening.

Along East Vancouver Island the snow is forecast to become heavy overnight. As usual, snowfall amounts will be highly variable. Immediately along the Strait of Georgia, wet snow will struggle to accumulate and amounts will likely stay below 5 cm. However, further inland and over higher terrain snowfall amounts will vary from 5 up to 15 cm tonight.

By Sunday morning, the heavy snow is expected to have shifted southward. Areas roughly south of Qualicum Beach and away from the immediate Coast, could see additional snowfall amounts of 5 cm or more before the snow ends near noon.

Be prepared to adjust your driving with changing road conditions. Visibility may be suddenly reduced at times in heavy snow.

Please continue to monitor alerts and forecasts issued by Environment Canada. To report severe weather, send an email to ec.tempetepacifique-pacificstorm.ec@canada.ca or tweet reports to #BCStorm.