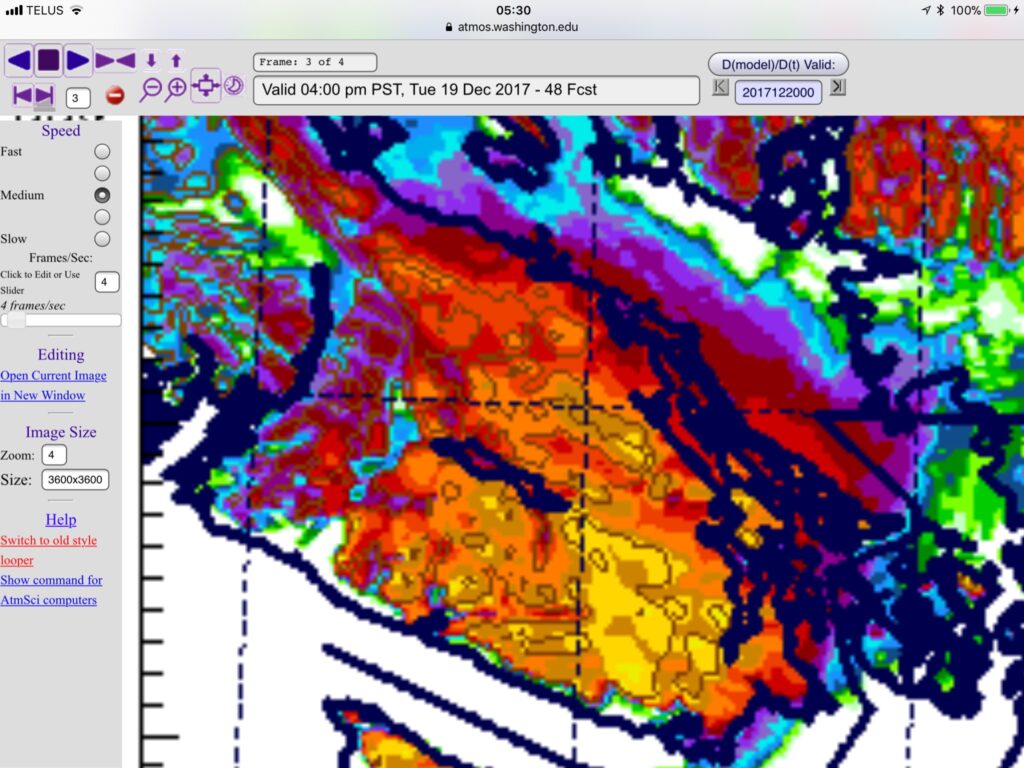 UPDATE 5PM — SNOWFALL WARNING ENDED — Still snowing around Cameron Lake.
Things should begin to die down but be careful around Qualicum Falls and Cameron Lake. There is still snow coming down.
UPDATE 11AM — MAJOR ROAD DELAYS — INCLUDING PROPANE TRUCK on Highway 19.
This is enough to scare you….
Propane Truck on fire north of Lantzville on Hwy 19! Uh. Yikes!!!#bcstorm#bcsnow@DriveBC_VI pic.twitter.com/khbDa7Ft5Q

— Alberni Weather (@alberniweather) December 19, 2017
Just don't go out on the roads if you don't have to.
On the bright side, WE HAVE A WINNER! (Two actually!)
Deb Arnett and Marie Hartard won first and second prize respectively today.  We measured 1cm of snow at 10:15AM this morning.  Deb guessed 6:10AM and Marie guessed 2:05PM.  YAY! They will be getting prizes from Healthy Habits and Boomerangs cafe.
Here are some snow reports:
Official snow measure @alberniweather at 10:15AM by @theresaalemany confirms covering ground and measureable 1cm.

That means we have a #snowcontest WINNER! It was close!

Deb Arnett guessed 6:10AM, only 50min closer than 2nd place Marie Hartard 2:05PM
YAY! Prizes for Both! pic.twitter.com/o4KZQ6xxKk

— Alberni Weather (@alberniweather) December 19, 2017
10AM snow measurement @ VIU 2.5cm #bcstorm#BCsnow @ECCCWeatherBC pic.twitter.com/C61ZglwQhm

— Alberni Weather (@alberniweather) December 19, 2017
10cm and still snowing heavily in #Parksville. #Bcstorm pic.twitter.com/MWxj8eBhRv

— Parksville Weather (@ParksvilleWX) December 19, 2017
So when will this weather stop you ask?
Well it looks like precipitation is expected to continue into the 1-4PM period.
And then move away in the 4-7PM period (but still going on East and South Island).
It continues on the East and South ends into tonight 7-10PM.
And should finally end for the entire Island sometime overnight.
Stay safe out there… if you don't need to be on the roads… just don't go! 🙂
UPDATE SNOWFALL WARNING UPDATED 9:15AM TUESDAY.
Driving conditions are very bad all over the Island. Crashes and delays reported on Highway 4 and Highway 19.  Just don't go…
If you are out there… be very careful.
EC has updated their Snowfall Warning at 7:23AM see it below. Up to 20cm expected at higher elevations on South Island… 5-10 elsewhere.
We might have a winner in the snow contest soon.
UPDATE SNOWFALL WARNING UPDATED 7:23AM TUESDAY.
Issued at 2017-12-19 15:23 UTC by Environment Canada:
Snowfall warning continued for:
East Vancouver Island – Duncan to Nanaimo, B.C. (081310)
East Vancouver Island – Nanoose Bay to Fanny Bay, B.C. (081320)
Inland Vancouver Island, B.C. (081500)
Current details:
Snow today and tonight.

Greater Victoria: Rain is expected at sea level but higher elevation routes, including the Malahat, will get 5 to 10 cm of snow today with another 5 cm this evening

East Vancouver Island: Duncan to Nanaimo and Nanoose Bay to Fanny Bay: 10 cm of snow is expected near sea level and up to 20 cm over higher terrain today. Another 2 to 5 cm is expected this evening

Inland Vancouver Island: 10 to 15 cm is forecast over southern sections today, especially near Lake Cowichan. Another 5 cm is forecast this evening

Fraser Valley.. Rain will change to snow near sea level this afternoon. Snow will continue this evening. 5 cm accumulation is expected later this afternoon and other 5 cm this evening. Higher elevations near Hope will get more, up to 10 cm this afternoon and another 10 cm tonight.

Rapidly accumulating snow could make travel difficult over some locations.
Update 7:15AM ROADS TREACHEROUS FROM HUMP EAST.
Just finished the journey to Parksville. Took a little longer than usual. Snow started up the hump and didnt stop. Road is snow covered from Hump east and snowing steadily. Continuing to snow now as I sit on the bus from Parksville to Nanaimo.
I attended to one vehicle in the ditch, near Whiskey Creek, person was ok. There was a 2nd one in ditch further along.
If you don't have winter tires, real winter tires, I would suggest staying home.
SNOWFALL WARNINGS ISSUED FOR VICTORIA, EAST COAST (DUNCAN to FANNY BAY), AND PORT ALBERNI
DRIVE SAFELY EVERYONE!
Here are all the warnings:
Issued at 2017-12-19 00:03 UTC by Environment Canada:
Snowfall warning issued for:
East Vancouver Island – Duncan to Nanaimo, B.C. (081310)
Current details:
A deepening low pressure system is forecast to track across Northern Washington State near the B.C. border on Tuesday. Ahead of the system, rain will begin over the South coast this evening and become heavier overnight. Cooler air will wrap around the low causing the snow level to fall during the day on Tuesday.

For East Vancouver Island from Duncan to Nanaimo, precipitation will likely stay as rain at sea level on Tuesday. Rain will changeover to snow over higher elevation as snow level drops to about 300 metres in the afternoon. 5 to 10 cm of snow can expected by Tuesday evening.

As for the Fraser Valley, snow level will fall to near sea level by Tuesday afternoon. Rain will changeover to snow in the afternoon and continue through the evening. Snowfall amounts will vary significantly depending on precipitation intensity and elevation. In general, locally 5 to 10 cm of snow can be expected for this event.

Rapidly accumulating snow could make travel difficult over some locations.
UPDATE 12PM THURSDAY – NEW FORECAST MODEL RUN
See bolded updates in the original post below. Special Weather Statement also updated.
NEW INFO: Predicted Snow Depth by 4PM Tuesday
Port Alberni: 0cm
Sutton Pass: 10cm
Parksivlle/Qualicum: 5-10cm
Nanaimo: 2-5cm sea level, 10cm inland
Duncan, Cowichan, Mill Bay: 10cm
Malahat 10-15cm
_____ ORIGINAL POST ______
We get a break from the rain today but don't sit back… we have a strong storm coming our way overnight and through Tuesday that could make driving conditions especially treacherous.
(Edit: If you're wondering… here's the Snow Contest Page so you can check your date!)
Here is the snowfall accumulations between 4PM Monday and 4PM Tuesday: (amounts in inches)
NEW UPDATE 12PM – OLD/NEW (Left/Right) forecasts are nearly identical with the latest forecast having just a touch more snow.
The mountains could see more than 30cm of snow (12in).  Mountain passes like the Malahat, Sutton Pass, and maybe the Hump could see amounts in the 10-20cm range (6in).
Notice Port Alberni and the Alberni Valley is pretty clear… mostly rain is expected but we should be prepared for snow too just in case.
The East coast of the Island, from Courtenay to Cowichan and Malahat, are going to have the greatest chance for snow.
Timelines
So when will this start?
Rain will begin in the 4-7PM period 7-10PM period Monday evening.  The picture below shows rain in greys and blacks and snow in colour.  Notice the rain along the coasts and snow inland and high elevations.
NEW UPDATE 12PM – LATER START TIME UPDATED FORECAST IMAGES BELOW
Snow creeps down to sea level starting at Mill Bay and working its way north starting in the 10PM to 1AM  period tonight.
(image updated 12PM)
The snowfall is predicted to intensify and spread north, though likely not to Port Alberni, before sunrise Tuesday morning before passing by noon 10AM.
So expect accumulating snow on the Hump, Sutton Pass and Malahat anytime between 4AM and noon on Tuesday with this forecast.
It is worth noting that it appears the greatest chance for snow in and around Port Alberni might be towards the end of this system in the late morning and noon time on Tuesday so don't be complacent if we seem to be getting left out of the mess Tuesday morning.
Finally, here is the Special Weather Statement issued by Environment Canada this morning for our region:
If this model forecast holds, I wouldn't be surprised to see Snowfall warnings for the east and south Island issued either at 11AM or 4PM today.
UPDATED STATEMENT
Issued at 2017-12-18 19:18 UTC by Environment Canada:
Special weather statement continued for:
East Vancouver Island, B.C. (081300)
Inland Vancouver Island, B.C. (081500)

Current details:
…Snow likely over higher terrain on Tuesday…
…Flurries possible on Thursday…
…Colder after Thursday for the rest of the week…

The weather will become more wintery over the south coast this week.

On Tuesday a deepening low pressure system will track across northern Washington State close to the B.C. border. This system will combine plentiful Pacific moisture with cool easterly winds near the surface. The resulting weather will be a mixture of rain and snow beginning tonight over most South Coast communities. Snowfall amounts will vary significantly from region to region and especially with elevation.

With the strong easterly low level winds, East Vancouver Island and Victoria will likely be the snowiest regions across the South Coast on Tuesday. Higher elevation passes like the Malahat and the Hump should see significant accumulations with at least 5 to 10 cm of snow expected. Communities away from Georgia Strait will also be the most likely to see some snowfall accumulations. Over the mainland South Coast there will be lesser snow amounts with about 5 cm of accumulation over higher urbanized communities. Howe Sound and Whistler will get closer to 10 cm Tuesday.

Precipitation will ease Tuesday night and a break in the weather is expected Wednesday. Much of the snow that falls Tuesday will probably melt on Wednesday.

A little snow is likely Thursday over the mainland coast as an Arctic front drops down from the BC Interior. The Arctic front will usher in much colder air for the rest of the week. By Friday night the lows will plummet to between minus 5 and minus 10 across the South Coast Daytime highs on Saturday will struggle to reach the freezing mark.

Please continue to monitor alerts and forecasts issued by Environment Canada. To report severe weather, send an email to [email protected] or tweet reports using #BCStorm.