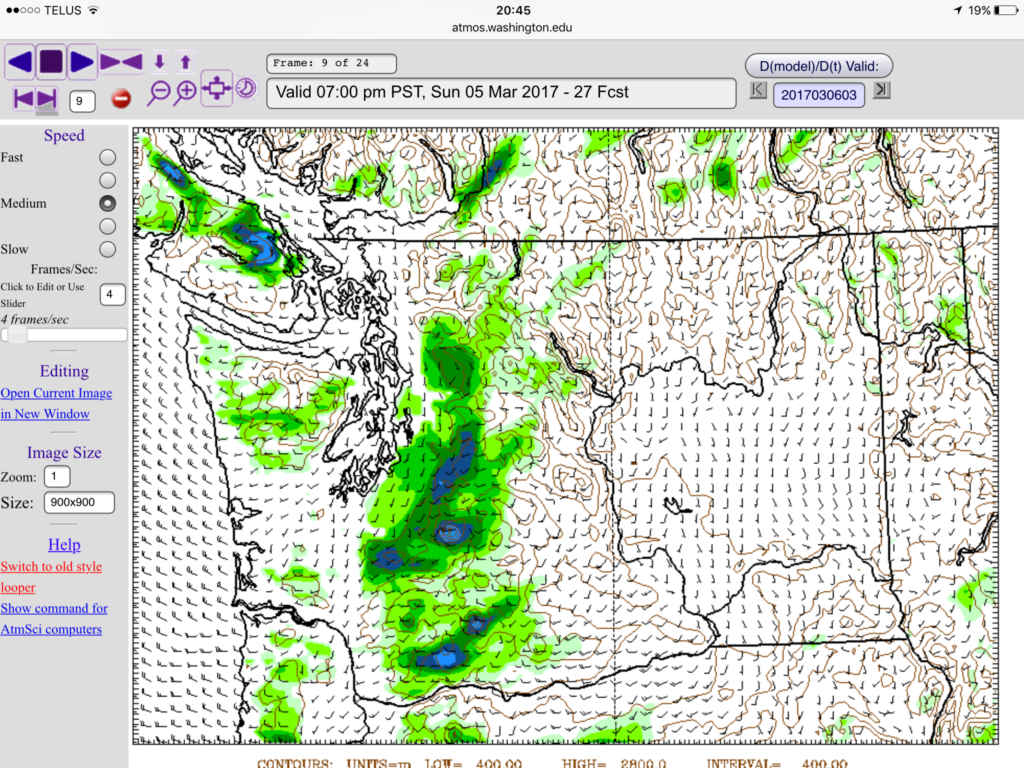 Update Saturday 8AM – Snowfall Warnings Ended
EC has lifted the warning for the east side and Victoria. Looks like everyone got a little snowy reminder last night but nothing serious. There is still a special weather statement for Inland Vancouver Island region though and it is still warning of possible snow patches.
6:30 AM PST Sunday 05 March 2017
Special weather statement in effect for:

Inland Vancouver Island
More snow for the South Coast this weekend.

A cold and unsettled airmass over the South Coast will remain in place into early next week. Snow levels currently near sea-level will rise slightly today amd rain will become mixed at times with the snow.

Showery precipitation is usually intermittent but can change in intensity quickly. While often light and brief it can also produce areas of heavy flurries. Local snowfall accumulations of a few centimetres are possible across the region with this unsettled pattern.

Please continue to monitor alerts and forecasts issued by Environment Canada. To report severe weather, send an email to ec.tempetepacifique-pacificstorm.ec@canada.ca or tweet reports to #BCStorm.
There is Snow on the radar in Vancouver but not much on the Island.
However lets not forget the model prediction of east side snow tonight on the south island.
That's it for now!
………
Is the beginning of the end? Sure felt like spring today with thelonger day, the warm sun, and the snow in the early morning!
Here are the details from the latest model on when and where to expect snow.  Note this is one model only, it is not perfect, but should give a decent idea.
Note the Snowfall Warnings for the East Side and Victoria (and also Vancouver and the Fraser Valley) but not for Port Alberni
The details:
First to get snow is the Alberni Valley tonight between 1AM and 4AM.
Next between 4AM and 7AM the Strait effect kicks in with heavy pockets of snow around Nanaimo and in the Fraser Valley and Vancouver.
In the 7AM to 10AM period the North Nanaimo, Nanoose and Parksville area and possibly Bowser get snowy.
In the afternoon 1-4PM some more precipitation is possible but it looks mainly high elevation as the lower elevations warm up.
Around sundown though between 4-7PM there may be a few more flurries in the Alberni Valley and the Cowichan Valley.
I may update these images if the high resolution runs look signficantly different.  Take care out there, especially if you are on the roads. It will be very hit and miss all day tomorrow all over the Island. Drive safe.