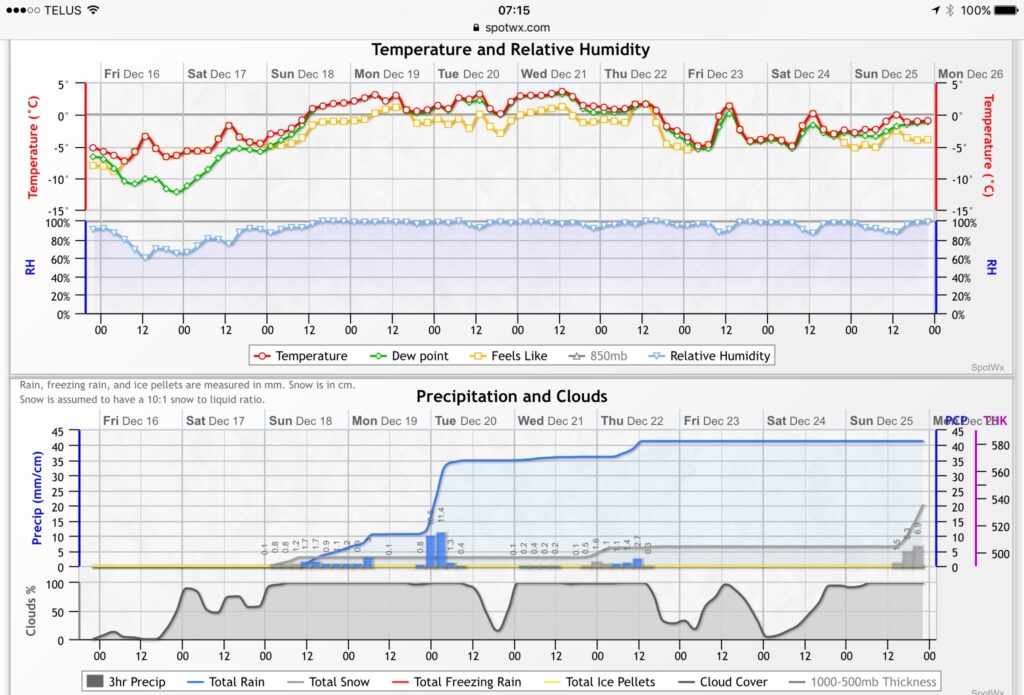 EC's updated weather statement at 4PM Friday says
As usual, snowfalls will be highly variable; current thinking is 5 to 15 cm of snow by dinner time Sunday with the higher amounts expected inland and over higher terrain.
That's up to 6 inches for the old fashioned folks! It might be very messy out there folks. Be prepared for it before Sunday morning.
I expect EC to issue a snowfall warning. When they do I will have a new post to udate the predictions and follow the storm through Monday.
---
The cold has been nice hasn't it? Crisp mornings. Bright sunshine. Crackling footsteps.
Well, unfortunately it appears it is about to end. And in typical west coast fashion, it will probably end in a big snowy, slushy, slippery, mess. But you really really should read to the end of this post. You will be glad you did. 🙂
Here is EC's Special Weather Statement.
4:34 AM PST Friday 16 December 2016
Special weather statement in effect for:

Inland Vancouver Island
More snow expected later this weekend for the south coast.

A Pacific front reaching the British Columbia coast Saturday night will spread snow to the south coast. Snow will continue through Sunday. The Arctic air that has been with us for nearly two weeks will finally be flushed out by milder Pacific air. Snow will gradually change to rain beginning Sunday night. As usual, snowfalls will be highly variable with higher amounts expected inland and over higher terrain.

For Metro Vancouver and most south coast areas a complete change-over to rain is likely by Monday morning. In eastern sections of the Fraser Valley and from Squamish to Whistler the temperatures will remain low enough that snow may persist well into Monday. During the change there will be a risk of freezing rain for the Fraser Valley, Howe Sound, and inland communities of Vancouver Island including Port Alberni.

Moderate rainfall in combination with melting snow could cause localized flooding on Monday.
The UWash has us warming up above freezing Saturday around noon but I would consider this more than a little uncertain and an outlier as there will still be very cold air lingering in other parts of the South Coast. The model may not capture that.. and other models do, as you will see.
As a result though. UWash predicts no snow for Port Alberni on Sunday.  It all falls as rain (grey below).
However, again, this will totally depend on things actually warming up to over 2-3°C.
The Canadian high resolution LAM model disagrees.  It has us staying very cold below freezing right through Saturday.  An obvious recipe for snow or freezing rain, which is likely what EC is banking on.
Similarly the long range Canadian GEM has us staying frozen right through Sunday with significant freezing rain potential on the change over to warm air on Monday.
12cm of snow, 5 mm of freezing rain and 50mm of rain by Monday.  Yikes!
The Ensemble of models also has us still at 1°C on Sunday night.  A recipe for either snow or freezing rain.
notice the uncertainty in the min/max is skewed to the high side though with the lowest being -0.1C and the highest over 5°C which would certainly mean straight rain.
So we will have to take a wait and see approach.
But hey… it's not all bad news… the GFS does have a pretty optimistic forecast…. see if you can see what I mean below. (Far right).
🙂