Smoke on East Island but not Alberni yet. Excellent CBC Weather and Climate Resource. Go By Bike Week!
East Island Smoke
It was noticeable going to work on Tuesday in Nanaimo that the wildfire smoke had travelled across the Strait. The Air Quality View tells the story.
We are still very nice and clear in Port Alberni with near PM2.5 readings near zero.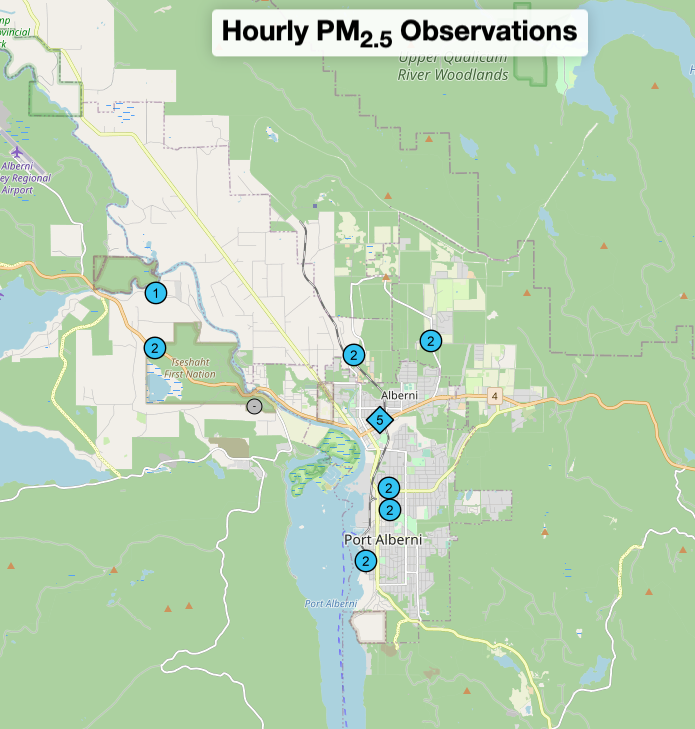 Not so on the East side of the Island, especially in Nanaimo, with readings closer to 30. The Sunshine Coast and Vancouver are also feeling some pretty thick air.
That said, we seem to be only getting a tiny bit of smoke from fires up Island and in Washington state. If we look Continent wide, the picture is much darker. Here is the NOAA smoke map. The fires in Alberta and also Nova Scotia have created a pall that extends over the majority of North America! (Click map to see live)
It is stunning that this has occurred in May… and not just the last part of the month, as those fires began in the first two weeks of the month!
We are lucky that prevailing winds remain West to East. In order for smoke to really impact us here, the fires need to be on the West Coast coast between California and Alaska and thankfully we haven't had any massive fires to date. The conditions are set though, for that to happen.
Island Fires Continue – No Rain in Forecast
The largest fire on the Island is north of Campbell River near Sayward. It is around 90 hectares and is still out of control after starting on the 29th. You can read updates from BC Wildfire here or click the image below to go to the provincial map.
You can see this fire on the NOAA site as well. It uses satellites to detect fire areas. I'm not sure if it will eventually use the BC Wildfire service data for the area of the fire but this will be a good resource.
The majority of the Island is now under a High Fire Danger Rating.
The forecast out to June 2 keeps all Coastal Fire Centre stations at a High or Moderate rating including our own "Beaver Creek" (at the Airport).
However, temperatures at or over 30ºC may return next week. There is no rain in the foreseeable future. Regardless of whether we are at High or Extreme, there will be fires if people are not careful.
This May has been very hot and dry. I am working on the summary right now but it should already be pretty clear that this past month has been abnormal.
Excellent CBC Resource
Finally, I wanted to point to a really great resource just put online by the CBC.
It's called the Climate Dashboard.
You can set it for your own location, so of course I set it for Port Alberni! It always give you local information but also daily updates from across the country on record setting temperatures.
But the most important thing it does is put those records in context so you can easily see the impact of human-caused climate change on our country. It is accessing thousands of historic record sets going back, in Port Alberni's case, over 100 years. (the same records I use for our monthly updates).
I really love that it puts the historic trends and records right there beside the daily forecasted highs and lows!
It has it all when it comes to comparing the historic trends and also the expectations of what's to come based on high, medium, and low emission CO2 scenarios.
This is definitely going to be a go-to place for daily forecasts and historic comparisons!
Have a wonderful Wednesday and as long as the Air Quality stays good, get out there on your Bike!