Small Wildfire sparked at Great Central Lake.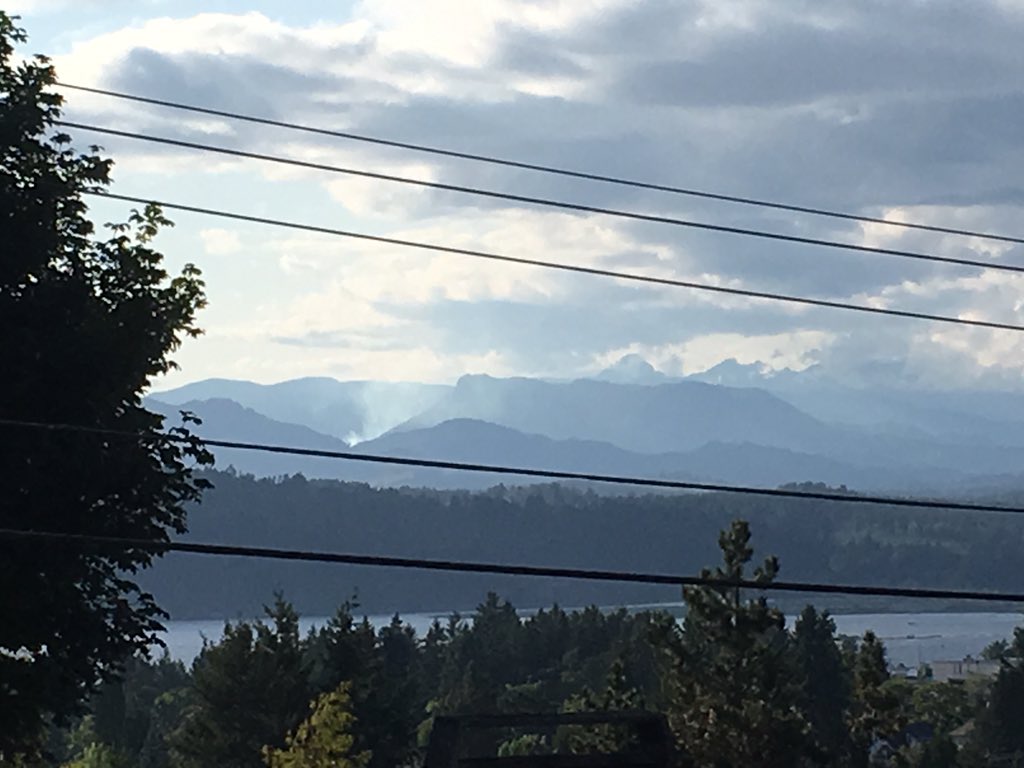 Update 12:30PM Saturday – "All Indications [fire] successfully contained at about 1 ha"
The quote above and picture is from a message sent to the ACRD and City from BC Wildfire.  Good news!  Crews are still working but the quote above is key.  Looks like things are almost done! Thank you to all of the people involved!
Update 10AM Saturday:
Some great videos and photographs of the two CL-415s (from Quebec C-GQBE and C-GQBC) working the fire yesterday courtesy of Star Porter on Great Central Lake!  Well done!
Just got an email through the ACRD and City: Initial Containment was achieved last night. Crews were off at midnight and back on this morning. Fire estimated at 1Ha in size. There is an Initial Attack crew, 10 contractor crew, an officer, a water tender and a helicopter. Two other helicopters are available if necessary.
Another update should come Saturday afternoon.
We can expect a warm day with wind in the afternoon. So lets hope they get a bunch of work done this morning and it's well taken care of before Monday when we are slated to go up to 30ºC.
Images apparently from this morning on Social Media look a lot better.
Update 7:45AM Saturday
No updates yet from official sources. If you have pictures of the fire this morning, please do pass them along alberniweather@gmail.com or FB or twitter.
Update 9:20PM 
No size update (likely not one now until morning)
Photos from the lake taken by Ashley Cyr showing growth of fire.
At 3:30PM below:
At 8:30PM
At 8:30PM
Update 8:30PM
Thankfully though, the wind has died down. Hopefully that helps the firefighters. #BCWildfire #greatcentralfire #portalberni

— Alberni Weather (@alberniweather) August 19, 2017
Update 8:30PM Fire now 1.0Ha (2.5acres) #bcwildfire #portalberni #greatcentralfire pic.twitter.com/NgDOaZgbhb

— Alberni Weather (@alberniweather) August 19, 2017
Posting updates on the fire at Great Central. As of 7:30PM the latest BC Wildfire Service information says the fire is 0.5ha (1.2acre).  It is also now visibe from the City. (photo courtesy Larry McGifford).
Wind will likely be the main threat until it dies down after sunset. #BCwildFire #greatcentralfire https://t.co/9hIq5BX695

— Alberni Weather (@alberniweather) August 19, 2017
I will update this post. Refresh for the latest. If you have pictures that you would like to share please send them to alberniweather@gmail.com with your name so I can give you credit or post them on Facebook or Twitter.
The fire sparked around 4PM Friday afternoon.
There are power lines in the area of the fire but no word if they are being immediately threatened.  There are crews on the scene including helicopters according to the AVNews.
No word on cause but here was no lightning in the area.  It is windy so that may fan the flames.