Slight improvement today but smoke still thick until weekend. New links provided. Rain and a Wind Storm possible next week.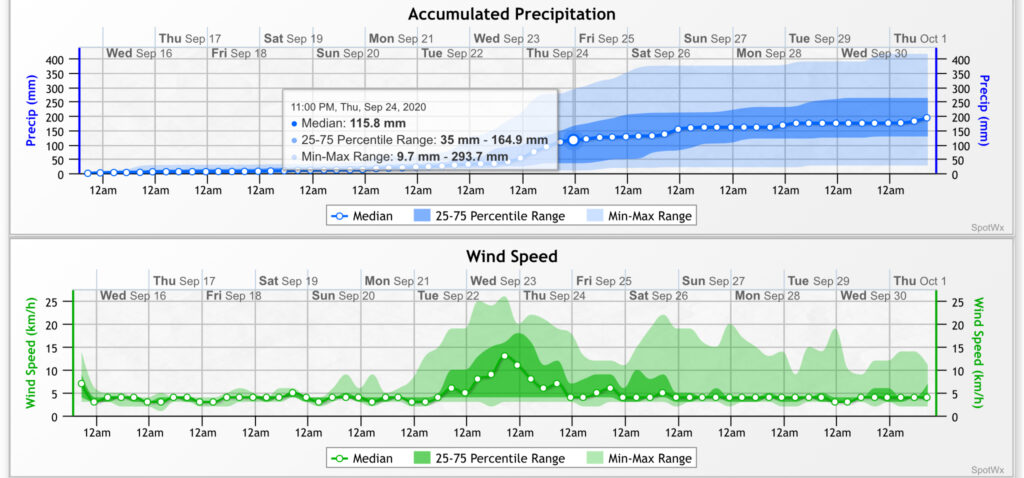 A good progression
Ever since Tuesday afternoon when we saw the sun ever so briefly, the overall Smoke concentration has been slowly lessening. The inversion is still strong though so it is keep the smoke locked to the ground. Here is this morning's graph. (See it updated on the front page).
We are currently at an AQI of 165 which is considered Unhealthy. AQI is a US EPA standard. Here is a map from the NOAA showing AQI rating across the continent. Click it to go to the page itself.
We were above 200 in "Very Unhealthy" Conditions on Monday. You can see current AQI readings here on the front page on both the data view and almanac view.

Smoke forecast likely into weekend.
The forecast for the smoke continues to be difficult but Environment Canada expects it to linger until at least Friday. This jives with the Firesmoke.ca forecast available from the BC Ministry of Environment (www.bcairquality.ca). Click the image below to go to the map.
Keep an eye on the Venting Index Poor to Fair today.
An excellent indicator of whether air quality will improve is the venting index generated by the BC Ministry of environment. It is text based too, which makes it fast.
You can see there the current values, forecast for today, and tomorrow. All areas of the south coast including Central Vancouver Island are Poor as of 7AM but the Fraser Valley and Central VI are expected to move to Fair later today and tomorrow. That should hopefully mean we see some smoke lifting.
I have added all these links and more to the "Rivers – Fire – Smoke" section under Reports and Links in the Menu at the top of the page.
Weather might turn rain stormy next week.
We have a mix of dry and wet conditions in the next few days. (Without access to the sky, does it matter if it is cloudy or sunny? 🙂
However, next week the very long term forecasts have a serious rain event Tuesday or Wednesday as a deep low in the Gulf of Alaska pushes away the high pressure that has kept us dry and Smokey and replaces with a strong moist Pineapple Express.

The third image shows potential amounts of rainfall of 100mm between Tuesday and Thursday night next week as well as strong winds.
We should not take this as gospel yet as it is still pretty far in the forecast, but consider this a first warning that fall is coming!
That's enough for today! Happy Wednesday. Stay safe out there, try to limit time outside especially if you are doing any physical activity for any length of time.