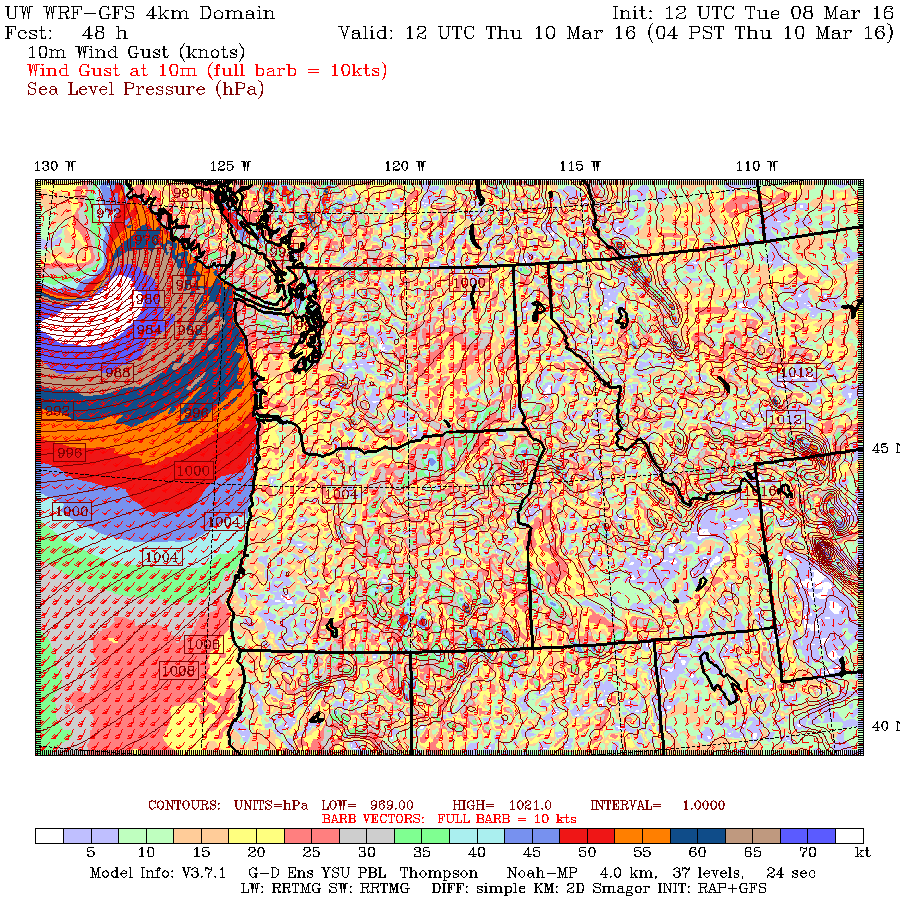 It's going to rain or drizzle most of the day today as a weak system moves through.  It should clear a little after 4PM.  Total accumulation for the day is only 8mm.
The more drastic system will occur on Wednesday night and Thursday but the wind may miss most of the South Coast. For rain, the totals between Wednesday afternoon and Thursday afternoon are in the 60mm range.
Rain will begin around 7PM on Wednesday night.  We will be protected at first as the winds will be mainly from the East and South East, following the deep low moving up the Island.
You can see us in the rain shadow Wednesday evening as the East Coast gets the majority of the rain and likely wind too.
We start to get more rain around 1AM.
Wind Possibilities
This is predicted to be a very strong and strengthening low overnight on Wednesday and into Thursday.
The first wave of strong winds will occur as the low moves up from California and deepens. Oregon will see winds well over 130kph (white) as the low moves west of Port Alberni and, in the image below, is around 975mb (97.5kPa)
Low will then deepen, move to north and inland.
It will be down to 969mb (96.9kPa) and you can see a very large amount of very strong 75knot winds offshore.  This is, I believe, the strongest low we have seen this winter this close to the Island.
It will then come ashore on the North Island early Thursday morning.
Likely strong winds Thursday morning on West Coast but may miss most of South Coast.
As you can see from the images the low continues to pull up to the north as it moves inland, so this is good news for the South Coast as it should mean we will avoid heavy winds.
However, I would keep a very close eye on this system as it is extremely strong and if it slipped 50km or more to the south, it will cause damage.
We have a couple more model runs to go before this storm comes, so we should have a better idea by tomorrow how it will go. Stay tuned