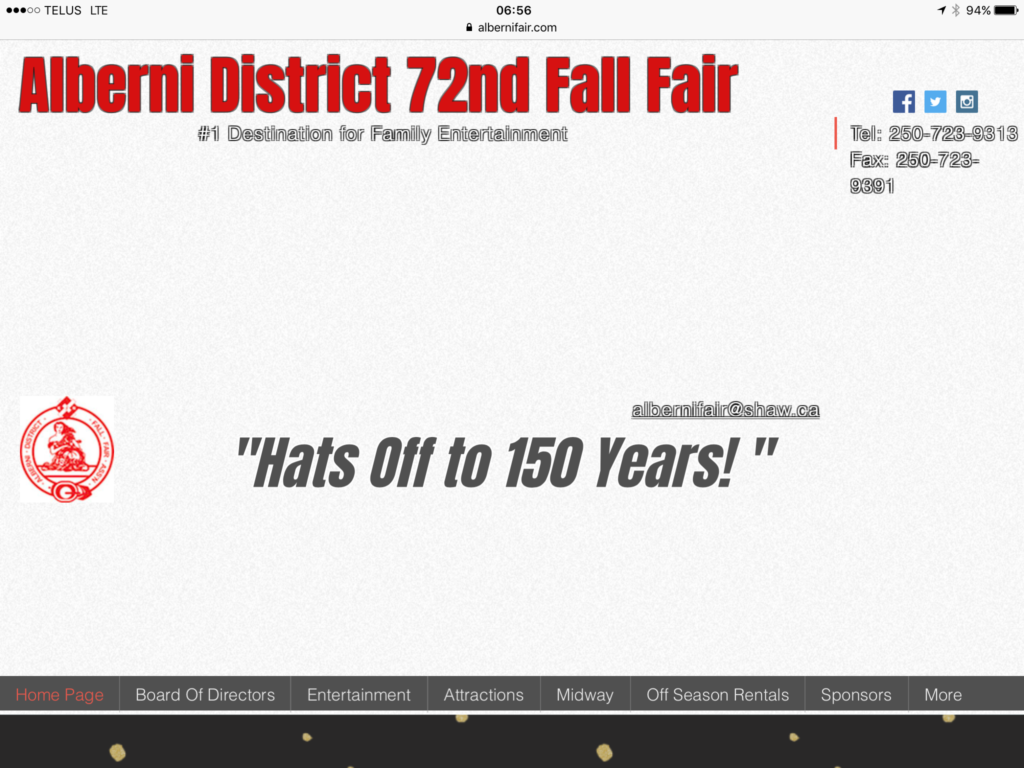 It is that time of the year! It is time for the Fall Fair!(www.albernifair.com) Go check out their website, it is completely revamped and looks really good! You can get times and prices here:
https://www.albernifair.com/faq
Doors open at 5PM tonight for $2 for all!
Below is a day by day weather outlook but suffice to say, Thursday decent, Friday decent, Saturday wet, Sunday good.
Thursday
The good news is there is rain happening! The forests and yards and gardens will love it. The other good news is it is mainly forecast to rain this morning with the strongest bouts between 2-5AM and between 8-11AM. So take note parents. Below is the 8-11 period. We can see a band of showers stretching across the mid-Island.
That band will move south and be followed by weaker bands.
The good news is by the time we get to the 5-8PM period, Fall Fair time, the band should have moved away.
Friday – Dry and cloudy.
There apppears to be only a slight chance of showers on Friday in the morning but it should remain dry. It should also remain pleasantly warm.
Saturday – Rain
The good news is, Saturday may be our first significant rainfall since the beginning of summer.
The bad news is, it's Fall Fair weekend!
Here is the 24hr rainfall from Friday-Saturday evening. This rain will all fall after around 5AM Saturday.
We can see there are accumulations into the 15-30mm range in the mountains with half that falling in the Valley and other low-lying areas.
Most of the rain is forecast for early morning on Saturday but it will probably still be showering for the parade, so bring an umbrella!
Showers should continue until around 5PM.  So your best bet for going to the fair is probably after about 3PM or so.
Sunday should stay cloudy but dry!
Have a great weekend everyone, and see you at the Fair!