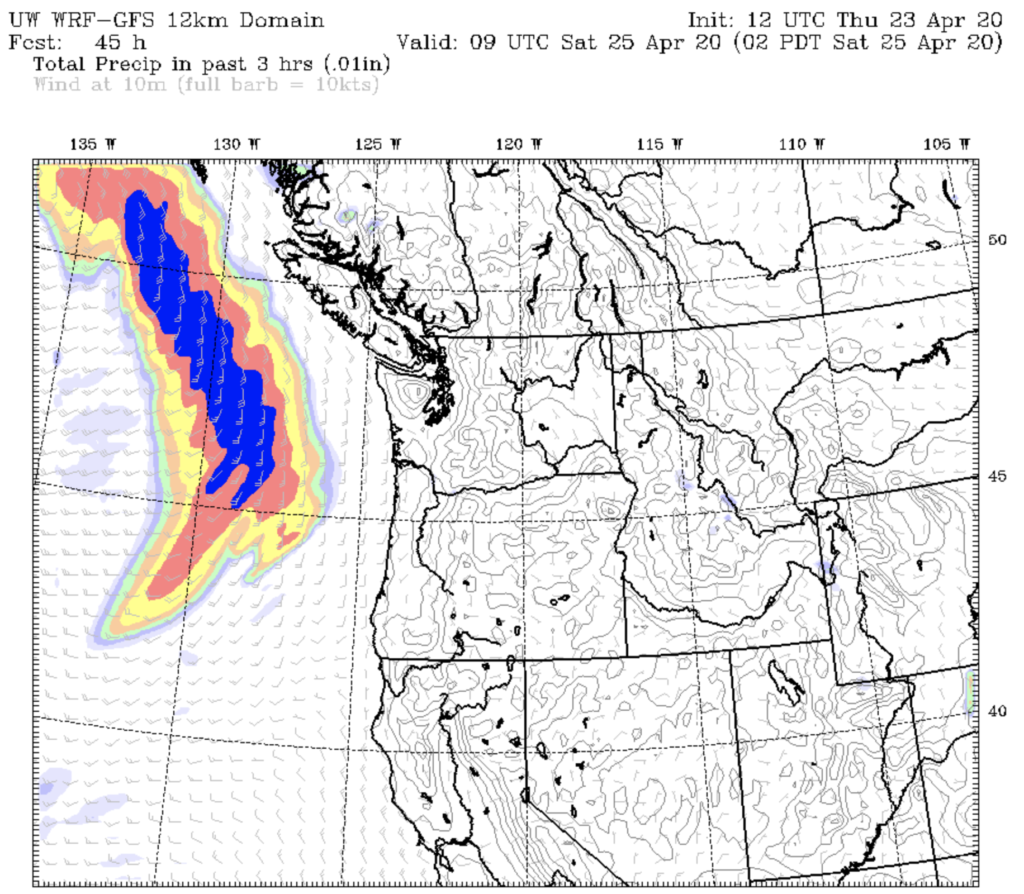 Take the next two days to get your 'outside time' because you probably won't want to get out there on Saturday or Sunday!
Thursday/Friday – Some showers but mostly pleasant.
Don't expect much in the way of moisture on Thursday or Friday. There is a chance of scattered showers here and there but it should not be more than a drizzle that lasts a few minutes.
Temperatures should get to around 15-19ºC depending how much the sun breaks through.
The story, is what is on the way:
Rain and possible Wind
As you can see from the image above, rain and wind will make its way toward the Island Saturday morning.
Expect the rain to begin in the 5-8AM period Saturday for most of the Island.
The front will have moved onto the Mainland by the 11AM-2PM period.
This is normally the part where I'd warn about possible ferry cancellations, but since you really shouldn't be doing that unless it is absolutely necessary, I'll save it. Be sure to check the BC Ferries website if you are planning on crossing in the morning though as winds will be stiff from the south and changing to southwest as the front passes through.
Showers and rain will linger through the afternoon in many Island locations, particularly further north.
More intense rain coming Sunday afternoon
It will dry out a little overnight but then a new front will sweep down from the central and north coast.
This system is pulling a lot more moisture from tropical regions as you can see below. Expect the entire Island to be fully engulfed before 2PM on Sunday.
The rain will be more intense than Saturday and will last through the evening and much of the night as will any potential wind.
It should start to taper off before 5AM sunrise on Monday for most of the Island but again, showers, and possible gusty conditions will persist all the way through Monday and into Tuesday as another blob comes to deliver showers.
In all, a wet 4 days from Saturday to next Tuesday.
Hope all the 'inside games' are ready to go!
Stay safe.
Chris