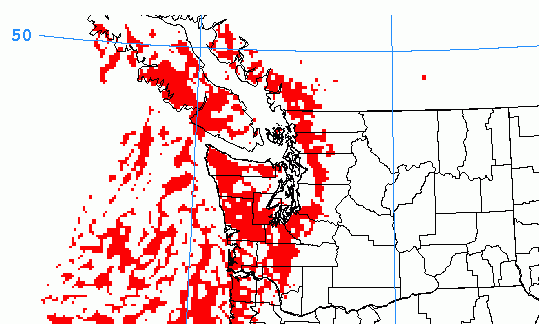 Pretty impressive thunder storm maps this morning that are worth sharing with you.  Make sure you click through to see them.
The potential thunderstorm activity will begin before 5PM today, here is the "General Thunder Parameter" from UWash for that time. You can see plenty of unsettled activity in the Pacific and some creeping onto the Central parts and West Coast of the Island but notice the image below of Convective Potential actually has very small areas of activity so the activity today should not be too strong.
Activity will drift to the South and focus on the West Coast in the 5-8PM hours and into the evening.
As the sun rises on Friday morning the unsettled thunderstorm activity will increase quite a bit and spread over the entire South Coast between 8-11AM.  You can see by the 2nd Convective potential image below here that between 11AM and 2PM will be the most intense period of activity with it mainly focused on the Alberni Valley.
It will start to dissipate in the afternoon but may linger into the evening.
Get ready to rumble!  You can check for recent detections of lightning strikes at this Environment Canada page.