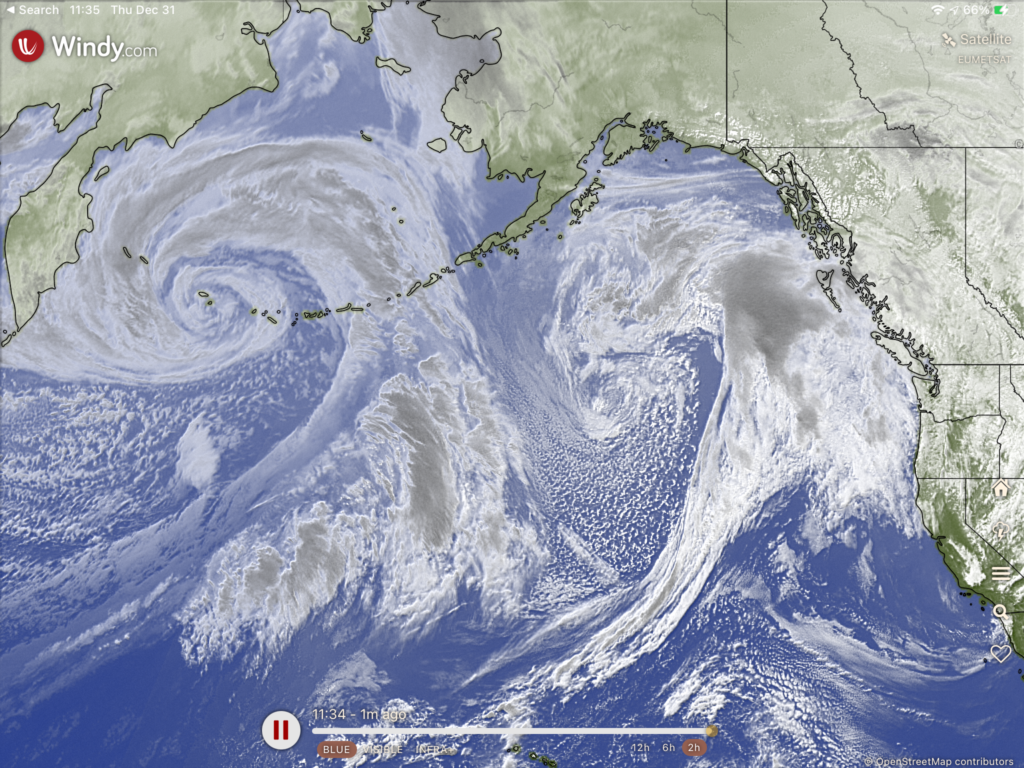 It's beautiful if you're not in it.
That huge swirl in the top left corner might be the strongest Alaska storm ever recorded if it gets to 92kPa.
It is just barely on the UWash map in the top corner, notice the lowest pressure is marked at 930hPa/93.0kPa on the bottom. Look at how tight those isobar lines are!!
That low will produce monster waves over 50ft and 200kph winds. Truly a behemoth!
It is also just the latest in a train of storm systems setting up across the North Pacific all producing rain that is heading our way.
What does it mean for us? Rain again and again.
It will be a few days before the moisture caught up in that storm makes its way to us but there is plenty in front of it and a rainfall warning is already in effect for West Coast VI. There is also a wind warning up again for the east island.
We got the 2nd highest one day total of rain of the year yesterday with 55mm. The tops was 75mm back on January 31.
We might start the year with a big rain day! Here is the 24hr rain total from 4PM Today to Friday and from Friday to Saturday.
The black areas are accumulations up to 120mm. Pink is up to 65mm, green 30. Expect 30mm in Port Alberni over New Years and up to 60mm through Saturday.
We should get a little break sometime Monday. 🙂
Thank you! Happy New Year.
As this is the last post of the year I want to thank you. I know I made a big change to how many of you interacted with Alberniweather when I decided to shut down the Facebook page. On this, the 15th year of Alberniweather, I want to express my gratitude for allowing me into your regular web viewing and for participating and contributing your time to making this a better place.
I will continue to improve the website and try to provide useful, timely, and fun information.
Wishing you all the best for 2021!
Chris and Family. 🙂