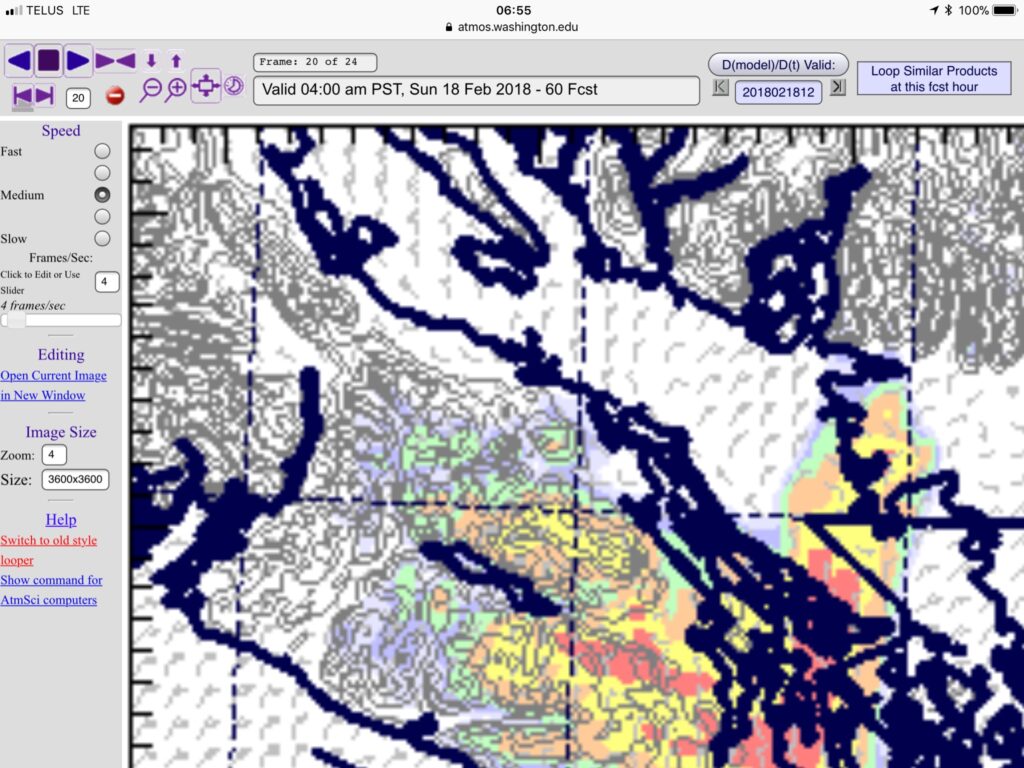 We have a complex weather weekend coming up as temperatures drop and moisture moves in Friday night and through Saturday.
The models are in disagreement on if we get snow or rain but what they all agree on is that the cold air will drive in on Saturday evening so there is more chance for snow Sunday morning than today or Saturday.
Here is a short term and long range model showing the arrival of Arctic air on Saturday night and Sunday morning.
Outflow winds will pick up from the North and East Saturday night and temperatures will drop quickly into the -2°C to -5°C range.  By Monday morning we could see a low of -10°C.
Before that happens though there will be rain on Saturday but possibly snow too. It will fall as snow on the mountains and EC expects either rain or snow for us. According to a forecaster in Vancouver, there is a chance the atmosphere is set up for diabatic cooling, (the air cooling as high altitude snow changes to rain as it falls and drags down the tempersture with it) so don't be surprised if you see the rain change to wet snow (and possibly flip back and forth) at any time on Saturday.
Although T structure is marginal for low level snow Saturday #YVR, these diagnostics give me a bit of concern: p falls are rapid Sat AM; the low deepens rapidly as it approaches and, as logically follows, ascent rates are high, so precip rates are high-diabatic cooling potential pic.twitter.com/wZHdS087Ov

— Chris Doyle (@ensembleator) February 16, 2018
What seems like a near certainty on as early as Saturday afternoon but definitely Sunday morning is Strait effect snow setting up over east and southern Vancouver Island.
You can see in the image below the snow potential Sunday morning south of Nanaimo. Nothing for us.
Port Alberni does not usually get the Strait effect stuff as we are in the shadow of Mt. Arrowsmith but expect the potential for lots of black ice on the roads Saturday evening and Sunday as temperatures drop quickly. And a messy situation on the east side on Highway 19 and 4 near Whiskey Creek and Parksville/QB on Saturday and on Highway 1 south of Nanaimo on Sunday.