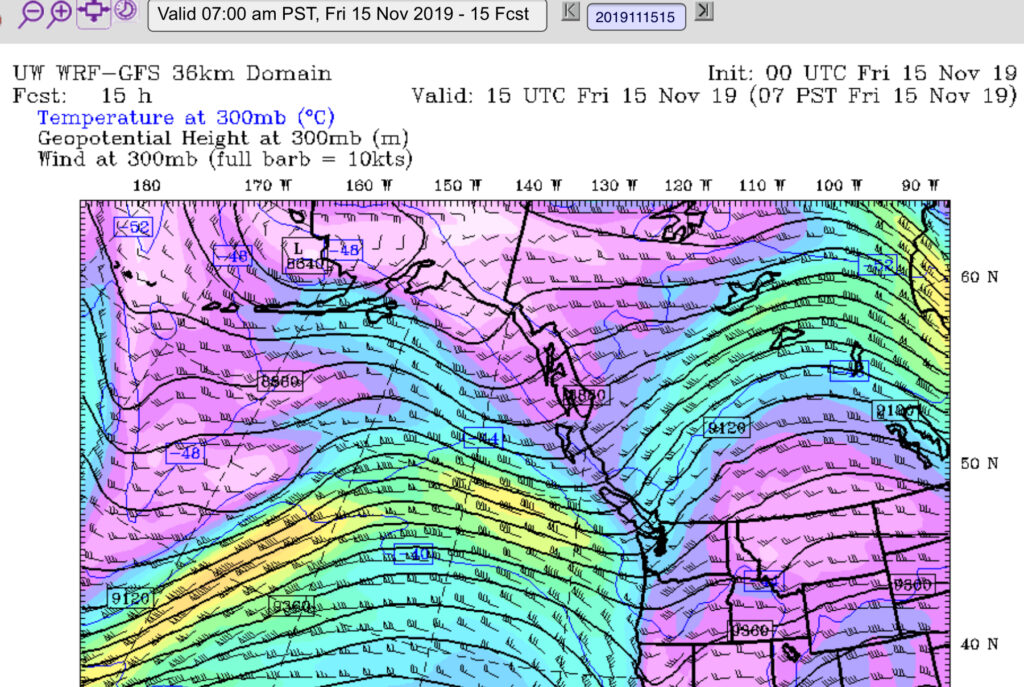 Update 4PM Friday – West Vancouver Island Rainfall Warning issued.
4:07 PM PST Friday 15 November 2019
Rainfall warning in effect for:
Rain, at times heavy, is expected.

Heavy rain is expected for the coastal sections of the Central Coast and West Vancouver Island. An atmospheric river will take aim at Vancouver Island and the Central Coast beginning early Saturday morning delivering heavy rain and mild conditions until mid-day Sunday. Rainfall amounts of 100 to 120 mm are expected by Sunday morning for the aforementioned regions.

Given the tropical origin of the atmospheric river, freezing levels will be on the rise upwards of 3000 metres for the South Coast and close to 2500 metres for the North Coast. The mild air will result in rain at almost all elevations. High runoff and rising river levels are likely through the weekend.
Localized flooding in low-lying areas is possible. Watch for possible washouts near rivers, creeks and culverts.

Please continue to monitor alerts and forecasts issued by Environment Canada. To report severe weather, send an email to [email protected] or tweet reports using #BCStorm.
Original Post: Lots of measuring options.
The rain has already begun. Just a reminder first that my rain gauge is still offline due to a battery issue so if you are looking for measured rain in town, the best source is Alberni Elementary school and Nicks weather station. And of course the official total will be at the Airport.
So far it looks like Alberni Elementary is 'winning' with just about 30mm since yesterday and rising.
Friday – Rain should end before noon.
We should be in the thick of the rain right now and it will start to taper off after sunrise. We should dry up around noon and we will await the next wave in the Atmospheric River.
That gap was predicted in the models last night as the jetstream passes overhead.
However, there is plenty of water and wind left to go in the river, as you can see!
Rain Returns Saturday morning
The rain will start up again before sunrise on Saturday and will last through the day.

Expect up to 30mm, double that if you are near the hills, and triple that or more on the West Coast between 4AM Saturday and 4AM Sunday.
There may also be some windy conditions Saturday particularly on the West Coast.
Continuing Sunday morning. Then Monday afternoon.
The rain will continue into Sunday before stopping hopefully sometime before noon. It will dry up a little overnight on Sunday and Monday morning but yet another pulse will move through, this time directed more to Vancouver, on Monday afternoon.