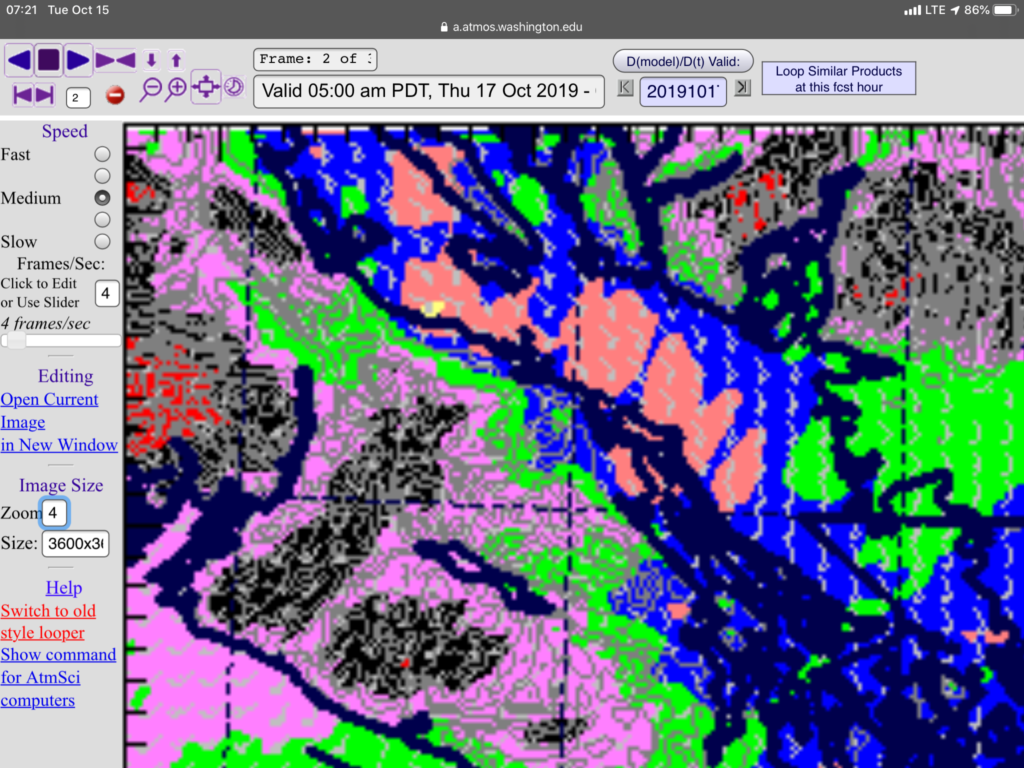 Fast start Tuesday – Strongest in Afternoon
Showers could begin any time now this morning. Rain should begin just as school gets in around 9AM this morning. You can see the blue bars below showing the rain peaking at 5mm an hour in the 2-3PM hour and then tapering off this evening.
Totals today should be around 20mm. The winds will also pick up as the front moves through this evening.
More rain and wind Wednesday
We have a short break overnight before the wind and showers return before midnight tonight and into Wednesday morning. The showers will be spottier overnight and in the early morning but the wind should be stiff.
The wind should intensify before 11AM Wednesday as the second front approaches. Peak wind gusts could be in the 40kph range in Alberni with gusts on the west coast around 50-60kph.
Rain will begin to intensify around 11AM until around 2PM.
It should move through the central Island by 2PM and then off the Island completely by late afternoon.
No rest. More rain and wind Wednesday night.
Storm number three follows quickly on Wednesday night as strong bands of rain move in in the 8-11PM period.
The rain intensifies before dawn in the 2-5AM period, especially on the West Coast.
The rain should back off to showers after sunrise Thursdy and then intensify again early Thursday afternoon and then picking up yet again Thursday evening.
More showers and rain expected Friday and Saturday.
Two day Totals
Since the systems are so close together Ill do two day totals that we can expect.
The first batch from 5AM Tuesday until 5AM Thursday should deliver about up to 30mm or maybe 60mm if you are deeper in the valley. Areas on the West Coast can expect up to 100mm in this time. On the East coast south of Nanoose, expect up to 16mm. Residents around Bowser will be in the 60mm range for the two days.
The second batch between 5AM Thursday and 5AM Saturday will produce another 30mm inland, 60mm on the West Coast and only about 8mm on most of the East Coast.
That's it! Get out your rain slickers. 🙂