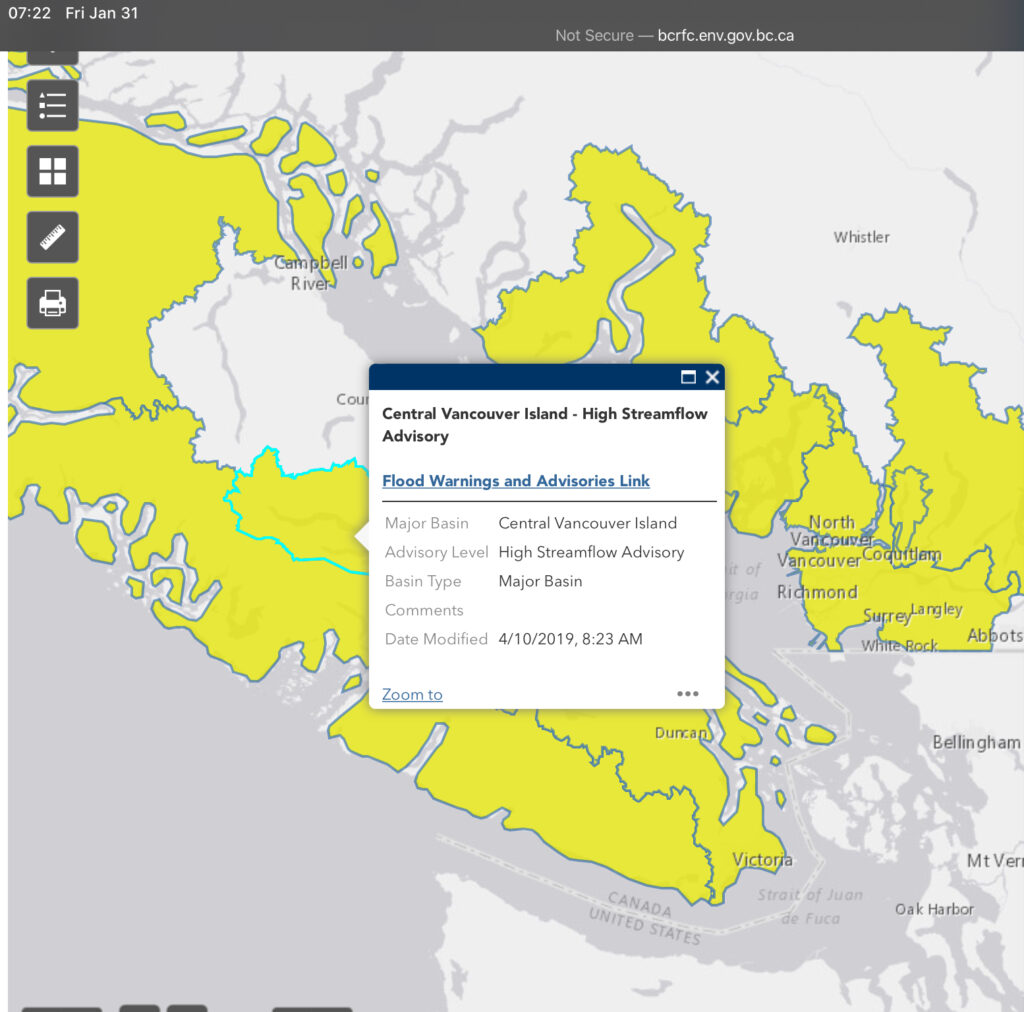 Environment Canada is forecasting up to 100mm of rain for Port Alberni in the next 24 hours (more for the hills and West Coast).
ACRD and City have sand and sandbags available.
If you have a leaky basement (I've been there done that!) you can find sand and sandbags at the City works yard on 6th Ave. The ACRD is proving sand and sandbags at Fred Bishop Sproat Lake fire hall (Beside Tseshaht Market) and at Beaver Creek fire hall.
Make sure you bring a shovel, a strong back, and a vehicle that can handle the weight. A normal car will only be able to handle a few sandbags at a time.
Rainfall warnings in effect.
100-150mm of rain is expected to fall by Saturday morning.
High Streamflow Advisory in effect.
The BC River Forecast centre has issued an advisory for most regions of the Island except the east coast. Map is here or click the image.
Text of the Advisory for the whole Island system is here and below.
---
ISSUED: 10:00 AM January 30, 2020
The River Forecast Centre is issuing a High Streamflow Advisory for:
South Coast including the Sunshine Coast, Howe Sound, North Shore, Fraser Valley and Metro Vancouver
West Vancouver Island including rivers and tributaries around Tofino, Ucluelet, Bamfield and Port Renfrew
North Vancouver Island including rivers and tributaries around Quatsino Sound, Zeballos, Tahsis, and Gold River
Central Vancouver Island including the Sproat and Somass Rivers and tributaries around Port Alberni
South Vancouver Island including the Cowichan River
An atmospheric river is expected to impact the BC Coast beginning on Friday of this week. This will bring an extended period of heavy rainfall throughout the region. The heaviest rainfall is expected on the outer coast of Vancouver Island and along the North Shore Mountains and north side of the Fraser Valley through to Howe Sound and the Sunshine Coast. Storm total rainfall amounts in the wettest areas may exceed 150-200 mm, with lower elevation and more protected areas expecting amounts in the 50-100 mm range. The source of the atmospheric river is from the sub-tropics, and in addition to precipitation, temperatures are expected to warm, with freezing levels pushing above 2000 m by late-Friday.

Rivers are expected rise through Friday and into Saturday in response to this rainfall. Current hydrologic modelling is indicating the potential for flows to reach or exceed 5-year flows; this advisory may be upgraded to a flood watch on Friday if there is more certainty of reaching these river levels.

While some snowmelt is expected during this event, snowpack at higher elevations is deep enough that it will provide some absorption of the added rainfall and buffer the impact of the rainfall on runoff. At mid-elevations (300-800m) some recent snow accumulation is expected to melt with the "rain-on-snow" and may add a modest addition of runoff.

While rainfall amounts are forecast to be lower in inland areas of Vancouver Island, persistent wet weather over the past few lakes has led to high lake levels on Cowichan Lake and Sproat Lake; outflow from these lakes is expected to exceed levels that have be experienced so far this season, and high streamflow is expected downstream in the Sproat and Somass Rivers and the Cowichan River.
The public is advised to stay clear of the fast-flowing rivers and potentially unstable riverbanks during the high-river-level period.
---
Further updates will be at top of this page.
There will be some wind associated with this system too and the heavy rainfall will challenge the road work on the west coast, so keep an eye on this page, BC Ferries and DriveBC and other sources if you are travelling.