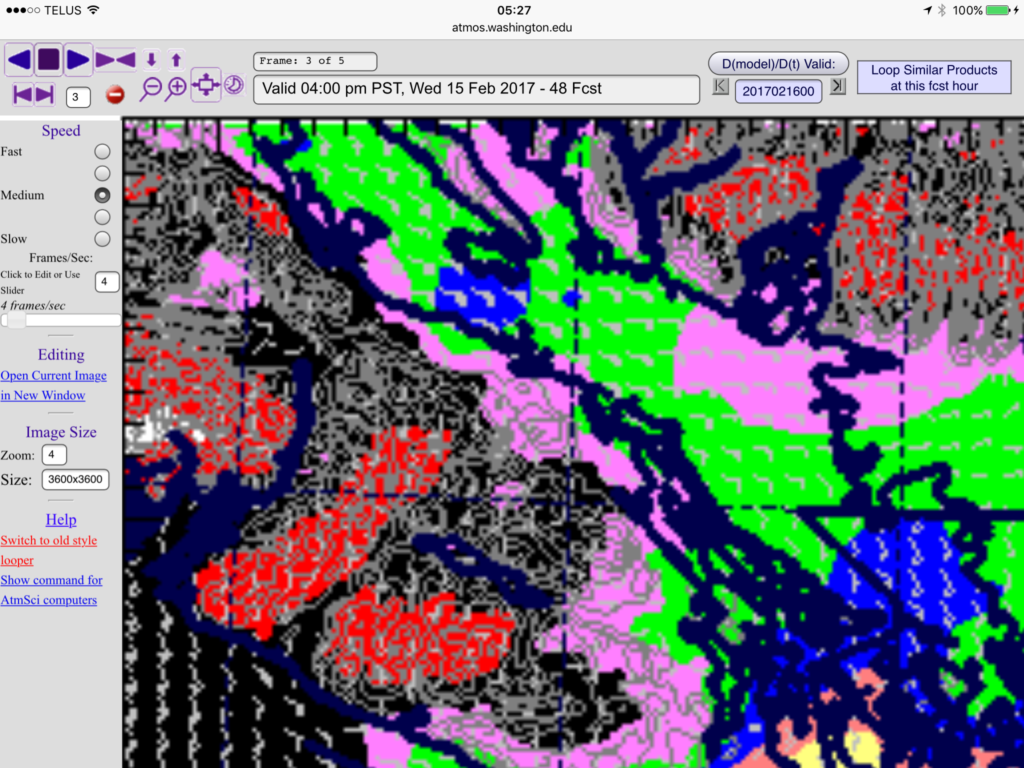 UPDATED 2:45PM Tuesday
The River Forecast Centre issued a High Streamflow Advisory for the Port Alberni region at 1:30PM this afternoon.
ISSUED: February 14, 2016 1:30PM

The BC River Forecast Centre is issuing a High Streamflow Advisory for Vancouver Island including:

Central Vancouver Island including streams and rivers in the Port Alberni and surrounding areas
A strong Pacific storm is expected to spread heavy rain across Vancouver Island and south-west BC Wednesday evening and through the day on Friday. Total rainfall amounts of 90-120 mm, and potentially more over higher terrain, are currently forecasted from Tuesday evening to Thursday morning. Temperatures are expected to remain high throughout this event, with freezing levels generally above local mountain top level. In addition to heavy rainfall, melt of snow in low elevation areas is also expected, and will contribute to streamflow runoff. At high elevations, deeper snow will be able to absorb much of the rain and energy from the warm temperatures.
High streamflow is expected throughout the region on Wednesday, and potentially into Thursday morning. At this point, forecasts are not indicating the potential for rivers to reach flood stage, however low-lying areas may experience minor flooding. With snow at low elevations, minor flooding is also possible in areas with poor drainage or where drainage is impeded by snow.
The public is cautioned to stay clear of rivers and riversides during the high streamflow period because the quickly flowing water and the adjacent riverbanks are potentially unsafe.
And here is the Rainfall Warning from Environment Canada
10:46 AM PST Tuesday 14 February 2017
Rainfall warning in effect for:

Inland Vancouver Island
Rain, at times heavy, is expected.

A strong Pacific front being fueled with energy and moisture from the subtropics will spread heavy rain to West and Inland Vancouver Island this afternoon.

The front will stall tonight through Wednesday resulting in a prolonged period of heavy rain.

For West Vancouver Island total rainfall will be 130 to 170 mm by Thursday morning.

For Inland Vancouver Island total rainfall will be 90 to 120 mm by Thursday morning.

The heavy rain will taper off on Thursday morning as the front finally moves eastward out of the area.

Heavy downpours can cause flash floods and water pooling on roads. If visibility is reduced while driving, turn on your lights and maintain a safe following distance.

Rainfall warnings are issued when significant rainfall is expected.
The rain should begin about 1PM and intensify this evening with the strongest rainfall in the 8PM hour.
The UWash confirms the rain warning amounts with up to 120mm (black) falling in 24 hours between 4PM Tuesday/Wednesday. 200mm in the mountains.
Another 30mm is expected from Wednesday to Thursday afternoon.
The snowpack *should* absorb this rain. But there is potential for high river flows and flooding.  So beware of that.
I will update if anything major vhanges.
Happy Valentines Day!