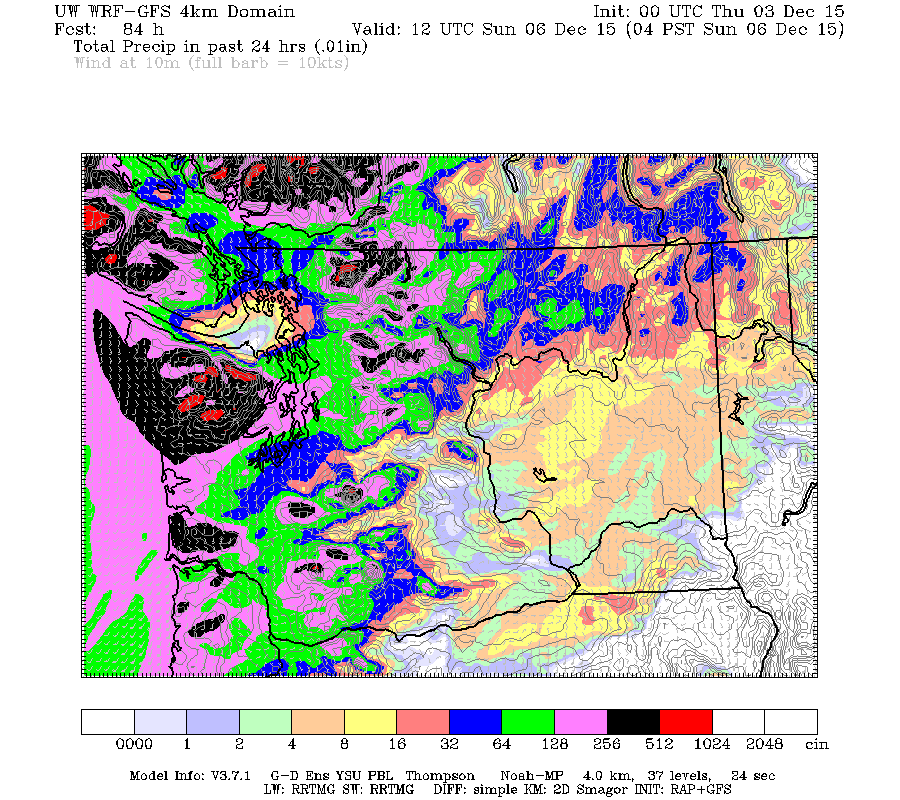 Environment Canada issued a Rainfall Warning at 3AM this morning stating the following:
Rain, at times heavy, continues.

Further rainfall amounts of 30 to 50 mm are expected today due to a slow moving Pacific frontal system. The rain will taper to a few showers early this evening when the front moves to the east.

Heavy downpours can cause flash floods and water pooling on roads. Localized flooding in low-lying areas is possible.
The UWash model now has us firmly in the pink region so up to 60mm can be expected to fall in total between last evening 4PM and Thursday 4PM.  We are currently at 43mm since the rain began and 23mm since midnight.
Keep an eye on the forecast box on the right of the page (or towards the bottom on mobile) to see when/if this warning is ended or any new warnings have been issued.  There is a good possibility we will see more warnings before the end of the weekend.
Thursday night wind in Victoria should miss us.
The low pressure centre that is going to slam into the Columbia River tonight with 120-130kph (60-75knot) winds is now slated to cross over Puget Sound which will cause winds to pick up in the Strait of Juan de Fuca off Victoria.   Strongest winds are in white in the graphics below… the centre of the storm is forecast to go right through Gray's Harbour and Aberdeen, Washington.  A place much like Port Alberni that I passed through in the summer.
Once the low comes ashore you can see the wind gusts pick up in Seattle and off Victoria.  Gusts to 120kph/65knot expected off Victoria but nothing here thankfully.
That said, if the low decides to move a little further north, we will be in the crosshairs, so you never know.  As we found out with the rain last night and the snow on Monday, sometimes the weather does not behave exactly like our fancy models suggest.
Even More Rain and possible Wind coming Saturday.
The rain will end tonight around 9PM.  Total for this first storm may reach above 60mm.
Friday should be mostly just showery but the real rain will return on early Saturday morning and last all day and night.  It should stop Sunday morning but not before it dumps up to 100mm of rain on us (in black).
With the ground already saturated from Thursdays downpours if this rain forecast validates we could easily experience low-level flooding or possibly worse.  This comes nearly on the anniversary of last years flooding that affected areas along the Somass River including the Tseshaht reserve. Please be prepared.
Potential Wind too.
Check out the front charging in for Saturday morning (4AM) and lasting all morning with large pockets of 65knot (120kph) winds in the offshore areas.
It is always a crapshoot on whether that wind will reach into the Inlet and up the Harbour, but it is a possibility.  If it did so, this would potentially cause more water problems as the storm surge push water up the Inlet into the river. Unfortunately high tide is at 8AM on Saturday.
The morning model run is just starting now.  If anything changes significantly I will update this post, otherwise, I'll likely wait until Friday nights model run to post another update on the Saturday storm.
Have a great Thursday and stay dry out there! 🙂