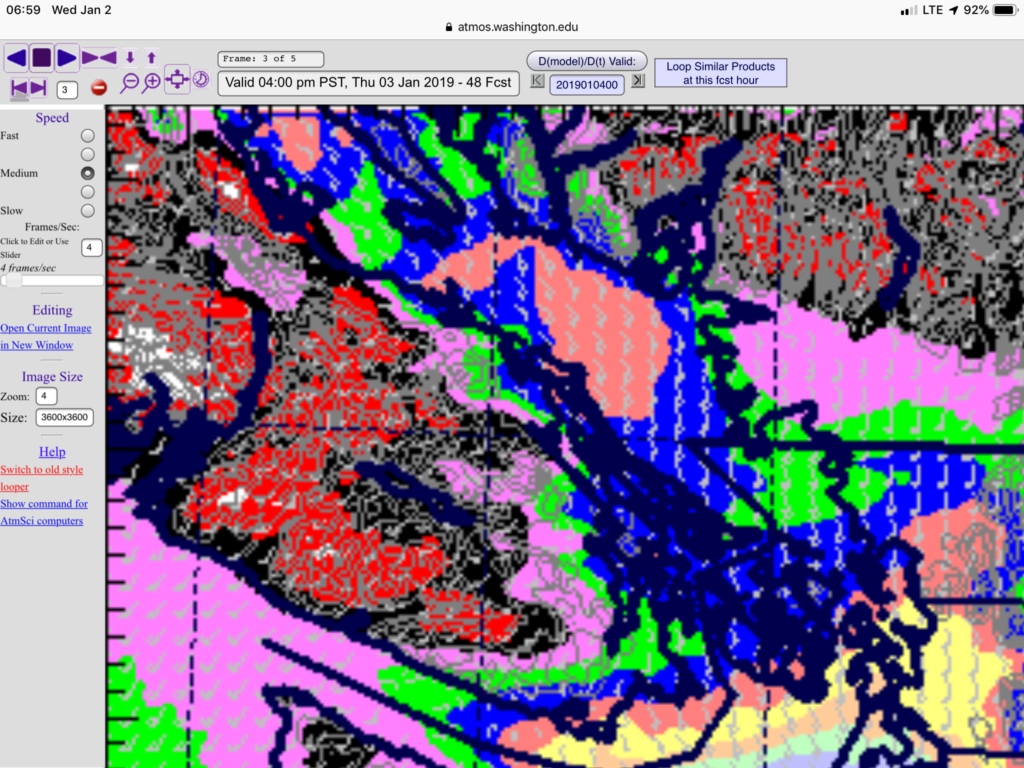 EC has issued rain warnings for all parts of Vancouver Island except the North end. The West side is expecting 150mm of rain and the Inland areas around Port Alberni and Gold River should expect 100mm from this storm. There is also a wind warning for the east side of the Island north of Nanaimo. Check below for a timeline of events.
Here is the warning from EC for Inland VI:
4:50 AM PST Wednesday 02 January 2019
Rainfall warning in effect for:
Inland Vancouver Island
Rain, at times heavy, is expected.

A vigorous frontal system will stall across Vancouver Island today bringing copious rainfall to western and inland sections of Vancouver Island until Thursday afternoon

Rainfall amounts exceeding 150 mm are forecast for West Vancouver Island. Amounts exceeding 100 mm are forecast for Inland Vancouver Island.
Heavy downpours can cause flash floods and water pooling on roads. Localized flooding in low-lying areas is possible.


Environment Canada January 2, 2018
The UWash model agrees, showing between 65-130mm (2.5-5in) of rain falling in the Alberni Valley and up to and over 250mm of rain falling in the west facing mountains.
Here is what to expect for timing:
Rain will begin early on Wednesday on the west coast but showers won't start until about 12 noon in Port Alberni and east parts of the Island.
Showers will intensify overnight with heaviest rainfall around midnight.
It will back off a tiny bit between about 1AM and sunrise but heavy rainfall (16mm/hr) will return by mid to late morning on Thursday and through the afternoon.
The front is expected to pass through and end the rain by 5PM Thursday. It will be blustery after that and we might see some spotty showers but we will mostly dry out.
Keep an eye on the River Forecast Centre. I expect they will release a High Streamflow Advisory for the Sproat and Somass river systems later today or tomorrow.