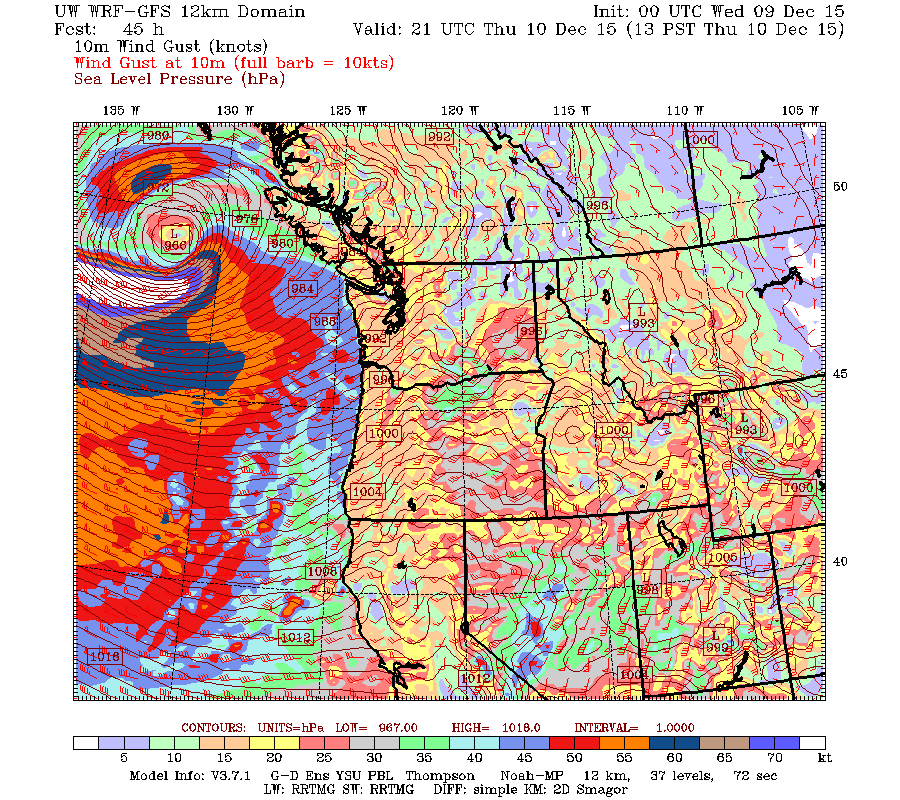 As you will see from the 24 hour image below, the intensity of the rainfall we have gotten used to over the past week is starting to back off. The next 24hrs has only 8-16mm of rain forecast.
That said there is another bunch of rain coming through starting Thursday and lasting much of the day.  The River Forecast Centre has maintained a Flood Watch on the Somass due to that rain risk. There may be wind associated with it as well.  However, my attention has now shifted to what might be coming on the weekend.
One two low punch Friday and Saturday
First a broad look at the Pacific to get an idea of what is coming.
This image is for Thursday afternoon. First notice the "Mother Low" (my term lol) up in the Gulf of Alaska.  I believe the proper term is actually "Aleutian Low" or "Gulf of Alaska Low".  In any case, it is really directing traffic in the North East Pacific right now and has been for some time.  This is a pretty standard setup for us in the rainy season.
Next notice the strong (tight lines) low near Vancouver Island.  This is what is bring us rain on Thursday morning but may also bring wind.  Usually these lows turn north into Haida Gwaii, but this one is forecast to head south and brush along the Island. This also happens to be the strongest low we've seen this fall. The problem is there has been considerable uncertainty in the models on where it will come ashore.  Previous runs have said Washington, or on the Island. The current one below says Washington late Friday morning… which would be the least windy for us as long as it stays as far ashore as it does in this image.
If it decides to move closer in, and then drift south… or not drift south at all and plow straight into us, then we could have a serious problem on our hands.  But as of right now, this is actually the less concerning of the two lows coming.
The more concerning low is the one you can see coming up behind the first low in the image above.  For the past two runs this low has been  forecast to land somewhere on Vancouver Island.
Here is the current forecast point of landfall near Gold River with strong wind (below is showing sustained winds not gusts) slated for Saturday afternoon.
A little further south than this and we could get some mean southerly winds as it moves across.
Wind forecast
So now that you know the low down (bahaha) here is what to expect for possible windyness.
The first low will give us windy conditions starting around midnight tonight and lasting into early Thursday morning.  Check out the crazy wind gust field below.
It will ease off Thursday morning as the rain moves through.  Then we just have to hope that the low does as it is forecast to do and drifts slowly south and weakens.  This is the strongest low we have seen this year.  Look at the huge swath of white showing gusts offshore over 70knots (130kph)… well into Hurricane force winds.
We don't want that coming our way and if it follows the forecast, it will start moving south and weakening by around 10AM Thursday and go into Washington State Friday morning.  We should be able to 'watch' this both with the barometer readings from offshore buys and on satellite as a low this strong should have some nice spiral clouds formed around it as it goes.
I will and I am sure all weather watchers will be watching that low very closely since even if it decides to come a little closer before drifting south that could be the difference betweeen lots of wind for us and none.
Then comes low number two on Saturday afternoon.  The gust forecasts don't reach that far yet. But the strongest should be Saturday around 4PM and onward.  This low is 20mb weaker than the first low so potential top wind speeds will be much lower.  But whereas the first low would be quite devastating.. this one is more like what we would consider bad enough.  We will focus on Friday first though and then get a better idea for Saturday soon.
Oh and did I mention these lows seem poised to drag a bunch of cold air down from the north that could set us up for snow next week? Yup. I said it!
Happy hump day Wednesday!  I will try to get the November summary out today or tomorrow.  Why do these storms always happen at the start of the month!? GAH 🙂