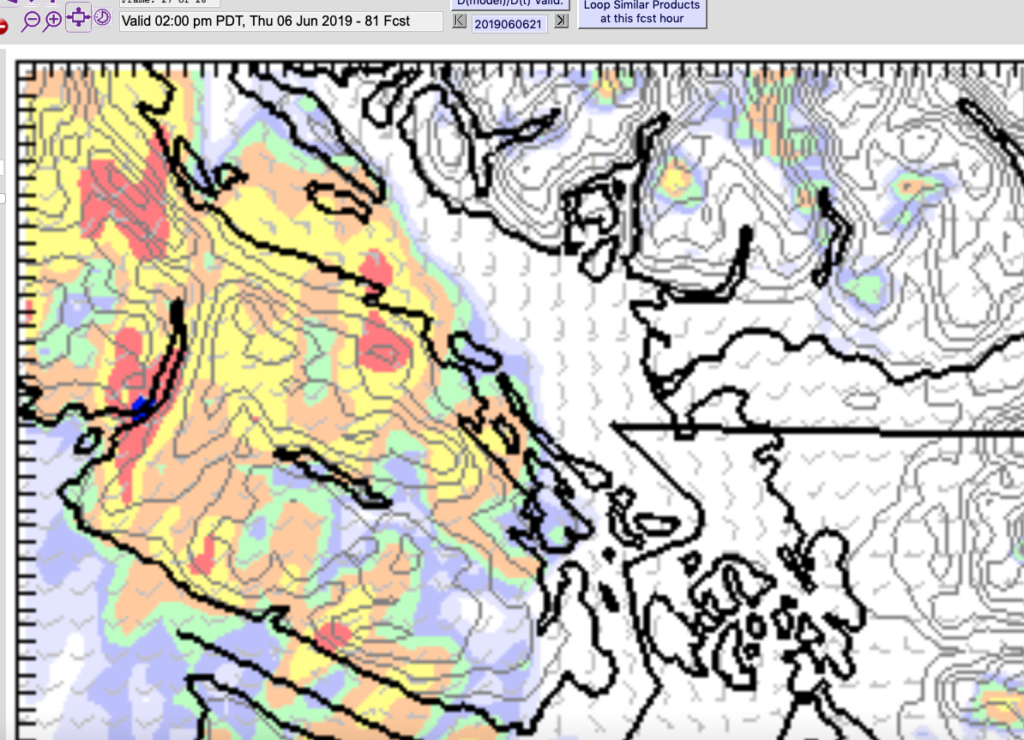 Good news!
The models shifted a bit and now there is at least a little bit of moisture expected on Wednesday! The models are showing rain sweeping onto the Island Wednesday morning. It's not huge and it's mostly on the North Island, but it's there!
The precipitation reaches Port Alberni and central VI later Wednesday morning.
The rain will begin on the West Coast early in the morning and spread across the central Island including Port Alberni, Parksville and Qualicum and points north in the 11AM to 2PM period.
Areas from Nanaimo south to Victoria will stay dry except Lake Cowichan.
It is all short lived as the precipitation moves away by late afternoon.
Rain returns Thursday.
We get a little more precipitation on the Central Island around the same time Thursday. It might start a little earlier in Port Alberni, just before 11AM.
The rain spreads over the entire Island in the 11AM-2PM period.
Only Victoria and the Saanich Peninsula escapes the rain.
Thunderstorms possible Thursday and Friday.
There is a possibility that these rain showers on Thursday will come with a chance of Thunderstorms and then again on Friday.
Here is Thursday 2-5PM, activity may begin before then as well.
Here is Friday which is not as strong and more focused on the Port Alberni area.
That's it for now! I'll update through the week if things change. Highs through the week should be between 15 and 20ºC. We should clear up and heat up for the weekend.
Fire Danger to high to medium and moving lower.
We see a big switch on the north Island from extreme ratings just last week all the way to low now.
Ratings should continue to move to moderate and low danger if the forecast for rain pans out. However, the risk of thunderstorms and the ongoing drought conditions will likely keep the BC Wildfire service on their toes.
That's it for now! Have a great Monday!