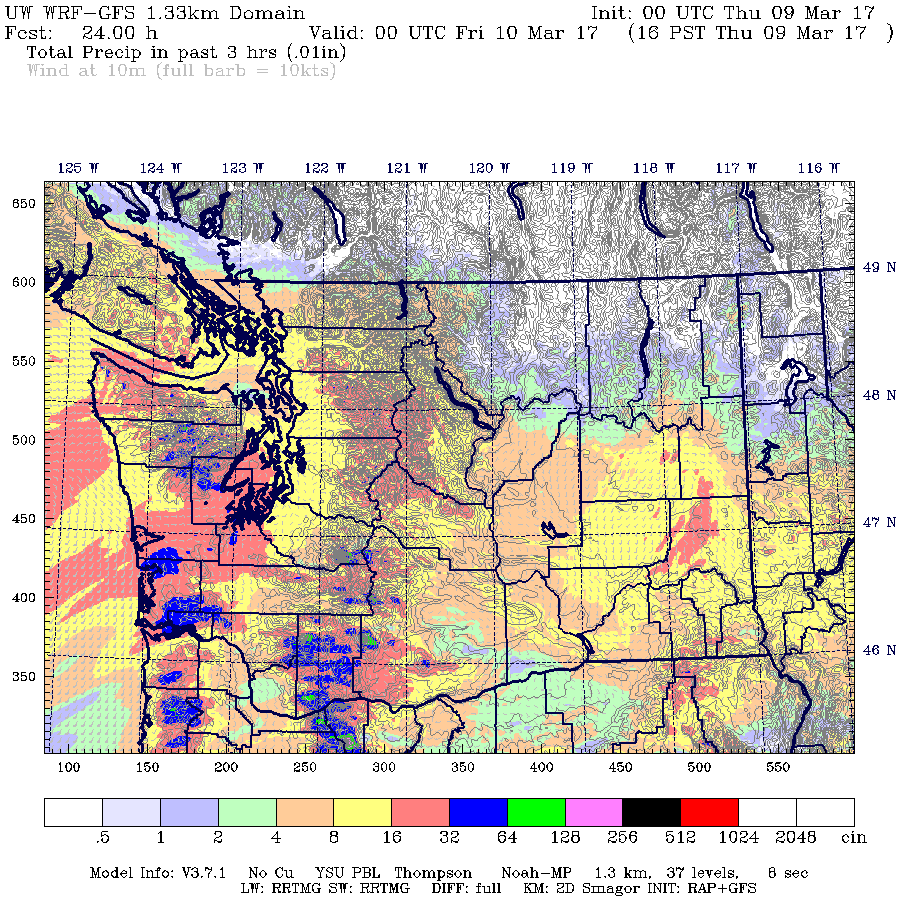 UPDATED 2PM — IT IS SNOWING ACROSS THE ISLAND.
Reports from Duncan, Nanaimo Qualicum beach and even Bamfield of snow down to sea level.  This could get messy before it changes to rain overnight!
Drive Safely if you must, otherwise, be prepared for anything!
https://twitter.com/chazzwood01/status/839956810685566976
.@alberniweather Getting worse & starting to stick in QB! pic.twitter.com/hq23YrZ5XN

— girlyratfish (@girlyratfish) March 9, 2017
expect more! its snowing in bamfield right down too the water… lol???

— Weather Wiz! (@josh2790) March 9, 2017
……
Clouds have moved over the region as we prepare for a widespread rain event that might also feature some wet snow at higher elevations.
It is predicted to start raining in the 1-4PM window as you can see below but notice the top rain image and the bottom snow image are not too different for Vancouver Island except closest to the waters edge.
Northern Sections of the East side of the Island in particular show snow hanging on into the 4-7PM timeframe this evening so that will be something to watch for.
It should warm up considerably overnight causing the stronger precipitation expected early Friday morning to fall as all rain.
In general we should see a much warmer, and wetter trend in the coming week as the subtropical jet stream takes over  and pushes a little bit of Hawaii our way.
Have a great Thursday!
Pattern change as we move from state dominated by the northern branch of the Polar Jet to a southern branch regime. Wetter, milder #YVR pic.twitter.com/SZ3fXRxSdd

— Chris Doyle (@ensembleator) March 9, 2017