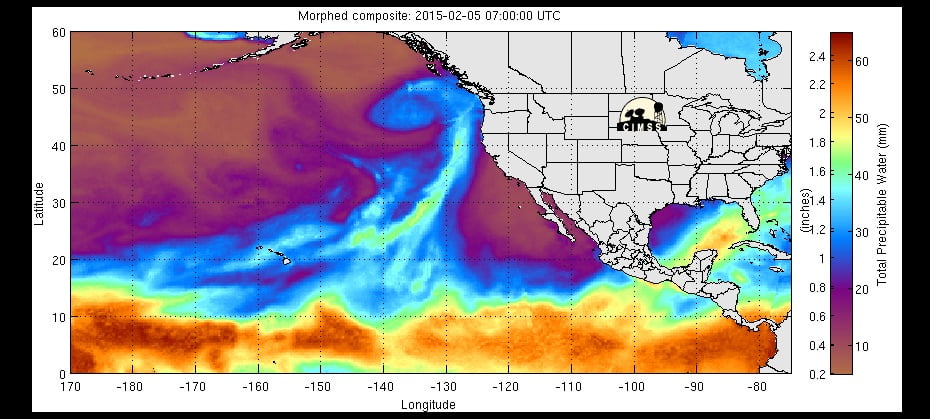 The rain is here.  The work on the water main should be done. The image in the headingis a microwave satellite shwoing the water vapour in the atmosphere.  As you can see, the Pineapple Express "atmospheric River" is visiting us. We've already got over 30mm since midnight.
Here is the 5AM special weather statement for our area:
Issued at 2015-02-05 13:20 UTC by Environment Canada:
Special weather statement continued for:
West Vancouver Island, B.C. (081400)
Inland Vancouver Island, B.C. (081500)
Current details:
More significant rainfall for tonight and Friday.

The first bout of heavy rain will move through early this morning. The next wave of moisture will arrive tonight giving rain at times heavy tonight through Friday. Total rainfall amounts may reach 100 mm for this period. Rainfall warnings in effect for the inner South Coast may need to be extended to west and Inland Vancouver Island.

The public is advised to monitor future forecasts and warnings as warnings may be required or extended.
The models have increased the amount of rain expected today.
Now showing 60mm (pink) possible between 4AM Thursday and Friday.
Most of the rain will fall around 7AM this morning and then taper off before another push before midnight tonight.
We then have another 65mm to Saturday morning.
Most of it will fall around Noon on Friday.
It eases off and shifts more to the South Island on Saturday.