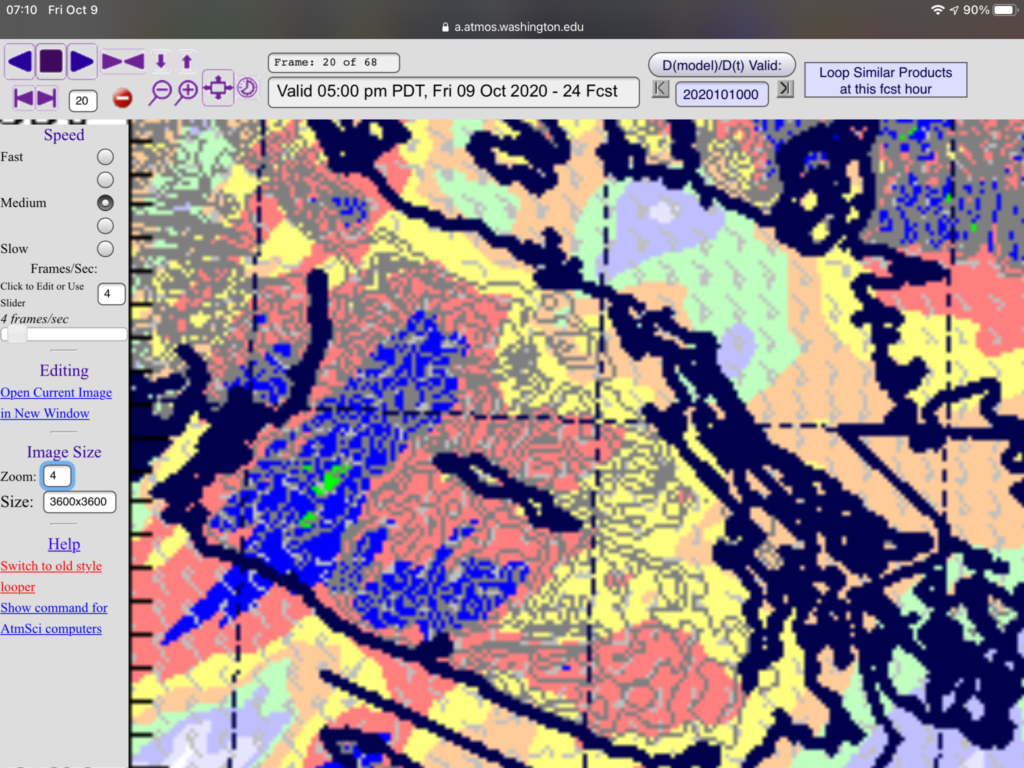 Right on time.
Right on time, it has started to drizzle at Alberniweather and we should expect rain for the next 24 hours. See more details below!
Rainfall warning for West Coast
The only warning issued so far is for the West Coast of Vancouver Island. Here it is in full:
4:56 AM PDT Friday 09 October 2020
Rainfall warning in effect for:
Rain, at times heavy, is expected.

A moist Pacific frontal system will bring heavy rain to the south coast today through tonight. West Vancouver Island will receive the heaviest amount with 90 to 120 mm expected by Saturday morning.
Heavy downpours can cause flash floods and water pooling on roads. Localized flooding in low-lying areas is possible.
Totals in Port Alberni up to 60mm before 5AM Saturday.
Pink areas expect totals up to 60, black is 120, green is 30 blue is 15.

Strongest rains for Port Alberni in the Afternoon

The map above shows the strongest period of rain today will be this afternoon around 4 or 5PM. It will just be on and off to start this morning for most places but will pick up steam around noon. It will back off a little this evening but will crank up again overnight.
The rain should give us a break on Saturday morning around 8AM.
Saturday and Sunday and Monday mostly dry!
Contrary to previous forecasts, the rest of the weekend looks mostly dry now with just a risk of patchy rain and made a thunderstorm!
Showers next week.
Another weaker system should push through with rain on Tuesday morning and then maybe another on Thursday but nothing too serious by the looks of the charts!
Happy Thanksgiving! I hope you have a nice, and COVID safe Thanksgiving. Take care. See you on Tuesday.