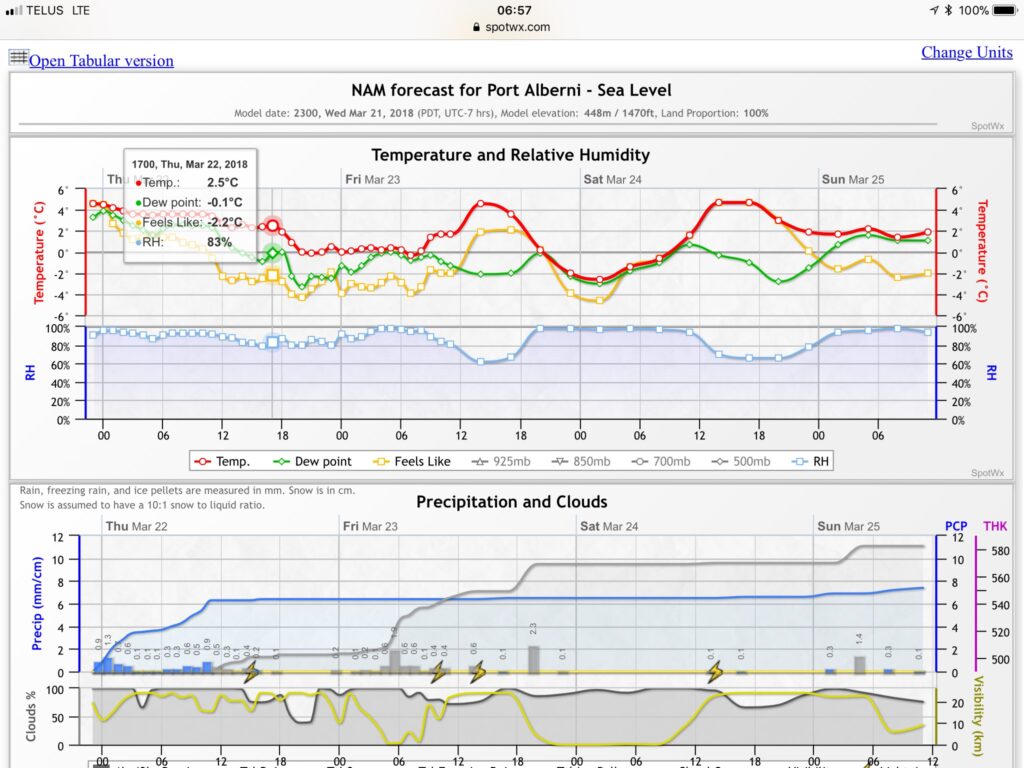 Updated 4PM
It's Spring, and sometimes spring brings weird weather.  Today and tomorrow looks like one of those days.  EC has issued a Special Weather Statement.  I have reproduced it below and below that I will give some timings for when to expect the weird stuff.
Issued at 2018-03-22 22:02 UTC by Environment Canada:
Special weather statement issued for:
East Vancouver Island, B.C. (081300)
West Vancouver Island, B.C. (081400)
Inland Vancouver Island, B.C. (081500)
Current details:
Showers, flurries and hail are all possible over the South Coast
tonight and Friday.
The passage of a strong cold front has allowed freezing levels to plummet this afternoon. A few centimetres of snow accumulation are possible over higher terrain and inland early this evening.
After a short break this evening, the threat of thunderstorms producing small hail are possible tonight near Vancouver Island, and again on Friday throughout the region, as an unseasonably cold pool of air in the upper atmosphere settles in.
Friday will be a very unsettled day of weather across the South Coast. Look for a mix of sunny periods, showers, flurries or thunderstorms with small hail.
………….
The models are all over the place in terms of what to expect out of this weather system. One says all rain, one says 8cm of snow, another says it will be -2C by this afternoon, and still another has thunderstorms all mixed in.
Here is what is consistent:
Expect showers all day.
Temperatures will start to drop from about 5-6°C around noon and will probably be in the 0°C range by 6PM.
Best to travel early rather than late today. The switch to potential snow looks like it will occur around 4-6PM for Port Alberni, a little later further south. The risk of thunder and lightning will grow along with the risk of snow. You can see that in the image above.  This morning and tomorrow morning could feature thunder in the air.
So batten down the hatches… and drive safely out there. It is going to be a strange couple of days.  The good news is there is better weather on the horizon later on the weekend and next week.