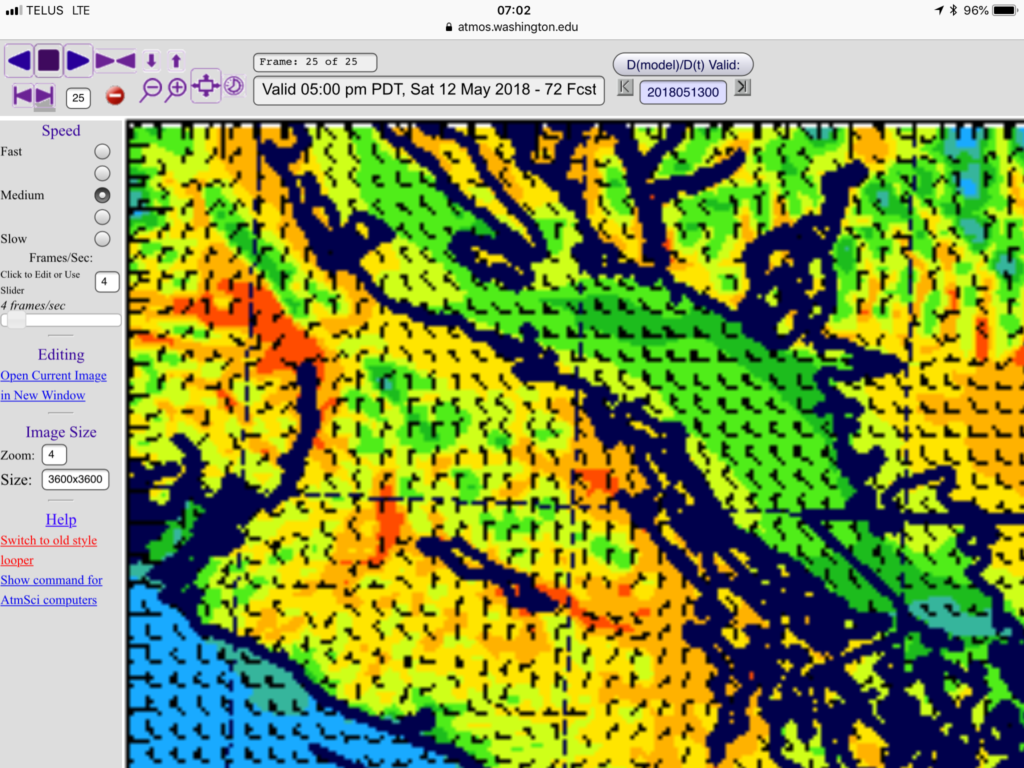 Showers will linger all day today as we transition back to a very sunny and warm pattern.
Before I get into the forecast though, click through to the post and take the poll! There has been some pretty mixed reports about who got the alert message yesterday and who didn't!
[poll id=3]
Hopefully they improve the system so that more people get the message next time. That said, we do have a very good system here in Port Alberni already, the Tsunami Warning system, that doesn't require anyone have a phone at all and doesn't just have to be used for Tsunamis!
As for the forecast, wow, it is a doozy!
We have to get through some persistent showers on Thursday first.  They will be scattered around the Valley and around the Island. It looks like the east side of the Island will actually be the most wet this afternoon.
Here the picture for the 2-5PM and 5-8PM timeframes.
Unfortunately the ball fields might be a little wet tonight.
However, things are going to turn around quickly!
You can see the model for temperatures for Friday, Saturday, Sunday and Monday afternoon below. We will get up into the mid twenties in mostly sunny skies tomorrow.
Saturday and Sunday will be the hottest. Expect temperatures in the high twenties. We might break 30°C, especially on Sunday.
On Monday the heat backs off a bit to the mid to high twenties.
There is no rain on the models all the way through to next Thursday! So prepare for a very nice stretch of weather. Lets hope it lasts all the way into May Long Weekend!