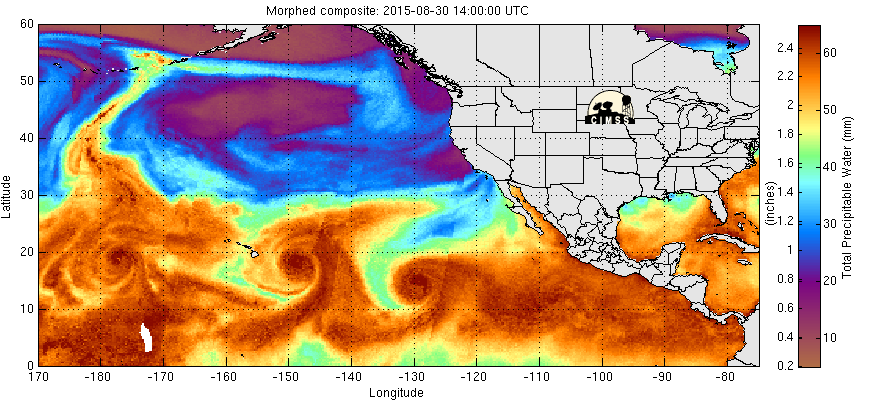 We might get a few showers during the day today but for the most part Sunday should stay dry.  The rain begins again in the 8'clock hour this evening.
As you can see, instead of the main thrust coming up from this south, tonight's activity will come mainly from the West.
The rain will be strongest in the 12'oclock hour tonight and then gradually taper off through the morning Monday.  There will be showers through the day on Monday before it dries up for good Monday evening.
A weak system moves through Tuesday afternoon and evening and then we have some unsettled weather for Wednesday.
Saturday August 29, 2015 – Most BC Hydro customers out in 9 years.
There is no doubt yesterday's storm will go down as one for the history books.  As far as I know, there has never been a storm of this magnitude, one we would normally see no earlier than October, in August.  I am sure Environment Canada will be crunching the numbers but without a doubt this storm was extremely unusual for this time of year and that contributed to the damage caused.
The damage in Port Alberni was fairly light compared to Vancouver where near 100kph winds, full foliage and drought stress likely contributed to a huge number of trees falling.  Large parts of Vancouver will be without power until 8PM tonight.  Over 300,000 people were without power simultaneously yesterday and over 500,000 at some time.  This is the largest outage since the huge *JANUARY* 2006 storms.
We only received 16.3mm of rain at Alberniweather.  I did hear eye witness accounts however of major rain storms further out in the Valley and thunder and lighting during the height storm up on Kennedy Pass.  However, 16mm won't do much for the drought.
Here is the Dry Creek riverbed… unfortunately, still dry upstream (downstream received some runoff that filled the new ditch).
While the power was out at Alberniweather, I took a little drive to see what I could see.  The city was in pretty good shape.  I did clear a few branches from Bruce Avenue near the Harbour.
It is a little gusty at Harbour #portalberni Around Force 5 or 6 on water #bcstorm drizzle sideways pic.twitter.com/negOxqQxJn

— Alberni Weather (@alberniweather) August 29, 2015
I went down to the Harbour Quay to enjoy the blustery day.
The Pacific is unusually active right now… just check out what is happening to the south of us.
There has never been four Major (Cat 3 or better) Cyclones in the East and Central Pacific at one time since record keeping began… until today.
Meanwhile, in the Pacific…… pic.twitter.com/upd5vpPL5u

— Marshall Shepherd (@DrShepherd2013) August 29, 2015
At least some of that energy from those cyclones was responsible for our storm here in the Pacific Northwest.
This is the latest water vapour image that demonstrates beautifully how warmth and water vapour, and thus energy, gets distributed around the Pacific.
And below was yesterday.
You can see the stream from the south has been blocked and cutoff now but there is a stream coming in from the North that will deliver moisture, though not nearly as vigorously as the direct firehose from the tropics.
Wind Potential
There is potential for gusty winds again Sunday evening but I don't expect it to be as strong as yesterday.  However, we didn't expect yesterday to be as strong as yesterday, so be prepared just in case. 🙂
Have a Sunday!  See you again tomorrow.