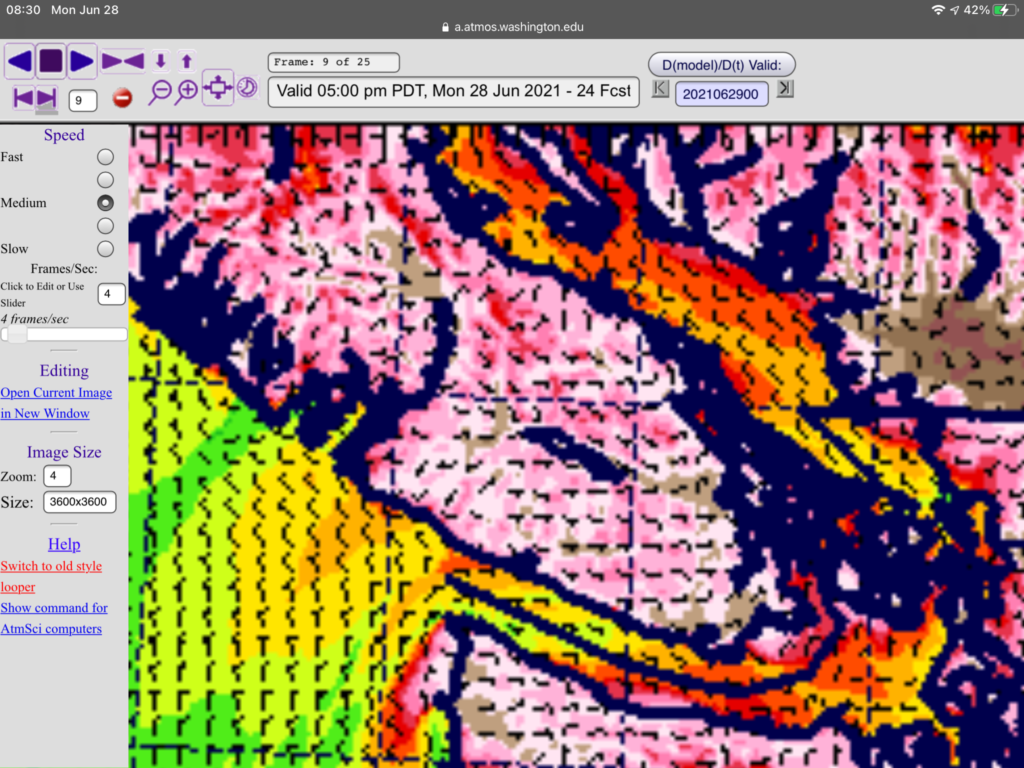 UPDATED 4:30PM – THE RECORD WILL BE BROKEN
At the 4PM reading, the Airport reported 42.2ºC.
Assuming there is no malfunction, that record will potentially stand as the record. However, yesterday the temperature did not peak until the 5PM hour so we will have to wait to see whether this is the final high temperature.
In town here at Alberniweather the breeze is causing the temperature to fluctuate but it does still seem to be rising. Alberniweather's current high is 41.6ºC, 0.1º shy of the record. Maquinna Elementary has beat the record with 41.8ºC. Alberni Elementary is at 41.1ºC.
In fact, according to the WUnderground network, multiple stations around Port Alberni are reporting temperatures higher than the record. One station is reporting 49ºC but it appears to be malfunctioning.
I will update with a new post tomorrow with the final observations. Stay safe out there.
— Original Post —
Records falling by the dozen.
If you want to see how this is related to climate change, by far the easiest way is to look at the number of records broken. This is not just Port Alberni, or the Island, or BC or even Canada. All time records are being broken from Prince Rupert to Portland, from Tofino to Bella Coola. Records that have stood for as long as 125 years have been smashed by this heat wave.
Port Alberni nearly broke its all time hottest ever temperature (41.7°C, July 10 1921) yesterday when the Airport reached 41.3°C. We should beat it for good today.
You likely saw the news that Lytton, BC broke the all time hottest ever temperature in all of Canada (45.1°C, July 5 1937 at Yellow Grass and Midale, SK) when its station reached 46.6°C. It will likely break that record again today.
I screenshotted Environment Canada's weather summary for BC for yesterday because they don't archive them. So here is the amazing list of records. Notice that some records were beat by as much as 10°C!! That is a huge red flag that this is not just natural variation, these are new, much higher, highs in a warming and changing climate.
Monday Heat – Tuesday Still Extreme – Breaks Wednesday?
Unfortunately the forecast has changed, and not in a good way.
Expect Monday's high to be 40-43°C in Port Alberni, Lake Cowichan, Ladysmith, Duncan, Colwood and Sooke. Expect temperatures as high as 46°C in the Lower Mainland and Fraser Valley.
Cool and moist Pacific air does still push in overnight on Monday and in early Tuesday, but it seems uncertain just how far it will be able to push back the heat dome. You can see the cooler temperatures over the West Island as low as 15°C, but notice the East side has less relief.
Hopefully the cool air wins out. Environment Canada is calling for 37°C. However, the model predicts a very interesting split down the middle of the Island with the West coast staying below or near 20°C, likely in fog, Inland areas like Port Alberni a little warmer up to 25-30°C and the East Coast with the big heat around 35°C. We will just have to see what happens.
On Wednesday all sources agree the heatwave will break for coastal BC and temperatures will go back to normal with 10-15°C in the morning and mid-20s in the afternoon.
It will warm back up for Thursday and into the weekend but to the ridiculous levels we have seen with this heatwave.
Fire Danger now Extreme
This will be the last picture with Port Alberni (Beaver Creek) not at Extreme (red) fire risk. I am not sure why it is not marked as red in the image actually, as the coastal fire Center says it is extreme on the 27th and beyond.
Stay safe and look after your pets.
Stay safe and well everyone. Do everything you can to help yourself, your neighbours and your furry and feathered friends to stay cool and in the shade. We are almost through this!