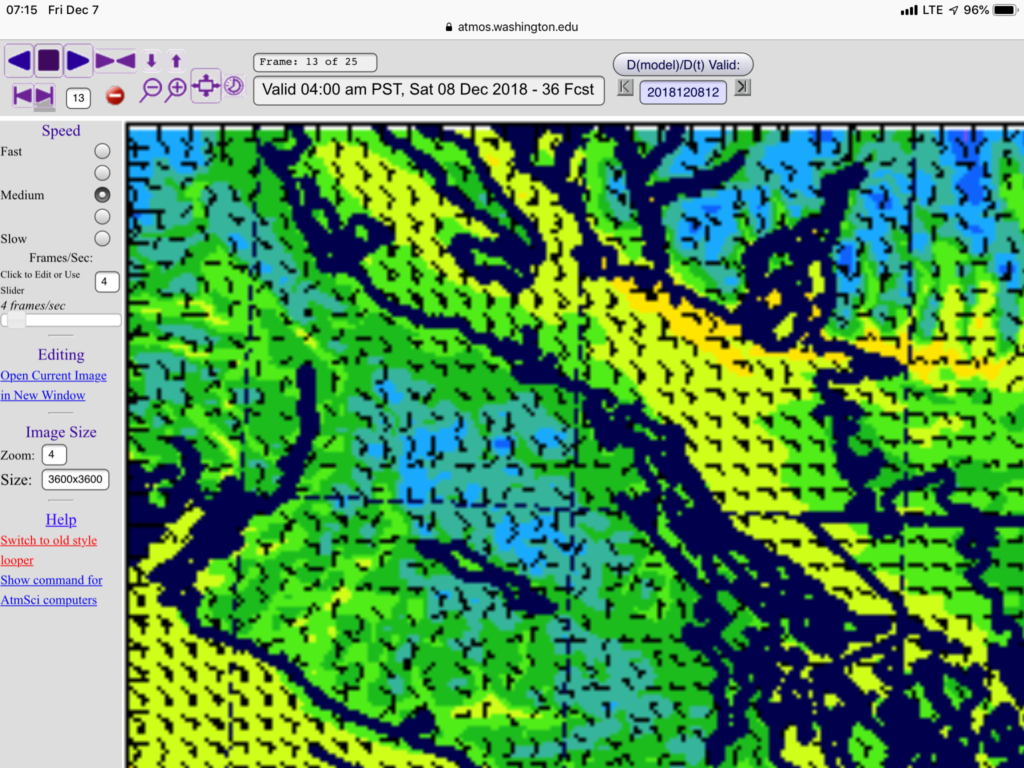 Updated 12:45PM
The morning's UWash model run as the system coming a little later and lighter than last night's, so I have updated some of the text below.  Chance of measurable snow is approaching zero… chance of freezing rain, though, might be a bit more as it may just fall as a drizzle and freeze.  Precipitation should end as the sun comes up Saturday. Stay safe out there.
EC has issued a Special Weather Statement for the Inland and East side of the Island. They advise, "A weak weather system will approach Vancouver Island from the Pacific tonight, bringing wet snow and the risk of freezing rain to the inland valleys."
This activity will start late tonight… I don't expect to see any precipitation until 9PM 11PM at the earliest in Port Alberni and maybe not even until midnight. So if you are headed to the West Coast, get there before 9PM for sure. It is also going to be quite light. Below is a gallery of the hourly progression of the system starting in the 9-10PM hour going to 2-3AM. (Updated)
Friday morning forecast above.
Thursday night prediction below.
Maximum rain rates are only 2mm per hour. So don't expect any big dumps of rain or snow. The question though is the temperature and risk of wet snow or freezing rain.
The answer appears to be that we will likely see an inversion. With warm air moving over high elevations and cold air sticking close to the ground and inland in the mountains (think Sutton Pass, Sproat Lake, the Hump, Cameron Lake.)
The most likely outcome for Port Alberni in town is wet snow, not accumulating except maybe at higher points like Cameron Heights. There could be freezing rain though so be very careful if you are up early Saturday!
I don't expect a winner for the snow contest tonight, but just in case, the people who have the best chance at prizes tonight are: Theresa Ludvigson (7:15AM Saturday), Terry Graft (7:15PM Friday), and Heather (7:30AM Sunday).
Good Luck!