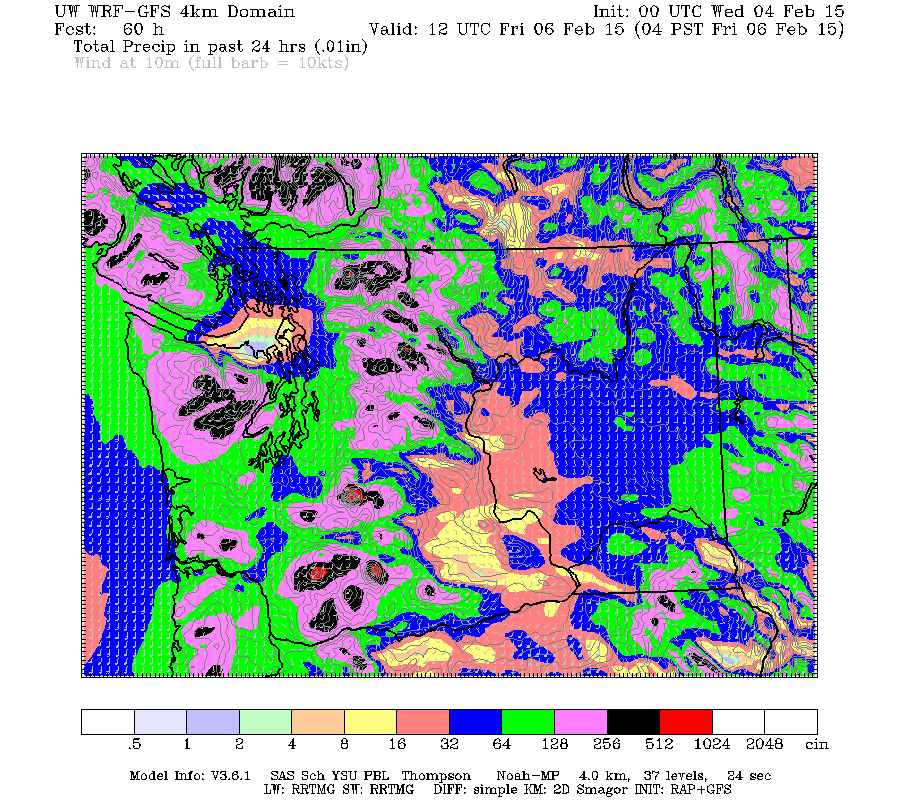 Update 3PM Wednesday:
The BC River Forecast Centre is issuing a High Streamflow Advisory for Vancouver Island including:

Central Vancouver Island (including the Somass River)
West Vancouver Island
East Vancouver Island 

A multi-day atmospheric river event is expected to impact coastal British Columbia over the next several days. Heavy rainfall is expected to begin on Thursday, with several waves of precipitation extending through Saturday. Rainfall amounts of 150mm or more are forecast through Friday for west and central Vancouver Island, and 70mm or more for eastern Vancouver Island. Temperatures and freezing levels are expected to rise through this period, particularly on Friday. Precipitation that falls as snow earlier on Thursday will melt as the storm proceeds. Current snow packs are low through most of the region, and snow melt will provide a modest addition to the overall runoff during this event.
River levels are expected to experience a rise in flows on Thursday, and remain elevated through Saturday or Sunday. Small reprieves in water level may occur in between the main waves of precipitation.
Seasonally-high tides are expected through the weekend. The BC Storm Surge Forecasting Program is indicating a moderate risk of coastal flooding over the weekend at their forecast location in Campbell River. Daily peak tide level is expected on Friday morning and Saturday morning, and this may exacerbate river level conditions near river outlets.
The River Forecast Centre will continue to monitor conditions and will provide updates as conditions warrant.
Update 8:15AM Wednesday:
Urgent need to Conserve Water Wednesday Feb 4, 2015
Update: As luck would have it, there has been a water main break on Bruce St. this morning.  Luckily before the major work was started.
Water off to residents on Bruce St from 8th-10th due to water main break. Expected to be on late morning #portalberni http://t.co/bJjWe10NfL

— City of Port Alberni (@cityportalberni) February 4, 2015
This is in addition to the pre-planned work that is slated for today.  From the City's website:
City crews need to cut into the main water supply pipe to the City and install a series of valves and fittings for the new plant.  The work will take place on Wednesday, February 4, 2015, from 9:00 AM to 11:30 PM. 

We are asking all residents to minimize water use during this crucial time. We will meet our minimum water needs and fire protection from our 5 water reservoirs.
It's a big hunk of steel! (from CPA's Facebook Page)
More water falling from sky tonight and through weekend.
We won't need to worry too much about our reservoirs filling back up after the new pipe is in place.  We have a bunch of rain coming at us over the next 4 days as detailed in EC's special weather statement linked above the forecast here.
If the models change dramatically I will update this post.
Rain will begin Wednesday around Noon.
Accumulations:
As the images show, we should get around 8mm today through Thursday morning, then 32mm on Thursday and another 32mm on Friday…. longer range we're looking at another 8mm on Saturday followed by another push of 32mm on Sunday.
Timing
The first pulse should begin after noon on Wednesday and end by nightfall on Thursday.
The second pulse will begin overnight Thursday, ease Friday morning and then intensify again Friday morning before easing off Friday evening.
The third pulse on Saturday will sweep up from the South, so I think it is a less sure bet but it is slated to come through around evening time but won't last the night.
The 4th pulse ending the weekend (but not the rain) should push on shore late Sunday afternoon and last all the way through Monday.
Wind
There is also a possibility of wind from some of these systems.
Thursday morning is the most likely time we will see gusty winds especially on the West and East coast of the Island.
That's all for now!  Happy Wednesday!