Official Alberniweather May Long Weekend Forecast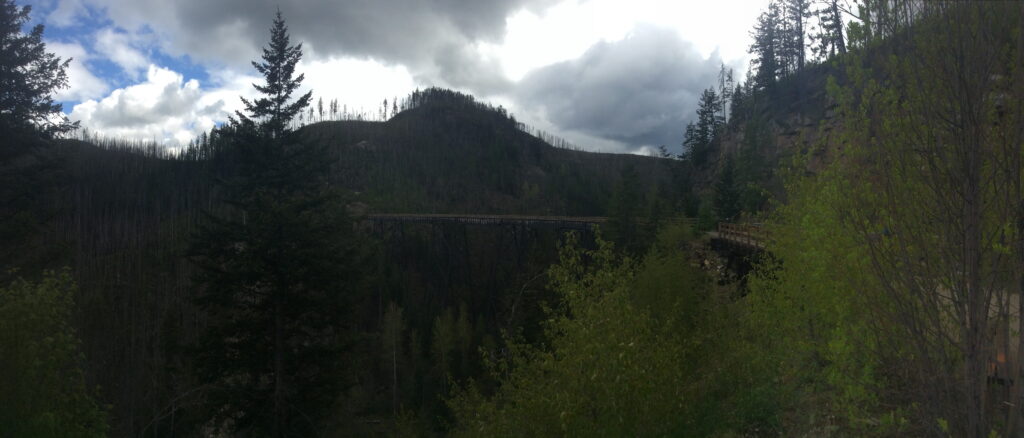 Here goes folks! It is looking pretty good, not perfect, but pretty good!
Friday – mostly dry except East Island.
There is just a slight chance of showers over some south east (nanaimo to mill bay) sections of the Island late this afternoon and into the evening.
The image below shows the hour of strongest showers around 6PM.  So this is mostly a threat to drivers on Highway 1/19.
Other parts of the Island including Alberni and the West Coast should stay dry but it will be cool on the west coast, barely reaching 15°C.
Saturday – Cool but dry.
Similarly, if you are on the West Coast for the weekend, I hope you have a good fire.  As is typical, it will feel pretty chilly out there.
Highs are unlikely to get over 13°C on the West Coast while they should get closer to or break through 20°C in the Valley.
It should be dry everywhere except again some light showers toward the late afternoon and evening mostly hanging around the east and higher elevation areas of the Island.
Sunday – Warming but earlier chance of more widespread showers.
Sunday appears to be the warmest of day of the weekend but also the most variable.  Here is the temperature map first showing the higher afternoon highs, cracking 15°C on the West Coast and 20°C in the Valley.
It will be more variable though for rain.  Check it out:
Showers will begin in pockets around the Island in the 11-Noon timeframe and continue most of the afternoon.  It is not widespread, but it would be prudent to consider showers possible no matter where you are.  This time it will be more focused on the West side than East side.  The threat passes after nightfall.
Monday – Similar to Sunday
Unfortunately there was a problem with the model computers this morning so the UWash forecast is not complete, but previous forecast indicate monday should be mostly pleasant and similar to Sunday.
Have a Great Long Weekend everyone!  And by the way, the picture is from Kelowna where Inhave been all week and had the opportunity to ride on part of the Kettle Valley Railway bike and walk path across a ,
whole bunch of trestles and through two tunnels that all overlook the Okanagan Valley.  Very different climate out here, but beautiful in its own way.
cheers, Chris