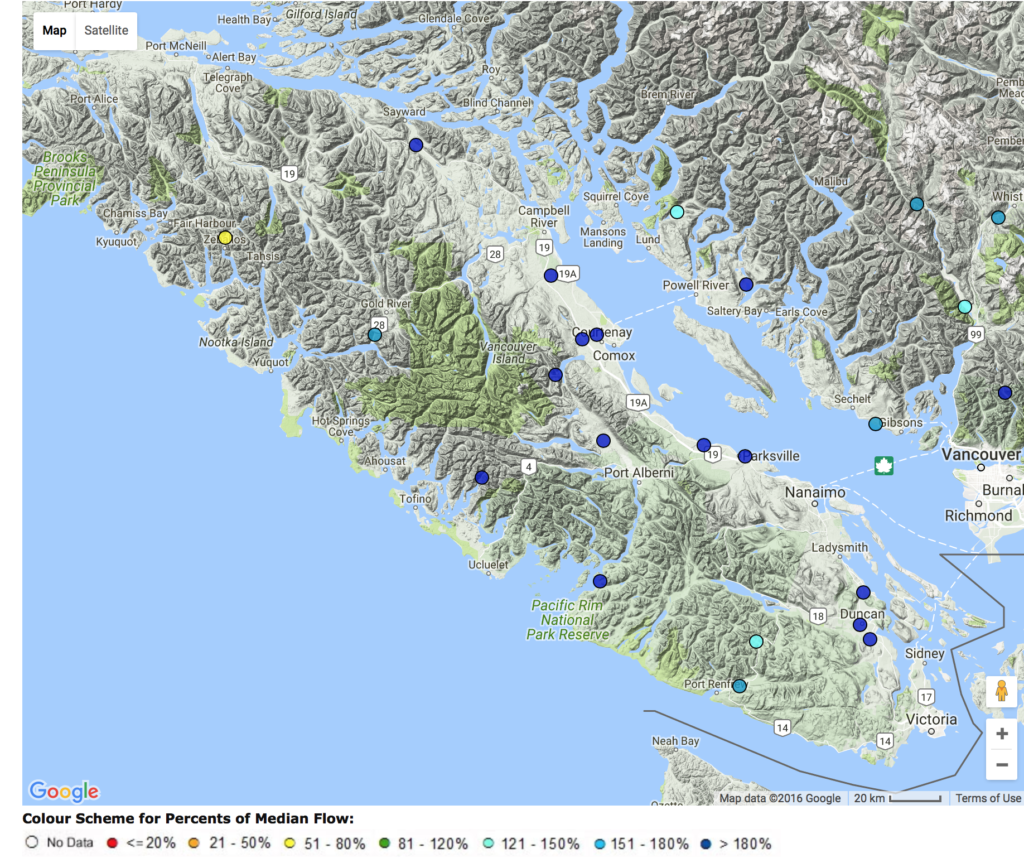 It rained all but two days but otherwise surprisingly normal!
October was both strange and boring.  It was probably one of the darkest Octobers ever in Port Alberni and many other towns across Southern BC as we appear to have set a record for the most days of October with rain.  It rained 29 out of the 31 days.  There are no official records for that but after searching through the past 120 years of Octobers at stations in the Alberni Valley I was only able to find one other October, in 1963, where there were 28 days of rain.  So 2016 beat that dreary record.
Surprisingly, even though it seemed to be raining every minute of every day, we did not set a rainfall record officially.  The Airport station again seems to be having problems recording consistently and is missing 5 days of rain records but even with those missing days we recorded only 318mm.  Given the rainfall recorded at other stations on the missing 5 days I do not believe we would have set a record which is likely in the 500mm range.
In fact, just recently, in October 2014 we recorded 437mm of rain and in 2003 we recorded 480mm in only 15 days of October. 🙂
The rain is likely to continue for the next week or so as we have some strong storms coming on Saturday and Monday but as you will see below, the longer term outlook is at least a little drier.
Read on below!
---
River and Drought Conditions
River streamflow conditions are high right now as you well know if you have driven by any local river lately.  The blue dots below indicate flows more than 180%.  You can see the month's flow at each station on the BC River Forecast Centre site. 
The overall Drought Level picture is not a problem. 🙂
---
Snowpack Situation
No snow to speak of yet on the either the Jump Creek (South Island) and Wolf Creek (North Island gauges.
As I thought we might at the end of the September, the North island has seen a little bit of snowpack accumulate through the month, but the south island (Jump Creek) is still too warm and I would expect that to continue until at least late November.
South Island/Jump Creek (near Nanaimo Lakes) elevation 1134m
North Island/Wolf Creek (near Gold River) elevation 1422m
---
16 day Outlook — Stormy then… Cold?
Here are the 16-day GEPS consensus graphs from SpotX.  We are in for another 300mm of rain in the next week and a half.  But after Remembrance Day we might just have ourselves a bit of a cold snap?  We'll see.  Maybe those early snow guesses will be right? 😉
---
El Niño/La Niña Discussion:
The latest El Niño status bulletin from the NOAA is from October 13.  They have switched from a neutral to a slight La Niña forecast.
La Niña is favored to develop (~70% chance) during the Northern Hemisphere fall 2016 and slightly favored to persist (~55% chance) during winter 2016-17.
A 55% chance is pretty weak so even if we do get a La Niña it would be unlikely to be a strong one.  As such we should not expect it to impact us much if at all this year.  La Niña generally means drier, cooler weather for our region.
Three-Month N-America Forecasts 
North American Multi-Model Ensemble (NMME) 3-month Temperature, Precipitation and Sea Surface Temperature.
These map have not yet updated for November so I will simply link to last month's summary.
However, you might remember that the August and September summaries mentioned that the global outlooks seemed to show a possible strong Pineapple Express train for much of the Fall or Winter.  Well… we sure are getting that now, even though it has not delivered record rain.  Yet..
That's it!
---
Monthly Timelapse Video
Monthly video unavailable see all days here:
https://www.youtube.com/user/alberniweather/videos
---
Daily records set this month at the Airport (and compared to other stations* for "All Time" since 1900)
One new Airport rain record.
*Short Term (since 1995) Airport Records are compared to the 30+ year weather stations of record since 1900 (1895 for rain) at Beaver Creek, Port Alberni "City" and Robertson Creek.  Note that records pre 1950 may be more likely to over-estimate high temperatures.
---
September 2016  

Minimum

, Mean, and 

High

 Average Temp and Total 

Precipitation
Alberniweather: 7.9º C, 10.2º C, 13.6º C, 283.0 mm
Alberni Elem. School : 7.7º C, 10.2º C, 13.5° C, 470.4 mm
Maquinna Elem. School: 7.6º C, 9.7º C, 13.0° C, 487.7 mm
Nick's Station (Maquinna area): 7.7º C, 9.7º C, 12.3° C, 314.4 mm
Neptune Canada Station: 8.1º C, 10.2º C, 13.5° C, NA
Overall City Average: 7.8º C, 10.0º C, 13.2º C,  388.9mm
Environment Canada Airport* : 5.9º C, 8.3° C, 11.9º C, 314.0 mm*
Normal 1981-2010 (Rbrstn Creek): 5.0º C 9.8º C 14.4° C 219.8 mm
*Denotes missing precipitation numbers for 5 days this month.
---
City
+2.8° C, +0.2º C, -1.2º C, +169.1 mm (177.0% of normal)
Official Airport
 +0.9º C, -1.5º C, -2.5º C, +94.2 mm (143.4% of normal)*
*Denotes missing precipitation numbers for 5 days this month.

---
Amount : Normal Days : Days This Month
>= 0.2 mm: 10.3 :  29
>= 5 mm:  3.6 : 21
>= 10 mm: 1.8 : 14
>= 25 mm: 0.52 : 6
*5 Days Missing Data.  Filled in missing official days with data from Alberniweather and Cox Lake to get complete set. If amounts did not agree, I took the amount closer to the threshold.
Alberniweather and Cox Lake used for:
11th: 0.0 mm / 0.0 mm
12th: 16.5 mm / 51.8 mm
13th: 27 mm / 28.2 mm
29th: 5.6 mm / 2.8 mm
31st: 4.3 mm / 2.0 mm
---
Comparison to recent months of October at Alberniweather
MOST SIMILAR ALBERNIWEATHER OCTOBER TO THIS MONTH? October 2007