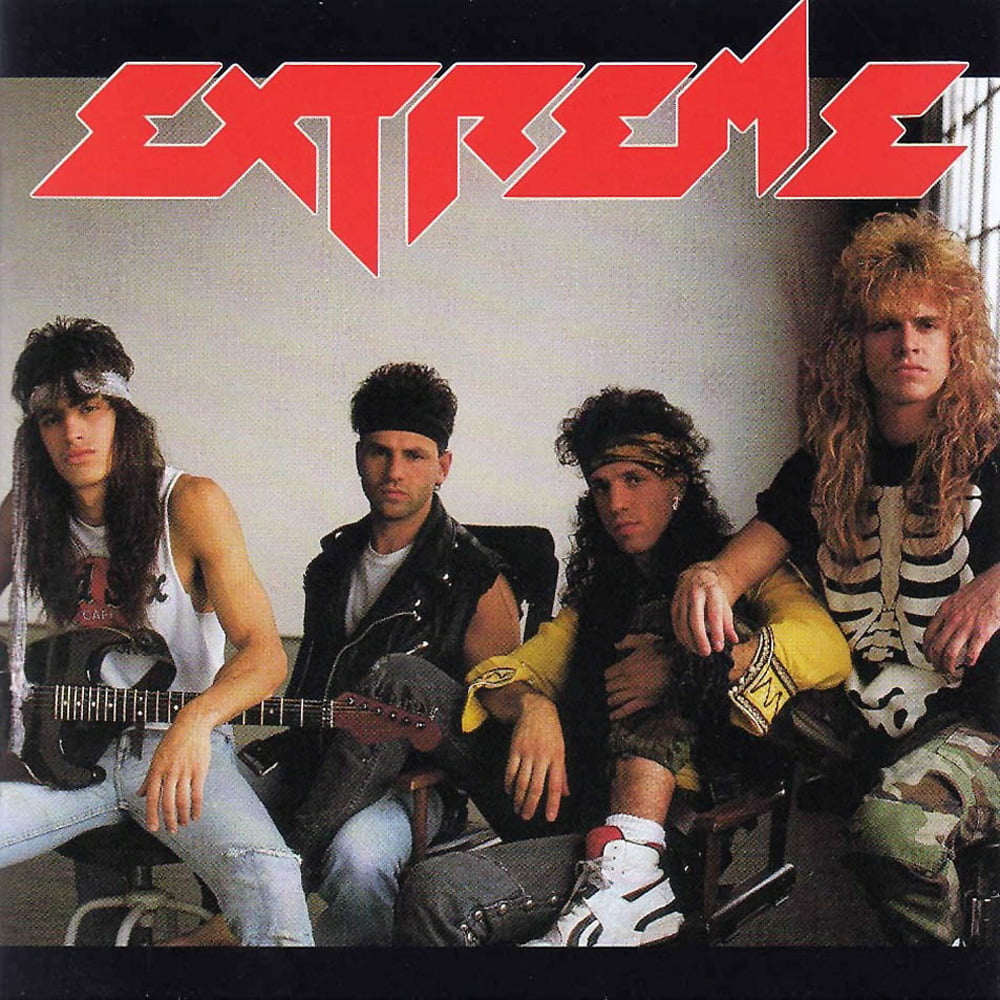 A fairly warm November but with some record breaking cold streaks… tons of records broken, low and high! And then there is what happened the first week of December!
Wondering about the cover image? This post was brought to you (unofficiallly) by the word EXTREME… or at least the 80s band…. hahaha.
(this is what you get when you type in "Extreme" in Google images. :D)
---
The December 8-11, 2014 Event for the record books:
First, lets do a recap of the extraordinary event that was the multiple punch storm that has affected us (and delayed this monthly summary!)
Rainfall and Temperature Highs compared to 30 year+ stations at Beaver Creek, Robertson Creek and City of Port Alberni stretching back to 1895.
Rainfall at Alberni Airport (AUT): 
Most intense multi-rainfall event ever recorded?
I looked at the days where more than 0.4 mm of rain was recorded surrounding the historic records listed above.  Total for the past 4 days is more than the multi-day events around the 1923 Beaver Creek record (4 days, 143mm), the 1993 Robertson Creek record (6 days, 231 mm), and the 1999 Robertson Creek record (6 days, 110 mm) so it is likely that this was one of if not the most intense multi-day rainfall event recorded in the Alberni Valley.
Temperatures high too:
Lets also not forget the record we smashed on December 9 from the post:
An incredible high at the Airport was reached: 14.5ºC almost a month record.
Beat the all-time Dec 9 day of 12.2ºC at Port Alberni in 1921 and 1957.   Also beat the entire month of December at Robertson Creek but not at Somass "A". Previous was 14.0ºC and 15.6ºC respectively in 1976 .
#2 for December 8 and 10:
We reached 12.1ºC and *just* missed an all time record high for the day on December 8 (Monday).  The record at Beaver Creek, and Port Alberni City in 1938, 1939 and 1957 was 12.2ºC. We also set a short term record on December 10 of 13.3º C which was #2 all time to 13.9ºC set in 1926 at City of Port Alberni.
And lets not forget this: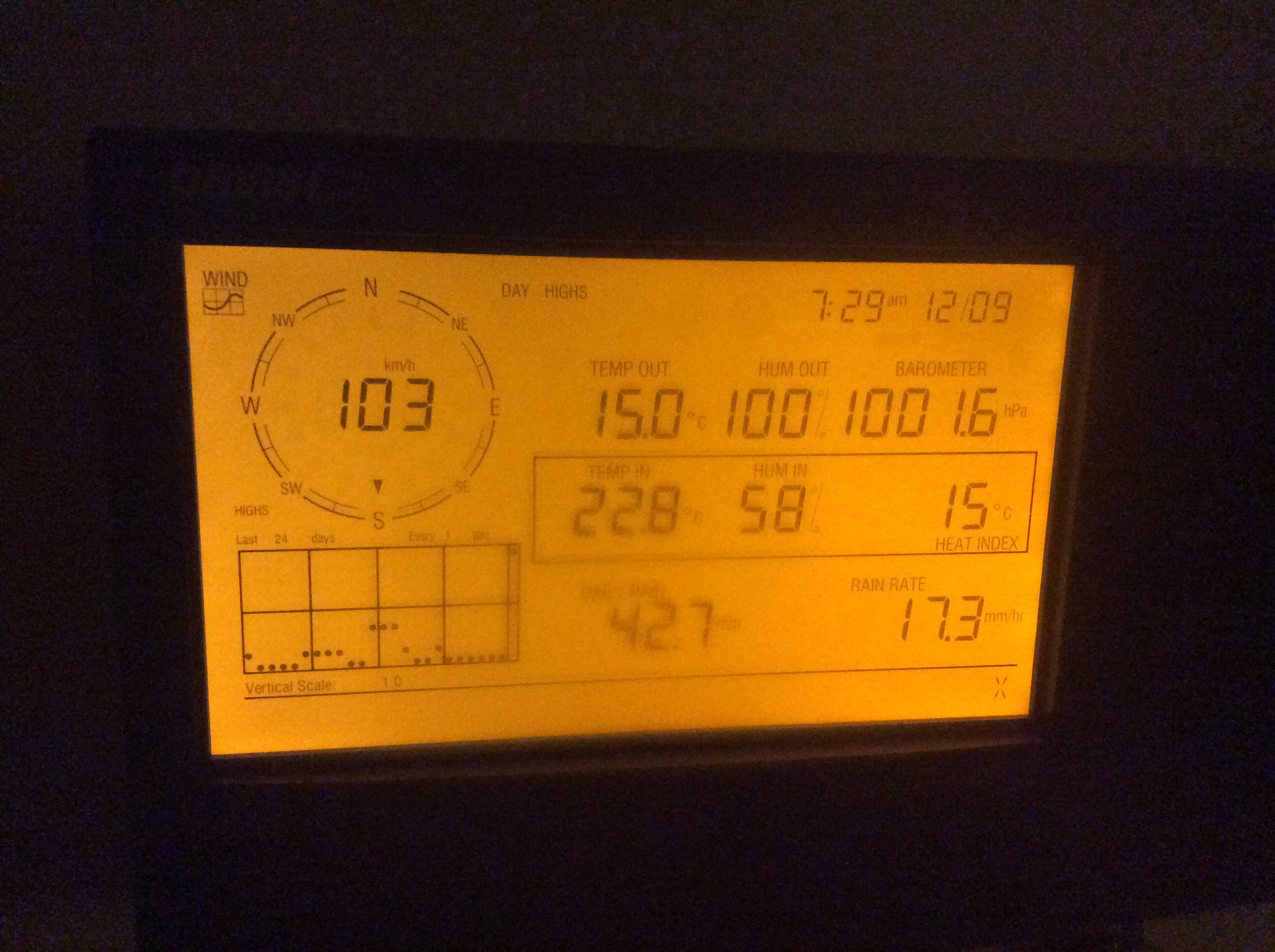 Unfortunately wind records are not good for Port Alberni so it is difficult if not impossible to say how unusual that was, but I think we can rest assured a 103kph wind gust is a very rare event any time of the year.
---
The November 2014 Summary!
Temperatures above normal except lows at the Airport.

November switched gears from rainy October.  We ping-ponged from cold snap to warm outbreak.  In the end, the local differences between the warm Alberni inlet and the fog-influenced City stations showed daytime low temperatures slightly above normal against the cooler Alberni Airport location that showed overnight lows a full 1º below normal.
Maximum temperatures were well above normal and kept our overall averages near normal as well despite lows being below.
---
Rainfall half normal
Our normal rainfall for November is 345mm.  We received 55% of that number.
---
Records for the Month at the Airport since 1994
We set an amazing 11 new short term temperature records, 4 highs and 7 lows!  November featured its 2nd coldest end ever recorded and 2nd coldest middle ever.
Short term daily records set at Airport:
Nov 4 (high 15.4º C) #3 all-time 1900
Nov 9 (high 13.9º C) #3 all-time
Nov 13 (low -4.4º C)
Nov 14 (low -7.3º C) #3 all-time
Nov 15 (low -8.7º C) #2 (by 0.2º) all-time
Nov 16 (low -7.8º C) #2 all-time
Nov 17 (low -6.9º C) #2 all-time
Nov 26 (high 11.7º C) #3 all-time
Nov 27 (high 12.5º C) #3 all-time
Nov 29 (low -7.5º C) #3 all-time
Nov 30 (low -9.6º C) #3 all-time
Dec 1 was also a record low, and #3 since 1900
No rainfall records were set in November 2014.
---
Weak El Niño Predicted 
The December update showed El Niño still trying to present itself but not quite getting there.  There is still a 65% chance of El Niño being declared during the winter season and lasting into the spring.
The Models and Forecasters still expect a weak El Niño to form.
---
World Charges Toward New High Temperature
In  late November the NCDC released their October global report which showed October 2014 to be yet another record high month as many have this year.  The November report should be out next week…. The November report will show November 2014 was the 7th warmest on record according to NCDC (8th from NASA) , bolstering the case for 2014 being warmest year ever.  The oceans had their warmest November ever… that's the 7th month in a row with warmest oceans ever… concerning with no real El Niño.  Land temperatures were "only" the 13th warmest, pulling the global figure down.
This graph is worth a thousand words:
As I quoted from a news story last month, "2014 is already pummeling records without the aid of El Nino's push."
The floor is rising when it comes to global temperatures.  Anyone who tells you we are in some sort of "pause" is flat out wrong.  As the graph below shows, 2014 (in green) and most of the years since 2000 are very much on top of the heap.
---
Monthly Outlooks
As was the case in October, November's monthly outlooks were pretty much useless.  September's prediction for October showed below normal precipitation… we got almost the most ever.
October's prediction for precipitation for November swung in the opposite direction with above average rainfall predicted…
…. but we got half of normal…. which is what September said (below).
I'm not sure if I should bother with the month's predictions but… it seems as though the forecasts aren't available from their homepage anyway.  So maybe that is a sign. 😉
Happy rest-of-December!!
P.S. I've changed the format of the summary below so it doesn't make for so much scrolling.  Hopefully it is still readable and understandable.
---
*Denotes incomplete data for the month
Average Minimum, Overall and High Daily Temperature for November:
Alberniweather: 2.3º C, 5.4° C, 9.7º C
Alberni Elementary School : 1.9º C, 5.4º C, 9.8° C
Maquinna Elementary School: 2.3° C, 5.2º C, 9.1º C
Neptune Canada Station: 3.0° C, 5.8º C, 10.0º C
Overall City Average: 2.38° C, 5.45º C, 9.65º C
Environment Canada Airport: 0.8º C, 5.0° C, 9.2º C
1981-2010 Env Can Normal (Rbrtsn Creek): 1.8º C, 4.6º C, 7.3° C
City Stations Diff from normal: +0.58° C, +0.85º C, +2.35ºC
Official (Airport) Difference from normal: -1.0° C, -0.4ºC, +1.9ºC
---
Average Precipitation for November:
Alberniweather: 178.8 mm
AES: 185.0 mm
MAQ: 207.0 mm
NEP: NA (not measured)
Overall City Average:190.3 mm
EC: —- (157 mm measured but missing 18 days of rain data!)
1981-2010 Env Canada Normal (Robertson Creek): 345.2 mm
City Stations Diff. normal: –154.9 mm (55% of normal)
Official (Airport) Diff. from  normal: —- not enough data
---
Comparison to recent Novembers at Alberniweather (only).