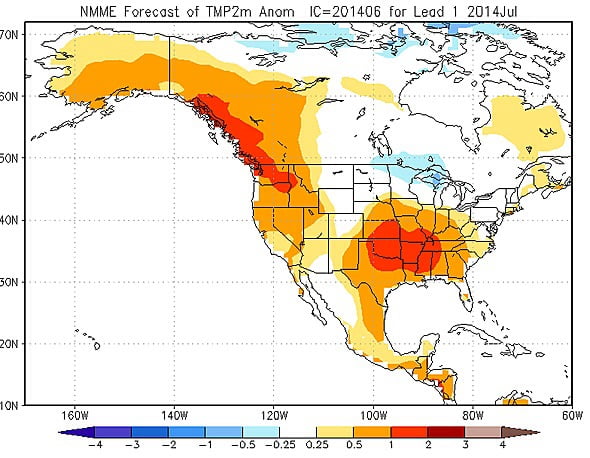 Summary:
Don't expect any super hot days in the next week or so. We might get lucky and have the sun come out for a little longer than expected one day, but mostly this week is going to be pretty variable, with cloud, sun, rain and wind all taking turns. Temperatures should be a little cool but not unpleasant. But there is hope for warmer weather in the not too distant future.
Details:
I'll focus on the atmospheric pressure maps this time around. Here are the high and low pressure patterns for this Monday morning.
As you can see there has been a large ridge of high pressure pretty far off in the Pacific. It hasn't been close or strong enough to offer us any protection from invading cool air and we've instead been having quite unstable and unpredictable weather as we sit on the edge of this large mass.
By Thursday this ridge is supposed to break down completely.

This will allow more cool and wet air and possible rain showers to creep in on Thursday and Friday. But there is some possible hope on the horizon.
The models show some high pressure building back in over the weekend and by Sunday there is a new ridge of high pressure possibly establishing itself in our area.

There is Hope:
If you are wondering if the really hot and dry weather is going to come anytime soon, there are some indications that that is going to happen.
Brett Anderson's latest at Accuweather has interpretations of long range models showing hotter and drier than normal conditions for our part of the continent next week.
And further down the line July and August are slated to be hotter than normal and mostly dry for the most of the West.
July temperatures:

August Temperatures:

That's it! Happy Monday!